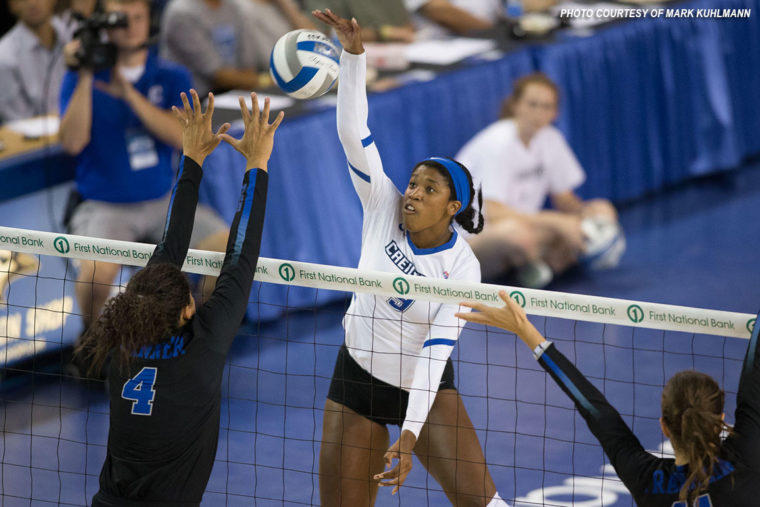 #14 Creighton Volleyball Makes Quick Work of St. John's to Wrap Up East Coast Sweep
Kirsten Bernthal Booth thought her Bluejays checked all of the boxes in a 25-15, 25-20, 25-19 sweep of St. John's at Carnesecca Arena on Saturday. Aside from the standard keys to victory that carry over from match to match, the 15th-year head coach wanted to see her team keep their foot on the gas when playing with a lead, and they did just that.
#14 Creighton built 10-2 leads in both the first and second set, forcing the Red Storm to burn through both of their team timeouts early in each game.
"One of our goals was that if we get an early lead in games to really clamp down because we've sometimes let teams get back in, and I thought we did a better job of that tonight," Bernthal Booth said.

"We've had a trend, both in the non-con and conference season, where we'll jump out to an early lead and then we'll let a team come back in. We did that with Seton Hall last night. We had the really early lead in the first game and then it's like we let up and give up a run, then all of a sudden it's tied up again. That was really our focus tonight and I thought we did a far better job of not letting a team come back if we had control of things."
Seven different players recorded a kill for Creighton in game one, led by four apiece from junior outside hitter Jaali Winters and senior middle blocker/right-side hitter Marysa Wilkinson, who also added four blocks in the opening set. The Bluejays hit .500 as a team, terminating 18 of their 32 swings, while holding St. John's to a .121 attack percentage.
Senior setter Lydia Dimke set the tone for Creighton in game two. The reigning Big East Player of the Year opened things with a pair of kills, a combo block with Wilkinson, and assists to Winters and junior outside hitter Taryn Kloth to build a 10-2 lead for the second straight set. Although they only hit .250 as a team in the second game, they continued to control the match at the net by adding four blocks to the five they put up in game one.
Blocking was an area of concern for the coaching staff heading into the match, but the players didn't ignore those pregame messages. They held a 10 to 2.5 edge in team blocks when it was all said and done, turning in their second-best performance of the season in that category.
"The thing is St. John's hangs their hat on blocking," Bernthal Booth said. "That was the big thing that we spent lots of time talking to the team about. This is a fantastic blocking team and they can really disrupt you, so if you had told me those were going to be the numbers at the end of the night I probably would have said, 'uh oh' … it was good to have those numbers on our side."
Sitting three points away from their second sweep in as many days, the only thing that proved effective in slowing down the Bluejays was an actual stoppage in play. That came in the form of the Carnesecca Arena fire alarm that forced everyone to evacuate the building with Creighton leading 22-17 in set three.
After exchanging some laughs about the situation, and posing for a team photo outside, the two teams resumed play 15 minutes later as Marysa Wilkinson made it 23-17 with her 1,000th career kill. She became the 13th player in program history to reach that milestone, and second this season after Jaali Winters did the same during the season-opening sweep against Saint Mary's.
What to do during an unexpected fire alarm? 🤔

How about a photo with St. John's after evacuating? #SafetyFirst pic.twitter.com/5LEh717zKK

— Creighton Volleyball (@CreightonVB) September 30, 2017
Her Bluejay teammates were apparently aware of how close the senior was to the milestone based on their reaction to the play after the match resumed.
"The team went crazy," Bernthal Booth said. "I didn't know why they were going crazy, I just thought they were so excited. That was cool.

"The really awesome thing about Marysa is she's improved every single year. A lot of players will kind of have ups and downs a little bit, but she has just had steady progress. She's probably one of the most consistent players we've had in Creighton Volleyball. She has insane numbers this year, and this year people are doubling her. In the past she had some single blocks to work around, but now she's having to create kills with four hands in her face almost every time. And defensively she's such a great blocker. She's a phenomenal blocker now and I don't think she was four years ago, so it's been fun to see that progress.

"She's just a consummate team player. Everything is about team for her. If I told her we needed her to go to the bench, she would have just as good of an attitude as she does now, and there are very few players you can say that about. She's really about the team and not about herself. I wish I had her for another four years, because you want players not only physically like her, but you want kids that are wired like her. She's just a really fantastic young woman."
The win moved Creighton to 11-4 on the season and 4-0 in Big East play, and extended their now nearly two-year winning streak against Big East teams to 32 consecutive matches dating back to a sweep of Seton Hall on October 31, 2015. The Bluejays will take that streak on the road with them to Milwaukee next week where they will face off with Marquette on Thursday night at the Al McGuire Center. The Golden Eagles are the only other undefeated team in league play other than Creighton, sweeping four of the five opponents they've faced so far since non-conference play concluded.
The Bluejays have won the last seven meetings head-to-head since the Golden Eagles beat them in four sets to win the Big East Tournament on Creighton's home court back in 2013.
First serve between the two Big East heavyweights is scheduled for 7:00 p.m.
What do you get when you go 2-0 on the road???? #icecream pic.twitter.com/eBKjBmhaSI

— Coach Booth (@CoachKBooth) October 1, 2017
Comments
Tagged in: