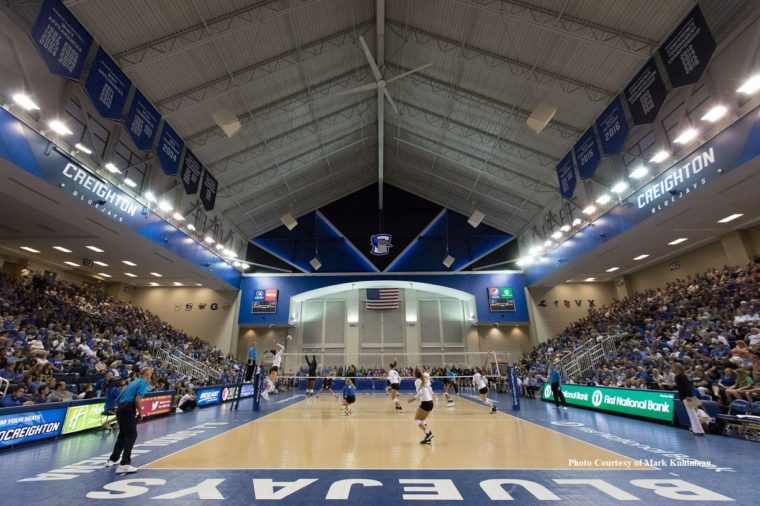 17th-ranked Bluejays Prove Something to Themselves in Come-From-Behind Win Over Butler
Through the first 17 matches of the season Kirsten Bernthal Booth's club has been searching for proof that they can show some resolve in a match and taste victory in the end. Going into Friday, her 17th-ranked Bluejays were 0-5 when dropping the first set — only forcing a fifth set in one of those matches — but they finally got that monkey off their back in erasing an 0-2 deficit to beat the Butler Bulldogs 19-25, 24-26, 25-21, 25-23, 15-9 in five sets in front of a crowd of 1,605 at D.J. Sokol Arena.
After watching the Bulldogs hit .375 through the first two games, Creighton's defense started flying around more in the back row to help cut that attack percentage down to .185 over the final three games to fuel the comeback.
"I thought we had good block touches early in the game, but we just weren't making plays after it," Bernthal Booth said. "There were four or five balls where I thought the blockers did their job and either one of the blockers didn't find it or someone in the back row didn't find it. That's where we've got to lock in to the little things. I thought we started to get better in the second game. We saw progress and then it just continued to get better throughout the match."
Butler's diverse attack was disruptively efficient in games one and two. The Bulldogs committed only one attack error in 41 swings and used a 9-3 run fueled by kills from four different hitters to turn an 8-8 tie into a 17-11 lead on their way to winning set one. In set two, they got kills from three different players as part of a 6-2 run that flipped a 22-20 deficit into a 26-24 win to put a 2-0 lead in their back pocket. Of those 26 points, 24 of them were kills — six more than the Bluejays allowed in all three sets combined in their match last Friday at DePaul.
Junior outside hitter Anna Logan is typically the Bulldogs' top option offensively. She entered the match averaging a team-best 3.36 kills per set, but through the first two sets four Butler players had at least three more kills than her with outside hitters Natalie Ravenell, Brooke Gregory, and Whitney Beck recording eight kills apiece, and middle blocker Bri Lilly leading the way with nine.
"Logan has historically been their go-to, and we talked about her a lot, but they've had great parity all year," Bernthal Booth said. "I think statistically right now Logan has more kills, but Beck is hitting at a higher clip. That's their strength. Usually I'll tell the team where I think they're probably going to go, but each time I didn't know because they have great hitters all over the place and their setter does a nice job. Parity is their strength."
Despite turning their best defensive set, statistically, of the night the Bluejays still found themselves tied at 20-all late in a must-win game three. A pair of combo blocks by Logan and Lilly helped even things up, but Creighton returned the favor at the net with blocks by Marysa Wilkinson and Taryn Kloth, and later by Megan Ballenger and Lydia Dimke to cap off a 5-1 run to keep their chances alive. Butler was held to a .152 attack percentage in the set after hitting .366 in game one and .382 in game three.
Creighton got off to a strong start in game four — building a 10-5 lead behind three kills from Jaali Winters and a couple more blocks by Wilkinson — but Bulldogs rallied to take force another back and forth finish. They appeared to grab a 20-19 lead late when an attack by Ballenger went long, but the Bluejays challenged that the ball was touched by Butler's block and eventually won the crucial when a replay review concluded that they were right. Three more terminations from Winters helped seal the deal and force the fifth and final set.
A couple of kills by Taryn Kloth gave Creighton an early 5-3 lead, but Butler's Whitney Beck responded with three of her own to put the Bulldogs in front 8-7 as the two teams switched sides at the midway point. Winters and Wilkinson picked the Bluejays up after the interchange with a pair of kills each to fuel a critical 5-0 run to make it 12-8. Anna Logan halted the run temporarily with her 13th kill of the night, but Winters answered with her match-best 28th kill and her first ace of the evening to finish off Creighton's first come-from-behind win of the season.
"On the outside people can say, 'oh, they should beat Butler,' but that was a dang good team we played tonight and we haven't responded when we've been down 2-0," Bernthal Booth said. "I thought we came together as a team. It wasn't an easy fight in three, four, and five. Butler didn't give it to us; we had to earn it. I'm really proud of the team tonight."
Kloth and Wilkinson both tied their season-highs in kills with 18 and 15, respectively, but it was Winters who led the way for the Bluejays. The two-time All-American from Ankeny, Iowa not only matched her career-high with 28 kills, but also recorded a season-high 19 digs to go along with three assists, two blocks, and the aforementioned match-clinching ace — her first of the night.
"I don't think we had the idea to ride her as much as we can," Bernthal Booth said of her six-rotation star. "She took a lot of swings, probably more than we wanted her to take — I thought in the fourth game she looked tired after some long points, but the thing with Jaali is she figures things out. She can find another level and go."
True to form, Winters gave all the credit to her teammates when asked about the keys to her productive night on the sport court.
"I was talking to my defensive players a lot," she said. "I was always asking [defensive specialists Brittany Witt and Alexa Roumeliotis] about what Butler was doing, where I should be tipping — at one point I had tipped over the block and asked 'Lex if it was still there and she said, 'no, they're up now, so you have to go somewhere else' … she gets all the credit for that. I have so much help on the court. Usually I'm looking for hands, but at some point it's not going to work so you have to phone a friend. I'm all about that."
A month from now a win over Butler probably won't jump off the page to outsiders when looking at a Creighton resume that already features wins over Washington, Kansas, Kentucky, and Northern Iowa, but to the Bluejays it showed them something they had not seen yet with this group this season.
"I think this game proved that we can dig in deep when the time gets tough," Witt said. "We talked about it in the locker room that we haven't been pushed to a fifth set this season to show that we can actually come back from being down 0-2, find our mojo, and pull out the fifth set. I think it was really good for us tonight that we got challenged."

"This game was so good for us," Winters added. "It was exactly what we needed. We need to know that when we get to the tournament it's okay to go to a fifth set, because we have that confidence that we can dig down deep and get the win."
With the win the Bluejays improved to 13-5 overall on the season and moved to 6-1 in Big East play, one game behind first-place Marquette in the race for the regular season crown. The Bulldogs fell to 4-4 in league play and 14-6 overall. Creighton will practice on Saturday before returning to the court on Sunday afternoon to take on the Xavier Musketeers at 1:00 p.m. at D.J. Sokol Arena.
Bluejay Bytes:
Junior outside hitter Jaali Winters matched her career-high with 28 kills, a mark she set back as a freshman back on October 2, 2015 at St. John's. Winters also had a season-high in total attacks with 75, points with 30.0, and became the seventh player in program history to record at least 1,200 kills in a career.
Sophomore libero Brittany Witt recorded a season-high 30 digs, two off of her career mark of 32 that she set in an NCAA Tournament first round win over Northern Iowa last December.
Senior setter Lydia Dimke distributed her 2,000 career assist as a Creighton Bluejay midway through game three when she set up junior outside hitter Taryn Kloth for a kill to give the Jays a 15-11 lead.
Dimke's 65 assists against Butler were a career-high.
True freshmen Naomi Hickman and Alexa Roumeliotis set season-highs with seven kills (Hickman) and seven digs (Roumeliotis), respectively.
Junior outside hitter Taryn Kloth set a season-high with 18 kills and surpassed 700 points for her career.
Senior middle blocker/right-side hitter Marysa Wilkinson's 15 kills were also a season-high.
Junior defensive specialist Samantha Bohnet had a career-high 20 digs, surpassing for 300 for her Creighton career in the process.
Creighton set D.J. Sokol Arena team records in digs (106), kills (84), and assists (79).
Creighton is now 11-7 all-time under Kirsten Bernthal Booth in matches where they forced a fifth set after falling behind 0-2, including a 6-1 mark since 2014.
Tonight was the 9th meeting between Butler and Creighton. The Bulldogs have won the first two sets twice in those nine matches… the Bluejays came from behind to win both times.
Highlights & Postgame Interviews
Comments
Tagged in: