2013-14 Creighton Men's Basketball Profiles: Will Artino
We are profiling each member of the 2013-14 Creighton Bluejays men's basketball team. Check in daily leading up to Creighton's regular season opener against Alcorn State Nov. 8 for an introduction to this season's Bluejays, from newcomers to seniors. Check out all the previews here.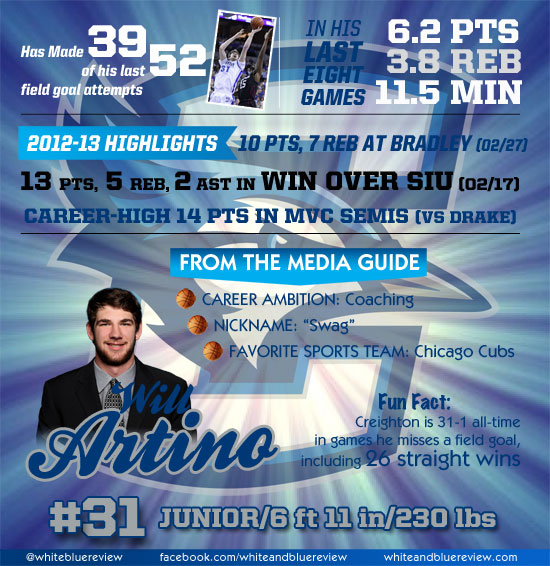 Will Artino (#31 / C / 6-11 / 230 lbs / R-Jr.)
It is Will Artino's time.  His patience could finally pay off.
Artino, the redshirt junior from Waukee, Iowa, has been patient through his first three seasons on the Hilltop. As a part of Dana Altman's final recruiting class, Artino chose to stay with the Bluejays and new coach Greg McDermott in 2010. He even accepted redshirting that first season, which was probably the best for his future. Over the past two seasons on the court, there have been some flashes of what Artino can do. It is his opportunity now to capitalize on his experience on and off the court.
"Big Swag," as he was dubbed in last year's Bluejay Madness, had a breakout season even with limited minutes behind Gregory Echenique and, at times, Ethan Wragge.  Although Artino has averaged only a little over 7 minutes a game as a freshman and almost 8 minutes a game as a sophomore, his soft touch around the basket and his energy made it hard for teams to defend his efficient play. Also, in limited minutes, the high-low post game between he and Doug McDermott has shown to be quite effective. Though a stretch of 17 games over two months last season Artino made the most of his opportunities to score, shooting  blistering 84.1% from the field  (36-of-43). His play down the stretch last season took some of the pressure off of McDermott when he was down in the post.
Artino has been tested over the last three seasons playing against Echenique in the post every day at practice. That is a grueling experience all by itself. This year with Echenique gone, Artino gets his opportunity to patrol the middle, probably something he didn't necessarily expect to be doing. With a growth spurt before finishing high school, Artino had skills more like a guard or forward before arriving at Creighton. While he still has those skills, his extra exposure to the post makes him tough to guard whether playing high or low. His three years of experience will compliment the veteran team heading into 2013-14.
We caught up with Will at Creighton's Media Day.

Comments
Tagged in: