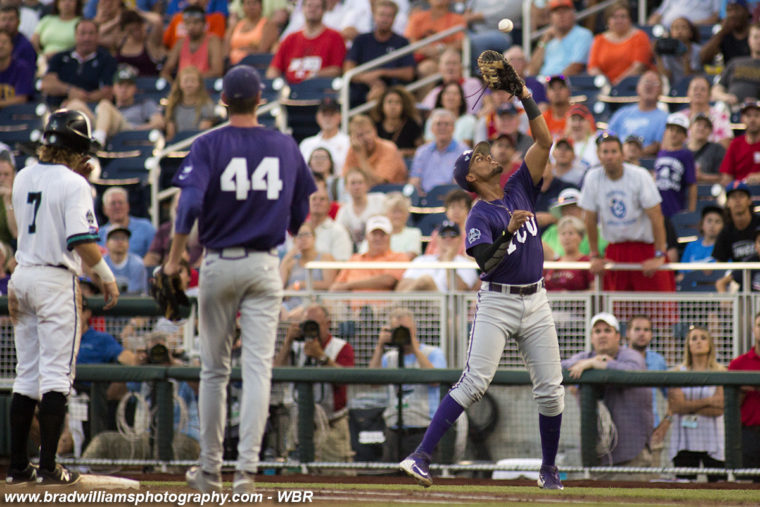 2016 College World Series Day 4 Notebook
Texas Tech freshman handcuffs nation's top team
Davis Martin etched his name into the Texas Tech history books with his seven scoreless innings against the Florida Gators on Tuesday. The 6-foot-2, 200-pound right-hander out of San Angelo, Texas improved to 10-1 on the season thanks largely to the command of his fastball that he kept down in the zone for most of the day, forcing Florida hitters to hit into 12 ground ball outs over the first seven innings.
"Going into the game I had to have fastball command," Martin said. "I struggled with that last time against [East Carolina]. Our assistant pitching coach, Matt Gardner, told me if there's one pitch to have today it was the fastball location, and the two-seam running in was excellent today. I had a lot of trust in my defense, hit my spots with the fastball, and mix in an occasional change after a curveball in there."
Martin improved to 10-1 in his first collegiate season with the win. He struck out three hitters, while scattering three singles and three walks, forcing the Florida hitters to pound the ball into the ground over and over throughout his 82 pitch-outing.
"I thought his stuff was pretty good," Texas Tech head coach Tim Tadlock said. "I didn't really ever look up and see what the fastball was too many times, but it looked like he had pretty good late life, which is the main thing you're looking for."
"His stuff is not always going to win. The location wins, and he was executing as far as that goes. He pitched out of a jam, a big jam there, I'm not sure what inning it was. He's a fun young man to watch pitch. I mean, we've watched him go out every week on Friday, and guys like playing behind him. When we made the decision to roll him out on Friday, the guys were like, 'yeah, absolutely that's the guy we need to be pitching.' Again, I don't think it's always about stuff. I think he throws the ball with conviction more than anything. I think that's what makes him really good."
Second verse not the same as the first for Gutierrez
Entering the 2016 College World Series the newly crowned Big 12 Player of the Year was hoping for a more productive showing in the games that mattered at TD Ameritrade Park. Despite finishing second and fourth in the last two years at the College Home Run Derby, Eric Gutierrez had yet to produce a hit in his only two games played during the College World Series.
In Texas Tech's first appearance back in 2014 he went 0-for-8 with two strikeouts as the Red Raiders were sent home after the first weekend in a pair of one-run losses to TCU and Ole Miss. His second trip is trending in a different direction after two games. He went 1-for-2 at the plate with a walk in the a 5-3 loss to TCU, and followed it up with a 2-for-4 outing that included a two-run home run in the 3-2 win over No. 1 Florida.
"I think we saw some pretty good pitching the last time we were up here," Gutierrez's head coach said. "That had a lot to do with the way he probably swung the bat."
"[Today], Gut got the pitch he was looking for and hit it. I think he grew up a little bit today as a hitter. I think we'll need to keep continuing to that through the weekend."
Perhaps more important than stringing hits together, the best part for Gutierrez is getting that first College World Series win for a program on the rise.
"It means a lot," he said. "Every win means a lot no matter if it's College World Series, regular season, doesn't matter. But it helps us as a team with the momentum. From here everything's possible."
Sour ending doesn't spoil sweet season for Florida
As the top overall seed entering regional play the Gators had high expectations beyond just making it to Omaha. But despite having arguably the most talented club remaining in the field their season came to an end with two straight one-run losses in Omaha.
"We fell a little short," Gators head coach Kevin O'Sullivan said. "But I certainly am proud of the way we played this year. It's not easy to get to this point. Obviously we're all disappointed right now, but the fact of the matter is we had a hell of year. I'm sad to see some of these guys move on, but we've got a good core coming back. We've got to get better in a couple of areas, and I fully intend to make that happen."
The Gators were the No. 1 team in the RPI for most of the season. They finished second in the SEC East, one game behind South Carolina. They made it to the SEC Tournament title game, swept through their regional, then outscored Florida State 12-0 in two must win games to advance to Omaha. The losses to Coastal Carolina (1-2) and Texas Tech (2-3) left them with a final record of 52-16. While it's obviously disappointing when the top ranked team in the country goes 0-2 in the most important tournament of the season, O'Sullivan pushed back at the suggestion that his team didn't get a chance to show how good they are.
"We played 68 games — I don't think two games will define us," he said. "I know from some of the questions that have been asked that you feel like you fell short, but there are over 300 Division 1 teams. We lost two one-run games out here. We've just got to get a little better in a couple of areas, and we will."
"But to look at two games — we lost 2-1 and 3-2 — and look at those guys in the locker room and think, boy, the season has been a failure … if getting to Omaha is a failure … I don't look at it that way.
"Of course we're disappointed. Of course we want to stay longer, but there are eight teams out of over 300 to get here. We've been here five out of the last seven, and we'll be here again soon. As far as being a failure, or people not seeing the real Florida team, like I said, we played almost 70 games."
Baker's tear carries TCU into uncharted territory
Two games into his College World Series career and TCU freshman Luken Baker is on his way to becoming an Omaha legend. Baker hit the go-ahead three-run home run in the Horned Frogs' 5-3 win over Texas Tech, then he gave them the lead again in his very next at-bat with a solo shot in the top of the second inning against Coastal Carolina.
While the home run against the Red Raiders will go down as the bigger hit of the two, Baker was more pleased with his blast on Tuesday night against the Chanticleers.
"I was a little more excited than I have been for a few of the ones in the past," Baker said. "It was my first opposite field one, and it felt really good."
After Sunday's win against Texas Tech, his head coach, Jim Schlossnagle, praised the young slugger's advanced approach to hitting, saying that Baker is more of a polished hitter than he gets credit for. He proved it against Coastal Carolina with his ability to use the whole field. He went 3-for-3 on the night with two singles to go along with the home run. All three hits went to right field. In his only plate appearance that didn't produce a hit he drew a four-pitch walk.
"We knew coming into the game that [Coastal Carolina starter Alex Cunningham] would attack with fastballs," Baker said. "I worked the last few days on staying through the baseball instead of pulling off like I did for a lot of the Texas A&M series. I got a fastball up and away that I could handle, and I put a good swing on it."
Through his first two career College World Series games, Baker is hitting 5-for-8 with two home runs, three runs scored, four runs batted in, and one walk. He has yet to strikeout. Through four days in Omaha he leads all players in hits, runs, RBI, home runs, total bases, and batting average.
Most importantly he has TCU off to a 2-0 start in Omaha. Something they did not do in any of their three previous trips to the College World Series. They now find themselves needing just one more win to advance to the best-of-three championship series for the first time in program history.
Comments
Tagged in: