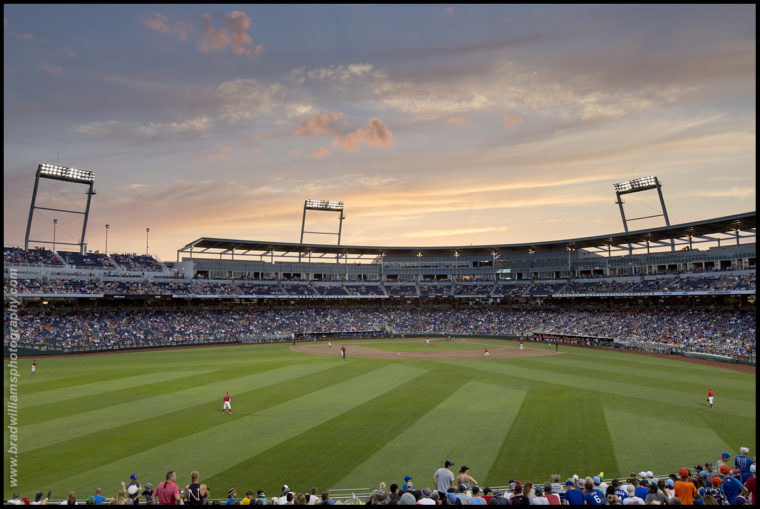 2016 College World Series Day 6: Coastal Carolina eliminates last national seed, sets up TCU rematch
Game 10: Coastal Carolina 7, No. 5 Texas Tech 5.
And then there were none. Coastal Carolina put up three spots in the third and fifth inning on Thursday night eliminating Texas Tech from the 2016 College World Series, taking out the last remaining national seed.
Miami entered as the No. 3 overall seed, but were eliminated after two games. No. 1 Florida also went 0-2, losing to Coastal Carolina and Texas Tech. The Red Raiders joined them on Thursday night thanks in large part to three errors that led to six unearned runs crossing home plate for the Chanticleers.
"We obviously fundamentally were not real good today," Texas Tech head coach Tim Tadlock said. "That's probably as many extra bases we've given up the whole year."
"I thought Coastal Carolina did a really good job of taking the extra base. I'm kind of a little bit in shock just over some of that stuff, because we hadn't really done that in a long time."
The Chanticleers (51-17) received a big lift all night from an unlikely spot in the lineup. Senior catcher David Parrett, a transfer from Iowa Western Community College, sat in the nine-hole and entered the game with a .130 batting average through 42 games played.  On Thursday he might as well have been a first-round pick. He ripped the first pitch he saw into left field for a two-out RBI single to give his team a 1-0 lead in the top of the second inning.
Texas Tech (47-20) responded with a three-run double by junior right fielder Stephen Smith in the bottom half of the inning, but Coastal Carolina regained the lead in their next trip to the plate with three unearned runs. The first scored on a play at the plate when Texas Tech third baseman Hunter Hargove bounced a throw home. An accurate throw would have easily beat the runner and ended the inning without any runs scoring. Instead, the next man up, first baseman Kevin Woodall Jr., grounded into the hole between first and second but Eric Gutierrez, the 2016 Big 12 Player of the Year, let it get under his glove and into right field which brought home two more runs to give the Chanticleers a 4-3 lead.
Coastal Carolina sealed the deal in the top of the fifth when Parrett followed a sacrifice fly by Tyler Chadwick with a two-out, two-run single to left-center field that pushed the lead to 7-3 and capped off a 2-for-4 night at the plate with three runs driven in.
"The mindset for today was a one-game season," Parrett said. "That's what it came down to today. This group of guys, we don't want to say goodbye to each other yet, so living for tomorrow and playing today has been awesome. Tomorrow's another one-game season, so we're very excited about that."
Coastal Carolina got a big lift on the mound from senior right-hander Mike Morrison. Normally the team's closer, Morrison entered in the third inning and struck out a pair of hitters with the bases loaded to preserve the 4-3 lead. He kept Texas Tech off the scoreboard for his first four innings of relief before surrendering two runs in the bottom of the seventh inning. Though he walked four batters and allowed three hits, he struck out six over his career-high 83 pitches to improve his individual record to 8-1 on the season.
Sophomore right-hander Bobby Holmes finished off the Red Raiders to earn his fourth save of the season with two and 1/3 innings of scoreless relief after inheriting a 7-5 lead from Morrison in the bottom of the seventh inning.
"We knew it could be our last game, like David said, and I didn't want my career to end today," Morrison said. "I gave [head coach Gary Gilmore] everything I had, and I knew I had Bobby coming in behind me."
"My style probably wasn't very good — I think I walked four guys. That was probably a career-high. I gave everything I had, and Bobby picked me up like he did all year. That's kind of been our thing, whether it's him before me or me before him, we'll pick each other up."
Coastal Carolina moves on to face TCU in the nightcap of Friday's doubleheader following the game between Oklahoma State and Arizona. First pitch is scheduled for 7:00 p.m. (CST). TCU won the first meeting, 6-1, on Tuesday to move one away from the championship series. The Chanticleers will need to win two games over the next two days to advance to the College World Series Finals, which get underway on Monday.
"The other day against TCU we kind of lost our edge a little bit," the Coastal Carolina skipper said. "They came back and really competed today, and we're very fortunate to come out on top. We walked too many guys and did some things, whatever, but found a way to win. All that matters, and what we've talked about, is living for tomorrow. So we'll get a chance to play tomorrow, to play a great team again."
"I just want to say how happy I am for my guys. They've worked so hard all year, and they didn't want today to be their last day to play."
Game 10 Highlights
Top of the 2nd | Coastal Carolina 1, Texas Tech 0 |: The bottom of the order put the Chanticleers on the board first in the second inning. Center fielder Billy Cooke reached on a five-pitch walk, then stole second base with one out to move into scoring position. Senior second baseman Tyler Chadwick's strike out in the next at-bat left Coastal Carolina hoping for something out of nine-hole hitter David Parrett and his .130 batting average in order to cash in the run, and Parrett delivered. The transfer from Iowa Western slapped the first pitch he saw through the left side of the infield to bring Cooke around to score the first run of the game.
Bottom of the 2nd | Texas Tech 3, Coastal Carolina 1 | That 1-0 lead was short-lived for the Chanticleers. Shortstop Michael Paez made a great play to throw out a runner at home for the second out of the inning, but with two men still on base starting pitcher Jason Bilous issued a four-pitch walk to load the bases. That turned the lineup over, bringing Red Raider right fielder Stephen Smith to the plate. Like Parrett in the top half of the inning, Smith jumped on the first pitch he saw and drove it into the gap in left-center field for a bases-clearing double to put Texas Tech in front.
Top of the 3rd | Coastal Carolina 4, Texas Tech 3 | One three-spot followed the other as Coastal Carolina took the lead back in the top of the third inning. Third baseman Zach Remillard started the rally with one-out single. Right fielder Connor Owings followed that with a double to right field to put a pair in scoring position. Texas Tech's Hunter Hargrove went home on a grounder to third, but he one-hopped the throw and hit bounced away from catcher Tyler Floyd to make it a 3-2 ballgame. Two pitches later, Coastal Carolina's Kevin Woodall Jr. grounded to the hole between first and second, but as Red Raider first baseman Eric Gutierrez charged to field it he failed to get his glove down, allowing the ball to roll unimpeded into right field. That brought in the tying and go-ahead runs for the Chanticleers.
Top of the 5th | Coastal Carolina 7, Texas Tech 3 |: Another Texas Tech error ignited another big inning for the Coastal Carolina offense. A throwing error by shortstop Orlando Garcia put a man on base with one out, then reliever Robert Dugger proceeded to walk the next two hitters to load the bases before giving way to Parker Mushinski. The sophomore left-hander couldn't minimize any of the damage, however, as Tyler Chadwick brought in the first of those base runners with a sacrifice fly to center field before David Parrett drove in the other two with his second hit of the game to extend the lead to four run with four innings to play.
Bottom of the 7th | Coastal Carolina 7, Texas Tech 5 |: Reliever Mike Morrison started to show a little fatigue on the mound and Texas Tech took advantage. Morrison walked two batters and gave a single to right field to Eric Gutierrez to load the bases with only one out. Third baseman Hunter Hargrove drove in the first run with a sacrifice fly on a deep shot to left field. Second baseman Michael Davis then cut the deficit to two heading to the last two innings with a seeing-eye single through the right side of the Coastal Carolina infield.
Comments
Tagged in: