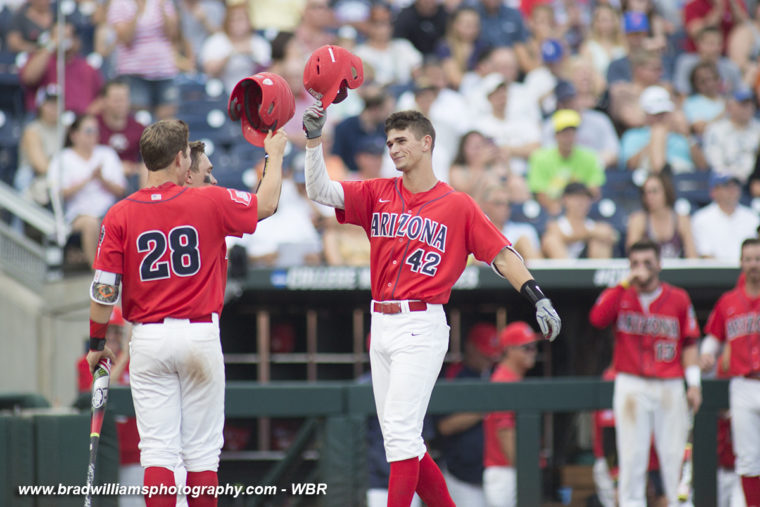 2016 College World Series Day 8: Wildcats, Chanticleers advance to CWS Finals
Game 13: Arizona 5, Oklahoma State 1.
After forcing a winner-moves-on contest with a 9-3 win over Oklahoma State on Friday the Arizona offense stayed locked in the early going on Saturday. Zach Gibbons drove in three runs in the first four innings and raised his 2016 College World Series batting average to .473 as the Wildcats jumped all over Oklahoma State ace Thomas Hatch and never looked back in a 5-1 win to advance to the best-of-three championship series for the first time since 2012.
"We were the underdog, but I feel that's been how we are all year," Gibbons said. "Going out and grinding and playing competitive baseball for nine innings."
"I think honestly we just stuck with what we did yesterday. Getting our foot down, moving the ball back, letting it get deep and putting a good swing up the middle. I think if you swing for up the middle, you're going to get a lot of hits there."
Hatch, a third-round selection by the Chicago Cubs in the 2016 MLB Draft, entered the game having not allowed a run or an extra-base hit in 23 innings during the NCAA Tournament. Those streaks ended quickly as he allowed doubles to two of the first three hitters. Both ended up scoring to give the Wildcats a 2-0 lead after the first inning.
Arizona didn't let Hatch off the hook for elevating pitches in the second inning either. A pair of doubles by Gibbons and shortstop Louis Boyd put another crooked number on the board to push the lead to 4-0, ending the Oklahoma State right-hander's day after a season-low two innings.
"We knew we had our hands full," first-year Arizona head coach Jay Johnson said. "You had to hope that he was going to be a little bit off, and I think he was."
"With that being said, all the credit goes to our hitters in this. We put together a plan of attack, and they did not deviate for one second. The two-strike at-bats and the hits with runners in scoring position was total plate discipline, and total commitment to what they wanted to do. That's how it has to go against a guy like that."
Oklahoma State picked up some momentum in the top of the third inning when a sacrifice fly by second baseman J.R. Davis trimmed the Arizona lead to 4-1, but Gibbons halted that with a two-out RBI single in the bottom of the fourth inning to make it a four-run differential again.
On the mound, right-handed, two-way talent Bobby Dalbec shut down the Oklahoma State offense for the second time in this College World Series. A hard-luck 1-0 loser the first time he faced them, Dalbec scattered four hits and two walks, while striking out six and allowing only one run over seven innings against the Cowboys on Saturday.
"I thought he did a really good job of controlling counts," Oklahoma State right fielder Corey Hassel said. "He never got into a 3-0 count it seemed like. He didn't walk a lot of people, and didn't really need to make a whole lot of adjustments. He could throw any pitch at any time."
Dalbec, who struck out 12 hitters over eight innings in his previous start against Oklahoma State, stuck with his game plan from the first outing. Although he didn't miss as many bats the second time around, the overall results were good enough to secure his team's spot in the CWS Finals.
"I didn't try to change or differ from what I did the first time I faced them because it worked the first time," Dalbec said. "I knew the offense would come back strong, just like yesterday, so I was trying to be down in the zone. I probably didn't even have my best stuff today, but I was sinking the ball a little bit more and staying low."
In three elimination games after dropping a 1-0 decision to Oklahoma State, the Wildcats outscored their opposition 17-4. They out-hit the Cowboys, 23-11, on Friday and Saturday to advance.
"They're a very good offensive team," Oklahoma State head coach Josh Holliday said. "They're similar to the Texas Tech/TCU offensive squads we saw in our league where when you play them for a three-game series, their lineup is good one through nine. They can run, bunt, hit. They did not miss mistakes. They're a good team. They didn't get here by accident. Those guys can hit."
With the win Arizona improves to 48-22 on the season. They will play the winner of Coastal Carolina/TCU on Monday in Game 1 of the 2016 College World Series Finals. Oklahoma State's season comes to an end with a record of 43-22.
Game 13 Highlights
Bottom of the 1st | Arizona 2, Oklahoma State 0 |: In a similar fashion as UCSB in the opening game of the College World Series, Arizona had some early scoring opportunities against Oklahoma State ace Thomas Hatch. Unlike the Gauchos, they didn't squander them. Second baseman Cody Ramer led off the Wildcat half of the first with a sharp grounder that stayed just inside the line long enough to go for a double. Ramer stole third base, and scored the first run of the game on a ground out deep in the hole at second by Zach Gibbons.
After Gibbons' RBI ground out, Ryan Aguilar ripped a shot to left-center that tailed away from Oklahoma State center fielder Ryan Sluder to fall into the gap, then later scored on a sacrifice fly by center fielder Jared Oliva after moving over to third on a wild pitch.
Bottom of the 2nd | Arizona 4, Oklahoma State 0 |: Kyle Lewis worked a five-pitch walk to lead off the inning, then after moving into scoring position on a sac bunt, Louis Boyd lined a ball inside the third base bag and down the left field line for an RBI double. Boyd wouldn't be there long as Zach Gibbons drove in his second run of the game with a double to right-center field to push the Wildcats' lead up to four runs.
Top of the 3rd | Arizona 4, Oklahoma State 1 |: The Cowboys scratched across a run against Arizona starter Bobby Dalbec in the third thanks a to lead off single by Jon Littell and a one-out double by Corey Hassel to move him over to third. J.R. Davis' deep fly ball to left field was more than enough to bring Littell to home plate and get Oklahoma State on the board.
Bottom of the 4th | Arizona 5, Oklahoma State 1 |: As he has done throughout the College World Series, Zach Gibbons came up with another big hit to erase any possible momentum Oklahoma State had gained in the previous inning. With a runner on second base and two outs, the Arizona right fielder laced a 2-1 offering from right-handed reliever Trey Cobb through the right side of the infield for his third run batted of the game.
Game 14: Coastal Carolina 7, TCU 5.
The Chanticleers postseason run claimed another power conference victim on Saturday night in a win over TCU. Coastal Carolina had already beaten NC State (ACC), and national seeds No. 1 Florida (SEC), No. 5 Texas Tech (Big 12), and No. 8 LSU (SEC) — all away from their hitter-friendly home park — before beating the Horned Frogs two nights in a row in Omaha to advance to their first national championship in any sport.
"To be very honest with you, none of this has hit me yet. I'll be very honest with you," Chanticleers head coach Gary Gilmore said. "I think that's why I don't feel like I get all tensed up or whatever. It's kind of like I'm in a dream. I'm scared to pinch myself, to be very honest with you. Coming from where I started 21 years ago — where our university was at that point in time and where we're at today — to know that we're on this stage is one of the most incredible things I could have ever imagined."
"I don't know if I've ever dreamt this far, to be honest with you. I dreamt about getting to Omaha, but I don't know that I ever dreamt getting to this point."
Coastal Carolina built a commanding lead in the early innings thanks to some big hits from their veteran players, especially with two outs. Senior second baseman Tyler Chadwick started a three-hit night at the plate with a solo home run in the bottom of the second inning off TCU starting pitcher Jared Janczak. Junior designated hitter G.K. Young added to the lead with a two-run triple to center field with two outs in the bottom of the third.
The Horned Frogs got on the board in the fourth inning with a two-out RBI single by Elliott Barizlli, but the Chanticleers answered with four two-out runs in the bottom half of the inning to push the lead to 7-1. Seniors Anthony Marks (RBI single), Zach Remillard (RBI single), and Connor Owings (two-run double) all provided the clutch hits during the two-out rally to break the game open.
"The top of our lineup has played together for three and four years," Young said. "Just the bondage we have together and we have faith in one another to pick each other up."
"Like you saw today, that's the team we've been all year. We've picked each other up and we've had those big hits that we needed to get when we needed them, and it worked out today."
Junior right-hander Alex Cunningham held off the Horned Frogs as they slowly chipped away at the lead in the later innings. Cunningham, who took the loss in the first meeting with TCU on Tuesday night, bounced back to get the win on Saturday with six and 1/3 innings of work to earn his 10th win of the season. He allowed four runs on eight hits, but TCU just couldn't string together enough big hits to erase the early damage done by the Coastal Carolina offense.
"We were putting the ball in play, but some hits just didn't fall in for us," said Horned Frogs center fielder Dane Steinhagen, the lone senior in the TCU lineup. "I was seeing the ball well tonight. It's something I've been working on on occasion before the game, just staying behind the ball a little bit better tonight. We just couldn't string a couple of hits together. Some timely hits that we needed we didn't get."
TCU did bring the tying run to the plate in the ninth inning after Steinhagen doubled and scored on shortstop Ryan Merrill's one-out RBI single, but sophomore relief pitcher Bobby Holmes got nine-hole hitter Michael Landestoy to hit into a game-ending 6-4-3 double play which ended the rally, and sent the Chanticleers off to the CWS Finals with a 7-5 win.
The Horned Frogs' season comes to an end with a 49-17 record, while Coastal Carolina improves to 53-17 as they move onto Game 1 on Monday against Arizona. First pitch of the 2016 College World Series Finals is scheduled for 6:00 p.m. (CST).
Game 14 Highlights
Bottom of the 2nd | Coastal Carolina 1, TCU 0 |: TCU starter Jared Janczak wiggled out of trouble in the first inning, and started the second with a strikeout of Coastal Carolina first baseman Kevin Woodall Jr. on three pitches. His at-bat against second baseman Tyler Chadwick started with a pitch out of the zone, and ended with one out of the ballpark. Chadwick jumped on a 1-0 offering from Janczak and deposited it into the right field bleachers to the left of the Horned Frogs bullpen to give his club an early lead.
Bottom of the 3rd | Coastal Carolina 3, TCU 0 |: The Chanticleers continued to take advantage of Janczak's mistakes up in the zone. With two outs and two runners aboard, designated hitter G.K. Young took Janczak deep to center field. TCU's Dane Steinhagen caught up to it at the warning track, but he couldn't secure the running catch. Both runs scored while Young slid safely into third with a two-out, two-run triple.
Top of the 4th | Coastal Carolina 3, TCU 1 |: Coastal Carolina starter Alex Cunningham tried to trade base hits for outs in his fourth inning of work, but after striking out TCU phenom Luken Baker with men on first and second, third baseman Elliott Barzilli lined a two-out single into right field to bring home the first run of the game for the Horned Frogs.
Bottom of the 4th | Coastal Carolina 7, TCU 1 |: More production with two outs helped the Chanticleers open the game up in the bottom half of the fourth. With two on and two down, Coastal Carolina got three straight hits to push the lead to 7-1. It started with an RBI single to left field by senior Anthony Marks. Third baseman Zach Remillard followed with a base hit to right field to bring home another run, and right fielder Connor Owings finished it off with an two-run double down the right field line. Three seniors. Three straight two-out hits. Four runs.
Top of the 6th | Coastal Carolina 7, TCU 2 |: Consecutive singles by Cam Warner and Evan Skoug got a one-out rally started for the Horned Frogs, but they could only bring one run home as Coastal Carolina traded a run for an out on a grounder up the middle by Luken Baker, then induced a routine fly ball to center field off the bat of Elliott Barzilli to limit the damage.
Top of the 7th | Coastal Carolina 7, TCU 4 |: Josh Watson and Dane Steinhagen started a TCU rally in the top of the seventh with a single and a double, respectively, to lead off the frame. As they did in the sixth, the Horned Frogs traded outs for runs to cut into Coastal Carolina's lead. Shortstop Ryan Merrill brought home Watson with a sacrifice fly to right field, then first baseman Michael Landestoy drove in Steinhagen on a slow one-hopper to the edge of the outfield grass at second base.
Top of the 9th | Coastal Carolina 7, TCU 5 |: The Horned Frogs took one last crack at things in the ninth. As was the case in the seventh, a Dane Steinhagen double got something brewing. He scored to cut the deficit to 7-5 on Ryan Merrill's RBI single to right field with one out, but Coastal Carolina reliever Bobby Holmes induced a game-ending double play two pitches later to send the Chanticleers off to the championship series.
Comments
Tagged in: