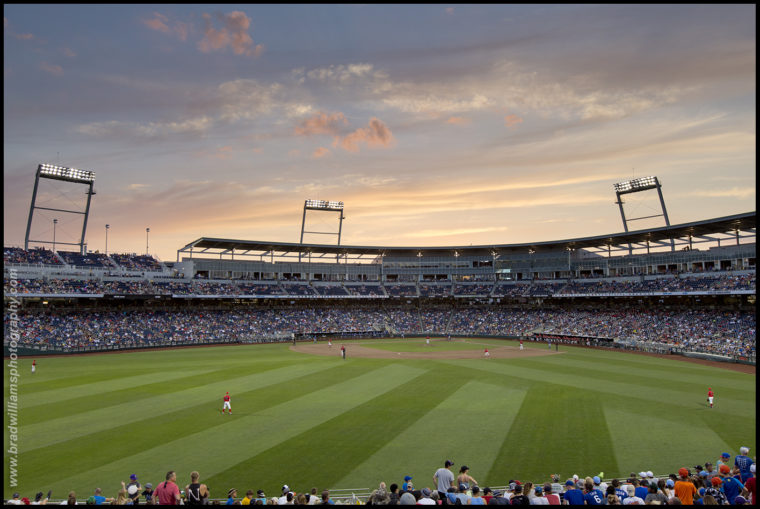 2017 College World Series Day 1 Recap
Game One: No. 1 Oregon State 6, Cal State Fullerton 5.
The bleacher creatures didn't have to wait very long for a free souvenir to land in their laps. Cal State Fullerton senior shortstop Timmy Richards got his team rolling with a three-run blast into seats in left-center field after only one out was recorded in the 2017 College World Series.
Oregon State right-hander Jake Thompson struggled with his command from the onset of the game. The only strikes he recorded against Fullerton leadoff hitter Scott Hurst were pitches that Hurst hit into the seats in foul territory. Hurst eventually drew a walk, as did first baseman Dillon Persinger after a sacrifice bunt moved Hurst to second.
Thompson then fell behind 3-1 to Richards who then crushed the next pitch he saw over the center field fence just to the left of the grounds crew garage to put the Titans in front, 3-0.
"Any time you go up there to take the first four pitches, you kind of get your timing down," the Cal State Fullerton senior said. "I felt like I was right on top of that. I don't think I could have taken a better swing to that ball."
The Beavers put a run on the board in the bottom of the second inning, but Cal State Fullerton doubled their lead, and chased Thompson from the game in the process, two innings later. Sophomore designated hitter Hank LoForte got things started by drawing a walk after an eight-pitch battle with the Oregon State starter. Junior third baseman Taylor Bryant followed that up two pitches later with a base hit up the middle. A ground out by Hunter Cullen moved both men into scoring position, and junior catcher Chris Hudgins drove them both in with a single to left field to extend the lead to 5-1.
Titans starter Connor Seabold gave up only one run on six hits over the first five innings, but he needed 97 pitches — most of the high stress — to get that far into the game. As a result, he was replaced at the start of the bottom of the sixth inning by sophomore right-hander Colton Eastman … and that's when the wheels fell off the Cal State Fullerton wagon.
Eastman, who is widely considered to be the most talented arm in the Titans' arsenal, faced six Oregon State hitters in the inning. He went to a three-ball count with five of them, allowed four walks and watched a run come home a sacrifice fly to center field off the bat of two-hole hitter Nick Madrigal. He left after loading the bases with two outs and falling behind 2-0 to slugger KJ Harrison.
"Seabold was battling, but he was at 97 pitches. He didn't have a 1-2-3 inning. Everything was stressful every inning," Cal State Fullerton head coach Rick Vanderhook said. "He got out of it, but I figured let's roll — we'll go with Eastman for two or three, and then go to [closer Brett Conine] and close it out. Obviously, it didn't work. But that was the thought process."
Eastman was relieved by classmate Blake Workman, but Oregon State designated hitter Trevor Larnach and right fielder Jack Anderson greeted him with consecutive singles up the middle to clear the bases and tie the game, 5-5, heading to the seventh inning. After about two and a half hours it felt like Oregon State was dead in the water and being lulled to sleep by the Titans, and it was all erased in one half inning.
"I think just with how this whole season's gone for us, we know that we're in just about any game," Anderson said. "Doesn't matter if we're down one or down four, we're just believing in ourselves regardless of the score."
Left-handed off-speed specialist Jake Mulholland needed only 17 pitches combined to retire the Titans in order in the seventh and eighth innings, and his offense rewarded him in the bottom of the eighth. Trevor Larnach got the heroics started with a two-out single, then moved into scoring position when Workman lost control of a 1-0 fastball and drilled Jack Anderson in the leg. Three pitches later, freshman catcher Adley Rutschman drove in Larnach to take their first lead of the day at 6-5.
Sophomore fire-baller Drew Rasmussen blew through the Titans in the ninth with a mid-to-high 90's fastball to wrap up the win and send the Beavers, who improved to 55-4 on the season with the win, to Monday night's 6:00 p.m. winner's bracket game.
Game Two: No. 4 LSU 5, Florida State 4.
Florida State landed the first punch and stayed in control for seven innings, but ultimately the bill came due for a couple head-scratching blunders in the field that led to key LSU runs in a 5-4 loss on Saturday night.
The Seminoles jumped out to a 2-0 lead just two batters into the game when junior third baseman Dylan Busby followed up a leadoff walk by shortstop Taylor Walls with a mammoth two-run shot to dead center that landed on the grounds crew driveway to the right of the bleachers.
LSU cut the lead on half in the bottom half of the first inning by taking advantage of the first, and less costly, run-scoring blunder courtesy of the Seminoles. Sophomore left fielder Antoine Duplantis drew a walk with two outs to keep the inning alive, then — on an 0-2 pitch to right fielder Greg Diechman — took off for second to try to move into scoring position to make the rally a little more interesting, and boy did he ever succeed. Diechman couldn't hold up his swing, leading to strike three, but the ball got away from catcher Cal Raleigh, allowing Duplantis to advance to third. After Raleigh ran down the wild pitch, he faked a throw down to first, but dropped the ball in the process, allowing Duplantis the chance to break for home. With starting pitcher Tyler Holton standing in the middle of the infield instead of covering home, it turned into a foot race between Duplantis and Raleigh, which the LSU sophomore won easily to cut Florida State's lead to 2-1.
"I don't know if I can say anything in that regard, because this game is so unpredictable, but I must admit I don't think I can recall a man scoring from first base on strike three," long-time Florida State skipper Mike Martin said. "Even when we used to play a long time ago in little league and the backstop was a long way away when I grew up. I've seen some crazy things, but I never saw a guy score from first base on a strikeout.
"Tip your hat to them — the guy never stopped … it's hard to cover that in practice. 'What are we going to work on? Covering home when we strike a guy out with two outs.'"
The Tigers and Seminoles traded runs again in the third and fifth inning, but LSU finally broke the trend in the bottom of the 8th thanks a game-changing miscue by Florida State right fielder Steven Wells.
With one out, a runner on first, and his team trailing 4-3, Antoine Duplantis once again found himself at the center of absolute chaos. Duplantis ripped a 2-2 pitch from Tyler Holton through the right side of the infield, but as Florida State right fielder Steven Wells charged the ball he overran it and allowed Duplantis and second baseman Cole Freeman to move up an extra base. Wells recovered and tried to gun down the trail runner at second, but his throw was off the mark. Freeman hesitate for a second then darted for home as Busby charged off third base to field the errant throw. He picked it up, turned and fired a strike to home that beat Freeman to the plate by four or five steps, but catcher Cal Raleigh couldn't secure the ball, allowing the tying run to score without a tag. All together on the play there were three errors, a base hit, and one critical game-tying run.
"That was kind of a weird play," Duplantis said with the understatement of the year. "I just kept looking up and things kept happening, so I just kept running."
It was a good thing for LSU that he did just keep running, too, because he ended up on third base, representing the go-ahead run with still only one out and the team home run and RBI leader, Greg Deichman, coming to bat.
Deichman, who was 0-for-3 with a pair strikeouts on the night, came through with a clutch two-strike RBI single through the right side of a drawn-in infield to plate Duplantis and give the Tigers a 5-4 lead heading to the ninth inning.
 Florida State put the tying run on second base and the go-ahead run on first with two outs, but LSU freshman right-hander Zack Hess froze Dylan Busby with a 2-2 slider to end the game and send the Bayou Bengals into a heavyweight showdown with top-seeded Oregon State.
The Beavers (55-4) and LSU (49-17) will square off after the conclusion of Cal State Fullerton (39-23) and Florida State's (45-22) 1:00 p.m. elimination game on Monday afternoon.
Comments
Tagged in: