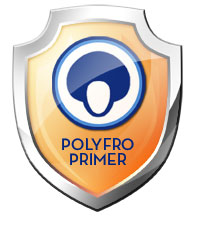 Creighton opens MVC play tonight as the top dog in a league enjoying a resurgence, with four teams holding realistic chances at the NCAA Tournament. Missouri State, the defending champion and a squad featuring last year's Player of the Year, is not one of those teams.
While Northern Iowa, Wichita State and Indiana State have helped buoy the league with strong performances through November and December, the Bears have scuffled, getting off to a 7-5 start. That's a hard pill to swallow for a fan base that thought they'd be in the hunt for another title, especially as they sit on the outside looking in while national media talks up other teams in the MVC. Picked to finish sixth by the media in the preseason — the lowest preseason pick for a defending champion since 1991 when Creighton was tabbed ninth following the departure of Tony Barone and the Dynamic Duo — they've predictably struggled to replace four starters and adapt to a new coach, despite the optimism of their loyal fans.
They're coming off back-to-back losses in Las Vegas, including a 70-68 overtime loss to West Virginia where they blew a five-point lead with 1:02 to play. The next night, still stinging from that heartbreaking defeat, they lost to St. Mary's 77-61, although the game was tight throughout making that score a bit deceiving. Playing on the road at the 19th ranked Creighton Bluejays makes it likely that their struggles will continue. The Jays are the better team and certainly the more confident team, and considering the Bears have beaten Creighton five straight times, the Jays are perhaps also the more motivated team. That's a dangerous combination.
Missouri State started off 4-0 against lesser competition, then went 3-5 against the meatier portion of their non-conference slate, dropping games to Oklahoma State, Oral Roberts, New Mexico, West Virginia and St. Mary's. A huge reason for their pedestrian record is that Kyle Weems has had a disappointing (to put it mildly) start to his senior season. The defending Player of the Year in the league, his production is down significantly in just about every offensive category. For a player who shot at a 47% clip from the field each of the last two years, a drop to 39% is precipitous and concerning. He made around 40% of his three pointers each of the last two years (40.7% and 39.5%), but is making just 32.8% this year. This fabulous line graph illustrates the arc of his offensive production: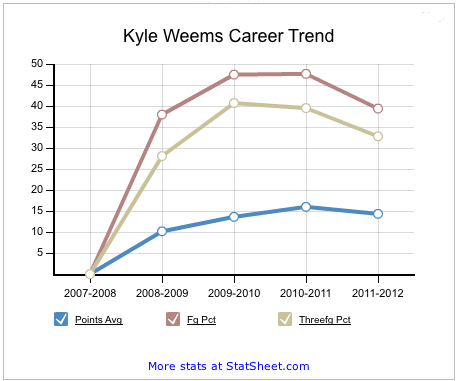 Ouch.
Lyndal Scranton of the Springfield News-Leader told WBR's Patrick Marshall that he attributes the slow start to several factors. "He's now the clear focus of opposing defensive game plans. I think he put too much pressure on himself early and is settling into that role a bit better of late. There's no doubt he misses a veteran supporting cast as newcomers are still settling into roles."
That said, Weems is a great player, and by the end of the season, it would be a surprise if those numbers weren't closer to where they were the previous two years. Every coach in the Valley just hopes his breakout game doesn't come against them, because they know it's coming. Coach McDermott alluded to this fact after practice yesterday, telling the media, "It is just a matter of time. He isn't going to shoot thirty-eight, thirty-nine percent from the field and low thirties from the three-point line; he's a much better player than that. He has our full, undivided attention [Wednesday]."
It goes without saying that as Weems goes, the Bears fortunes go. He's been wildly inconsistent, which isn't anything new when you look at his career game-by-game statistics. There are two differences this year, however. One, he hasn't had the monster games to balance out the games where he couldn't hit the broad side of a barn, and Two, he doesn't have the supporting cast to carry the team through the games where he isn't sharp from the field.
The best of that supporting cast is Caleb Patterson, their 6'11″ senior center. Thrust into a starting role for the first time, he's second on the team in points (13.7) and has the most field goals, edging Weems 64 to 63. New coach Paul Lusk runs a similar system to former coach Cuonzo Martin, which is no surprise since they're both off the Purdue coaching tree, but they pound the ball into their post players a bit more often offensively, a slight strategic shift that has allowed Patterson to flourish. He had his best week as a Bear last week, averaging 16.8 points and shot 65.2% from the floor (21-32) in their three Las Vegas games.
Junior college transfer Jamar Gulley is third on the team in scoring, but has a knack for being in foul trouble which probably explains why he's played the fewest minutes of their regular starters. When he is on the floor, he averages 10.3 points, shoots 56.8% from the field, and 33% from behind the arc. Fellow transfer Mike Bizoukas, who Creighton faced twice when he was at DePaul (6 assists and 3 turnovers in a December 2008 game in Las Vegas, and no assists with zero points in his first collegiate game in a November 2007 visit to Omaha) is a pass-first guard, averaging 5.2 points and 6.1 assists in 30 minutes a game. He's a flashy passer, which leads to some highlight-reel plays — and a higher rate of turnovers than you'd like, as his 2.8 A/T ratio shows.
The Bears are better than their 7-5 record suggests, but the Jays remember all too well that they've lost five straight to these guys, and with the home crowd behind them and a better, deeper team, it's hard to argue with the Jays being a 10 point favorite.
Catching Up With the Bears: In last week's trip to the Las Vegas Classic, the Bears fell to 0-7 all-time in Vegas. Those seven losses have come by an average margin of just 6.0 points with three overtime defeats … The Bears are 9th in the nation this week in turnovers per game (10.6). Last season, MSU finished 7th among 336 Division I teams in fewest turnovers (10.3) … In their 22nd season in the Missouri Valley Conference, the Bears are 12-9 all-time in MVC openers, including last year's 58-57 win at UNI (12/29/10), which was decided on a three by Kyle Weems with 2.5 seconds remaining … The Bears have held 11 of their 12 opponents this season under 43% shooting from the field, pushing the Bears to 15th in the nation in FG Percentage Defense (.380), which is also tops in the MVC … Missouri State has shot a higher percentage from the field than 10 of its first 12 foes, despite ranking fourth in the MVC in that category (.451) … Kyle Weems is two three-pointers shy of 200 for his career. Only three other MSU players have 200 career three-pointers: Blake Ahearn (2003-07) 276; Johnny Murdock (1991-95) 266; and Kevin Ault (1996-2000) 254.
One Big Paragraph with Lots O'Dots™: Grant Gibbs had 10 assists at Tulsa on Dec. 19, then added 12 assists vs. Northwestern three days later, becoming the first Bluejay with consecutive games of 10 or more assists since Duan Cole did it on Jan. 27 & 30, 1990 … Missouri State has won five straight against the Jays, despite Creighton leading at halftime of all three games last season … According to statistical website bbstate.com, Creighton's offense ranks tied for second nationally with 1.18 points per offensive possession. In the previous six seasons, only one team (Ohio State in 2010-11) has had a year-end points per possession of 1.18 or better … Creighton has scored 70 points or more in all 11 games to date, the longest streak of 70 point games to begin a season since starting the 1970-71 campaign with 17 straight contests of 70 or more … The Jays are off to a 10-1 start through 11 games this season, the eighth time in program history the Jays have been 10-1 or better after 11 games. Three teams have started 11-0, while this is the fifth team to begin exactly 10-1 … Greg McDermott has coached 50 games on the Creighton sideline, and his 33 victories are easily the best mark by any coach at that point since Tom Apke reached his 50th game in 1976 with a 37-13 mark.
McDermott and Apke are the only two Creighton coaches in the last 90 years to get to 50 games with 30 or more wins.
The RUN-DMD Show: Through games of Dec. 26th, Doug McDermott was leading the nation with 112 field goals made this season. By comparison, no other player in the MVC has more than 65 buckets (Rayvonte Rice & Taylor Brown) … McDermott has made nine or more more field goals in each of the past 10 contests, and averages 10.2 field goals per game. No other player in the country averages more than nine field goals per game this season, and according to data at StatSheet.com, no player has averaged 10 field goals per game since VMI's Reggie Williams in 2006-07 … STATS Inc. reports that Doug McDermott is the nation's only player with an active streak of more than three straight 24-point games or more. He has a remarkable NINE straight such games … Doug has upped his scoring average after all 11 games this season, a feat which gets more impossibly improbable every time I think about it … He owns 279 points through 11 games, an average of 25.4 per contest that ranks him tied for first nationally in scoring (through Dec. 26th). That would rank third-most in CU single-season history and would be the most since Bob Portman averaged 26.2 points per game in 1968-69. Portman, who finished fifth nationally in scoring in 1967-68 (29.5 ppg.), is the only Bluejay to ever rank in the top-10 of the year-end scoring leaders.
The Last Time They Played: Missouri State held Creighton to just two field goals in the final 11:50, defeating the Bluejays 60-50 in the semifinals of Arch Madness last March. Kenny Lawson led Creighton with 12 points, seven rebounds and three blocked shots, as the Jays took a 30-25 lead into the half. Jahenns Manigat increased their lead after the break with a three-pointer and circus shot jumper to beat the shot clock, and the Jays took their largest lead of the game at 37-29 with 16:50 to go. But they'd soon go cold, and the Bears would beat them for a fifth consecutive time.
The Series: Creighton leads 30-27 all-time, thanks to winning eight in a row prior to dropping the last five. The five-game losing streak to the Bears is the longest since the Jays lost six in a row to them from 1996-98.
Creighton is 17-4 all-time at home against Missouri State. Greg McDermott is 6-10 in his career (and 0-3 at Creighton) against Missouri State, including a 79-74 double-overtime victory over the Bears to win the 2004 MVC Tournament. He has never coached against Paul Lusk.
Gratuitous Linkage: Gregg Marshall has a strict No Trash Talking policy. No, seriously, it's true. I'm so shocked by this news that I can't even make a pithy comment.
This Date in Creighton Hoops History: On December 28, 2005, Senior Johnny Mathies had 18 points and a career-high five steals to lead four players in double-figures as Creighton beat Missouri State, 78-56, in the conference opener for both teams. It was a remarkably similar score to their previous matchup, when the Jays defeated the Bears in the MVC Tournament championship game 75-57 the previous March.
Random note from that game that may only be amusing to me: the win featured the first made three-point basket of Jeffrey Day's Creighton career.
Completely Random, Totally Rad Music Video of the Day: News that Van Halen's long-awaited new album with David Lee Roth, thirty years in the making, will finally be released in February briefly made them a trending topic on Twitter yesterday morning. I don't need an excuse to play old school Van Halen, but that seems like a good one. Also: two weeks until their new single drops? Awesome.
The Bottom Line: Creighton is favored by 10 tonight, and I think that's about right.
Jays 84, Missouri State 72
Comments