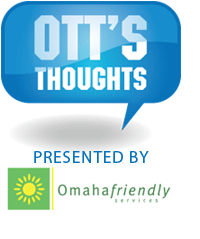 Wednesday night was a busy one in the Missouri Valley Conference. Creighton beat Drake (again). The Jays extended their road winning streak; it is now the best such streak since before I was born. And the Bluejays and Wichita State distanced themselves further from the rest of the Missouri Valley Conference.
Patrick wrote an excellent piece immediately following the game. The box score is here. Instead of rehash a win at the Knapp Center, which happens for CU less often than one would think, I thought I'd throw together a stat grab bag.
Stat grab bag!
Antoine Young's two turnovers against Drake were his first TOs since Creighton's 90-71 win against Southern Illinois. Young dropped 10 dimes against zero turnovers in wins at Missouri State and at home against Indiana State. His 2.3:1 assist-to-turnover ratio is 71st in the country.
Doug McDermott's season stats against Drake are ridiculous. In two games, McDermott torched the Bulldogs for 54 points, making 19 of 26 field goals (73%). He grabbed 16 rebounds in the two CU-DU matchups, missed only one free throw, and otherwise dominated Drake.
McDermott's 30 points against Drake Wednesday were 3 more than he had in his previous two games combined. He made 10 shots against the Bulldogs, after making 11 shots total against the Bears and Sycamores.
After a three-game stretch of double-digit scoring in mid-January, Grant Gibbs' point production slowed from 10 against SIU to 9 against MSU to 6 against Indiana State to 4 against Drake. Conversely, Gibbs' assists have picked back up; from 2 each against the Salukis and Bears to 5 against the Trees and then 7 versus the Bulldogs.
Gibbs' 120 assists are 15th best in the nation; his 5.7 assists per game are 28th best, too. His 2.4:1 assist-to-turnover ratio is 60th in the country.
Jahenns Manigat made 5 field goals against Drake, all of which were 3-pointers. The 5 field goals matched his season high, which game against Chicago State. All 5 of those makes were from long range that night, too. Manigat's career-high for field goal makes in a game is 6, against San Jose State in last year's CBI tournament; he made 5 treys that night, too.
Gregory Echenique's defense has been stout all season, but is offense and rebounding in the past 7 games has been outstanding, too. During that stretch, Echenique is averaging 9.4 points per game on 62% shooting in almost 24 minutes a game, while averaging 9.6 rebounds and 1.7 blocks. He's even made 30 of his 35 free throws (86%).
Ethan Wragge has hit a few shots here and there lately. But since scoring 14 points at Illinois State two weeks ago, Wragge has made only one more shot (6) in four games following that performance than he knocked down in Normal (5, 4 of which were treys).
Wragge remains this Jays fan's choice for the player I'd most want to attempt a game-tying or game-winning 3-pointer if CU needed one. But it should leave Jays fans content knowing that among the Valley's top 10 3-point shooters, percentage-wise, Creighton claims 4 of the spots. Manigat leads the league in 3-point shooting (51.9%), while McDermott (50%) is second. Wragge is fourth (44.4%), and Josh Jones is 10th (40.4%).
After a solid first half of the conference season, Jones took a momentary step back against Drake Wednesday. He failed to rotate on a couple of shots, didn't grab a rebound, and missed his only two field goal attempts. He played only 10 minutes, his lowest total since Valley play started.
Meanwhile, Austin Chatman's playing time continues to increase. He played 17 minutes in Des Moines, his highest total in conference games.
Ditto for Will Artino, who turned in the best game of his brief Bluejays career while returning home to central Iowa. He scored 6 points for the second consecutive game; his 12 points against the Sycamores and Bulldogs are more than what he scored in the team's other 8 Valley games combined (9). He played 16 minutes against Drake, a season-high, following 11 minutes against Indiana State. Those 27 minutes of court time are only 1 more than his minutes in the other 8 conference games combined (28).
A few other thoughts while wondering which pink shirt I should wear Saturday night.
Maybe I'm too biased, but Jay Bilas is right when he says Creighton can beat any team in the country. That's what Bilas, one of ESPN's star college hoops commentators, told Matt Schick and Nick Bahe on their radio show this week. While other local media are arguing whether Creighton's a top 15 team (ahhem, Clester Johnson, ahhem), it is difficult to disagree with Bilas.
Just look at some of those stats above. Creighton features two experienced guards who can make plays for others, or score when needed. CU features two big men, one (McDermott) who is dominates opponents' game plans night in and night out, and another (Echenique) who is capable of dominating the paint any given game. If opponents collapse on the Creighton frontcourt, the Bluejays' shooters are capable of knocking down triples from anywhere on the court. And during the time in a season when increased minutes start leading to tired legs, some of the CU Bench Mob are starting to see more and more playing time.
Everyone makes a big deal about RPI, and Creighton's is currently 11 (on the RealtimeRPI Thursday night). But looking at the rest of the teams in the RPI top 20 on that site, another ranking sticks out: Creighton's strength of schedule (75) is close to or better than that of Kentucky (70) and Missouri (98). I'm not saying CU would beat those teams, but it wouldn't surprise me if they did. While Creighton's schedule isn't as challenging as the docket teams like Syracuse, Duke, or Michigan State see (nor will it ever be), the Bluejays have thus far beaten a season's worth of good teams.
What happens in March depends on matchups. If Creighton and Missouri played, I'm not sure the NCAA Tournament officials could stock enough Gatorade or oxygen in that arena. Local masseuses/chiropractors would be raking in cash, though, dealing with the necks strained by the back-and-forth pace of that game. Meanwhile, if the Wildcats and Bluejays tussled, would McDermott be able to shoot over Anthony Davis's Condorman-like wingspan? Or would collapsing help-side defense leave Creighton's shooters wide open?
My point? No one knows. But for people to argue about whether Creighton's a top 15 team is silly. They are, as of this week's polls, and that's all that matters right now.
I've never seen anyone have to work so hard for 18 points as Ben Simons did Wednesday night. When 9 p.m. rolled around Wednesday evening, I was exhausted. Watching Drake's Simons try to run the Bluejays defense ragged took a lot out of me. But everywhere Simons ran, around multiple (moving) screens and up and down the baseline, Jahenns Manigat or another Bluejay guard would surely go.
Coach McDermott mentioned in his pregame radio interview with T. Scott Marr that Manigat was battling the flu. Really? The same guy keeping pace with Simons nearly the entire evening? If that's the case, hats off the Dan Bailey and the Creighton Strength and Conditioning team. Because Manigat hit five 3-pointers and scored 15 points all while shadowing Drake's best perimeter shooter for a good portion of the game. Meanwhile, the wear and tear took its toll on Simons late, when he missed a few key shots badly and looked as though his legs were spent.
BracketBusters? Bring on the 49ers! Mine might be the dissenting opinion, but I'd rather the Bluejays play Long Beach State than St. Mary's. I'll just be contrarian. Honestly, I've seen LBSU play only once this year, early. But if they are like any of Dan Monson's team's in recent history, they are what this CU team has struggled with in the past: athletic, explosive scorers.
More importantly, the 49ers have faced some upper-echelon opponents in the non-conference and held their own. Long Beach State has a much better strength of schedule (62) than the Gaels (129), the other rumored option for Creighton's BracketBusters opponent. Forecasting to March, where the Bluejays are more likely to play teams that on paper may be physically superior (taller, "longer," stronger, etc.), it might help them to square off against a team that cut its teeth on a non-conference schedule full of those types of teams.
Ultimately, as long as CU welcomes one of these two teams to Omaha, I'm happy with how this year's version of the bloated event will have played out. Beat the Gaels or Niners, and it is a good win. Lose at home, and it isn't necessarily a "BracketBuster" — the Bluejays are assuredly safe in any bracketologist's projected dance card right now. To me, this final non-conference game is a tune-up for the team's next non-MVC game, which will likely come in the NCAA Tournament. LBSU has played — and played well — against more NCAA Tournament teams than St. Mary's has, even if the Big West is a horrible conference and the 49ers' SoS could plummet as the season wears on.
Comments