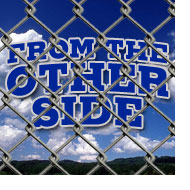 The Creighton men's basketball team hits the court on Saturday night in their pink shoes and pink uniforms to take on the Bradley Braves. The last time these two teams got together, Doug McDermott went for 44 points against the Braves' soft defense. Who knows what might happen with the game being in Omaha this time.
The Braves have lost 11 of their last 12 games and have one conference victory. Over the past two seasons, Bradley is 1-16 during the month of January. It has been a couple of tumultuous seasons in a program full of history.
In the Bluejays first game against Bradley, we talked to Dave Reynolds of the Peoria Journal-Star who keeps the beat on the Braves on Bradleyhoops.com. For the game here in Omaha, we took some time to talk to columnist Kirk Wessler of the PJ Star to get another insight. Here is what he had to say.
White & Blue Review: How would you characterize Geno Ford's first year at Bradley? Are they in a better spot than they were last season with Jim Les?
Kirk Wessler: Answer to the first question, in a word: rough. Second question: On the surface, they're in the same spot — last place. So, no. The final record is probably going to be worse, but some of that is due to playing a stronger schedule: 49 SOS on the RPI right now as opposed to 144 last year. Regarding the long term, Geno Ford has to build a case for the jury. The coaching change had to be made. Bradley had never finished higher than fourth in nine seasons under Les, and there was nothing to indicate that was going to change. This program needs much better players, and a lot of them. It'll be a couple of recruiting cycles before we know whether Ford can recruit well enough to make Bradley a contender again.
WBR: As a team, do you see improvement in game play since the beginning of the season? What is the biggest challenge for the program over the next couple of seasons?
KW: There has been improvement in some areas, stagnation in others. Not atypical for a first year in transition after a coach was fired. It's a little easier to see individual improvements. Walt Lemon Jr., who has been forced to play point guard, has improved dramatically over last season, but he still has a long way to go. Jordan Prosser in the post showed substantial improvement early but has struggled in MVC play. Taylor Brown, offensively, has been what we expected before he sat out last year with the heart monitoring, but I think everyone has been shocked that he was so game ready right from the start. He had been totally shut down — not even allowed to jog — for 8-9 months. Shayok Shayok, the only freshman who is playing much, is very raw, but is getting more comfortable in games now. The team has improved quite a bit offensively, especially for a group with no good perimeter shooters. But they struggle because they have no true point guard, and they sorely lack players with the necessary shooting, passing and dribbling skills to compete at this level.

My biggest disappointment has been on defense. That was one of Les's biggest shortcomings as a coach, and I haven't seen much out of this team, either. Having said that, though, it can take a while for a new coach to change a culture and impress on guys that defense really is important. The second disappointment has been some recent regression in terms of playing hard. That had been encouraging the first half of the season. Maybe it's due to the frustration of not seeing it pay off with wins. But lack of effort only makes the situation worse.

The No. 1 challenge over the next couple of years is to find a lot of players who can compete for MVC championships. That will help establish No. 2, which is on-court accountability. Les was very poor at that. Better guys knew they could skate on defense and the boards as long as they could score and Les wouldn't bench them. Ford has so few options in backup positions, I think he feels forced to play guys who should be benched. There have been times when he benched regulars, individually and as a group, for a few minutes to try to get the point across, but there's not enough internal competition to make it stick. No. 3 ties into 1 & 2: defense and rebounding, defense and rebounding, defense and rebounding…
WBR: Taylor Brown has seemed to play a lot better since the game against Creighton in Peoria. What has been the thing that has helped him play a bigger role for the Braves? Would there be any chance he would try to apply for another year of eligibility since he sat out all of last season with his health issues?
KW: First, Brown is only getting stronger as he continues to play. As I said before, he was stunningly game-ready when the season began, but still not 100 percent. The closer he gets to 100 percent, the better he gets. Second, I think he's experiencing what a lot of seniors do: He sees his career ending and wants to prove what he can do in limited opportunities remaining.

I haven't talked to him directly about the future, but based on what others have said, and the way he talks in general, I say no chance he returns. He doesn't want to come back. He wants to graduate in May, and go play ball for money someplace.
WBR: Who has been the biggest surprise on the team so far?
KW: I'll say Walt Lemon Jr. He is a phenomenal athlete with some raw basketball ability, but he was never taught how to play. As a freshman, his shooting form was awful, he was a one-way player (all left), he displayed little court vision and he had zero concept of playing any way but at top speed. He is one of the fastest and quickest guys I've ever seen.

Under Ford and his staff, Lemon has improved his shooting, he's starting to look for and find open teammates, and he's a legit threat in that opposing teams have to game-plan for him. His decision-making is better, improving his assist-to-turnover ratio. He's trying to translate the coaches telling him to change speeds, but that's a struggle. Now, because he's still so one-dimensional, if you have a good defensive team, you can keep him from getting to the basket. So he'll have to adjust. But a year ago, I thought he was a wasted scholarship. I think he's a keeper now. But he's not yet a front-line point guard.
WBR: At the game in Peoria, Doug McDermott exploded for 44 points. What will Bradley do this time differently to try and contain him?
KW: Politely ask him to take the night off and watch from the bench. Seriously, I don't think they can stop him without letting everyone else go off. They simply don't have a player capable of defending him one-on-one, and they are not yet adept enough to play the necessary help defense and rotate well enough for an entire game to stop him.
WBR: Bradley has not won a road game all season. Why is it so tough for them on the road?
KW: Actually, they did win at George Washington in the non-con season. They played very well at Michigan for 30 minutes, and they've played a couple of other good halves on the road. But the road is tough, even for good teams. You have to be tough mentally, and you need confidence. Well, where do you get confidence to win on the road if you've not done it? They won only two road games last year and only four the year before that. So there's not a single regular player today who has ever played significant minutes for a team that won road games.
WBR: Dyricus Simms-Edwards, Walt Lemon and Taylor Brown play a majority of team's minutes on the court. What kind of toll is it taking on them as they go through the second half of conference season?
KW: I don't know. Probably some. Kids are in good shape, though, everywhere you play. They play two games a week, for the most part. That's not too much to ask. Would they be a little fresher if their minutes were five fewer per game? Probably. But they don't have that luxury, and I don't think they give it a second thought. If they were all going 40 a night, that would be one thing, but they're not. The physical toll is greater, I think, on bigs. Those guys are in full-body contact mode throughout the game, both ends of the court. That takes a bigger toll on a guy.
WBR: What is your final prediction? What will Bradley have to do to get the upset in Omaha?
KW: Creighton 85-69. Bradley's chance for an upset is as close as you can get to being "none" without actually being "none." It would take Bradley's best 40 minutes of the season, along with Creighton being completely flat and in serious foul trouble.
Comments