Since the Valley's player of the year award was first given out in 1969, 15 juniors and 28 seniors have won the award, and over the last decade, it's been awarded to a player from the league's regular season champion every year except for one — when Creighton's Kyle Korver won it in 2002-03. In the days leading up to the announcement of the MVC's men's basketball awards, those two facts led to a lot of curiosity amongst Creighton fans, wondering if Doug McDermott might be a first-team All-American but not win POY in his own league because of the traditions and methods of those who vote for its' awards.
On Tuesday afternoon, it was announced that Creighton's stupendous sophomore received 25 of a possible 36 first-place votes, and overcame both the upperclassman and "best team" traditions in being named the Larry Bird Player of the Year. It's a much-deserved honor, and one that few would contest — he had one of the most statistically outstanding seasons in conference history.
McDermott ranks first in the Valley and third nationally with a scoring average of 23.1 points per game, and ranks second in the conference in both rebounding (8.1 rpg.) and three-point percentage (.479). McDermott's five MVC Player of the Week accolades were the most by any individual in a season in 25 years — only Hersey Hawkins of Bradley, who won six in 1987-88 en route to national POY honors, has won more. The only sophomores in league history with more points in a season are Oscar Robertson and Larry Bird.
Perhaps the most amazing feat, to me, is that he has the most points in school history through two seasons, passing the record of Bob Portman (1,195). When we profiled Portman as part of the "What's in a Number?" series two summers ago, commenters told us it was unfair to compare his ludicrous offensive stats to that of current-day players, because the modern game generally prevented players from scoring at that high of a clip. One reader even emailed me to say while Rodney Buford, Chad Gallagher and Bob Harstad had passed Portman's career numbers, no one would ever break his first-two year mark. I agreed with them. Two years later, Portman's record is no more. Crazy.
Being named POY puts him in some select company in program history, as just four other Jays have won a POY Award: Bob Harstad ('90), Chad Gallagher ('91), Kyle Korver ('02, '03) and Booker Woodfox ('09). Here's how the voting broke down: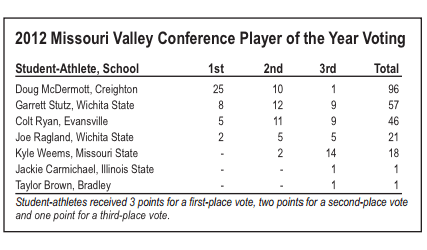 Perhaps more controversial was the announcement of Gregory Echenique as Defensive Player of the Year. Certainly, there's been some pushback to this from Wichita State fans, disturbed that a flawed defensive team could have the best defensive player. One poster on MVCFans even said it defied logic that a team that finished two games out of first could have the best overall player AND the best defensive player.
No one (at least, no one I would lend credence to) claims Creighton is anything more than an average defensive team, overall. They're not. In several games, they've been downright terrible. But in the post — where Echenique plays — they've been nothing short of stellar, consistently, all year. The Valley's runner-up in the POY awards, Garrett Stutz, was completely ineffective in two matchups with Echenique (5 points, 4 rebounds in Wichita; 8 points, 1 rebound in Omaha). The Valley's next-best big man, Jackie Carmichael, was held well below his averages of 13.8 points and 9.3 boards in two games versus Creighton (14 points, 4 rebounds in Normal; 6 points, 6 rebounds in Omaha).
In fact, I'd argue that part of the reason Creighton's perimeter defense is so terrible is that teams give up trying to score at the rim, and take more shots from 15-feet and out than in other games. It's the basketball version of Bill Belichick deciding in a playoff game a few years back that since no one could run on the Steelers' rush defense, he'd just abandon the run and pass instead. Illinois State, Missouri State, Evansville, Bradley and Drake all attempted more jump shots against Creighton than in other Valley games, according to StatSheet.org. That's half of the league changing their offensive gameplan (mostly) because of one player. Sounds like a defensive player of the year to me.
Statistically, Echenique also grades out well. In league play, Echenique led the MVC with 1.7 blocks per game and 2.8 offensive rebounds per game, while also ranking second in rebounds per game (8.2) and field goal percentage (.630), fifth in defensive rebounds per contest (5.3) and 10th in free throw percentage.
He's the first-ever Creighton player to be named Defensive Player of the Year, an award handed out annually since 1989.
Here's the rest of the awards:
Newcomer of the Year: Carl Hall, Wichita State
Freshman of the Year: Seth Tuttle, Northern Iowa
Sixth-Man of the Year: Ned Cox, Evansville
First Team All-MVC
Doug McDermott, Forward (Creighton)
Kyle Weems, Forward (Missouri State)
Joe Ragland, Guard (Wichita State)
Colt Ryan, Guard (Evansville)
Garrett Stutz, Center (Wichita State)
Second Team All-MVC
Jackie Carmichael, Forward (Illinois State)
Ben Simons, Forward (Drake)
Jake Odum, Guard (Indiana State)
Rayvonte Rice, Guard (Drake)
Antoine Young, Guard (Creighton)
Honorable Mention
Taylor Brown, Forward (Bradley)
Mamadou Seck, Forward (Southern Illinois)
Denver Holmes, Forward/Guard (Evansville)
Anthony James, Guard (Northern Iowa)
Toure Murry, Guard (Wichita State)
All-Newcomer Team
Tyler Brown, Guard (Illinois State)
Anthony Downing, Guard (Missouri State)
Grant Gibbs, Guard (Creighton)
Carl Hall, Forward (Wichita State)
Seth Tuttle, Forward (Northern Iowa)
All-Freshman Team
Dantiel Daniels, Forward (Southern Illinois)
Seth Tuttle, Forward (Northern Iowa)
Ryan Sawvell, Forward/Center (Evansville)
Deon Mitchell, Guard (Northern Iowa)
Nic Moore, Guard (Illinois State)
All-Defensive Team
Jackie Carmichael, Forward (Illinois State)
Gregory Echenique, Center (Creighton
Toure Murry, Guard (Wichita State)
Ben Smith, Forward (Wichita State)
Troy Taylor, Guard (Evansville)
Comments