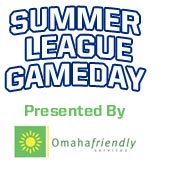 Are you ready for some basketball? Summer basketball returns to the Metro on Thursday night as the Metro Basketball League fires up play. This season there are 20 teams in action. The league has expanded to a three-hour format. Collegiate players past, present, and future will be participating in the league, creating some great action.
You can get all your previews, recaps, and pictures from the Summer League games at White & Blue Review — the exclusive home to the Metro Summer Basketball League. Bookmark http://metrobball.whiteandbluereview.com to quickly find all the information you need to follow the Creighton Bluejays in these entertaining games.
Come out to the Omaha Sports Academy to watch the games all season. Games are open to the public and admission is free. There will be programs available for purchase so you can figure out which player is wearing what jersey if you are not familiar with the guys. With so many new players on the court, you may need that program to keep up with the action.
Here is a preview of the games and the teams involved.
Game of the Night:
6:00 p.m. (Court 2) Judd Knispel Agency vs. Narmi Group @ Smith Barney

Bluejays to Watch: Nick Bahe, Nate Funk, Doug McDermott, Austin Chatman, Ross Ferarrini, Antoine Young, Taylor Stormberg, Alex Olsen

When the rosters for summer league were released there were many calling foul after seeing the lineup for the Judd Knispel Agency. Former Bluejay Nick Bahe got together some of his closest friends to form this team. That in turn includes former Creighton standouts Nate Funk and Antoine Young and current Creighton All-American standout Doug McDermott and incumbent starter at point guard Austin Chatman.
But wait there is more! Former Nebraska star Jake Mulheisen and summer league all-star Ross Ferarrini join the lineup. Adding more punch when around for his basketball camps, current Minnesota Timberwolf Anthony Tolliver will join this team in early July. Everyone will be gunning for this team.
On the other side for opening night is the Narmi Group @ SmithBarney. This team includes Creighton walk-ons Taylor Stormberg and Alex Olsen. Joining them will be former Samford player Andy King, former Nebraska-Kearney star Nick Svehla, and current UNO players Caleb Steffensmeier and John Karhoff. They will have their work cut out for them against Judd Knispel, but you never know who will be showing up for them.
All in all, this game will likely have the biggest crowd during the 6 p.m. hour.
Creighton-Heavy Games

5:00 p.m. (Court 2) EQ School of Hair Design vs.  vs. Walentine, O'Toole, McQuillan & Gordon
Bluejays to Watch:  Grant Gibbs, Jahenns Manigat, Ethan Wragge, Nevin Johnson, Matt Dorwart
If you get to OSA early on your way home from work, you will catch a great game to kick off Summer League. The EQ School of Hair Design features Gibbs and Manigat together along with high flyer and former Bellevue University star James Parrott. Parrott will finish his collegiate career at Midland next season.
A lot of eyes will be looking to see Nevin Johnson play for WOMG. One of the struggles Creighton had last season was with defense and many see Johnson as a possible remedy for that defense. While there won't necessarily be much defense going on at Summer League, Creighton fans are still interested to see Johnson play since he spent last season as a redshirt. Ethan Wragge joins the team along with some players from Midland, Concordia, and UNO. They may be a surprise this summer.
6:00 p.m. (Court 4) Paragas Law Offices vs. Shanks Law Firm

Bluejays to Watch: Josh Jones, Will Artino, Rodney Buford,

Jones and Artino played together on the same team last summer. This year they get to add in the Creighton all-time leading scorer, Rodney Buford. The rest of the team is made up of college graduates including Benny Valentine who played part of his collegiate career at Eastern Washington.
The other side of this matchup features a lot of former Bellevue University players along with former Iowa State player Omar Bynum. Bellevue University has a lot of history in previous summer leagues and they are part of what a lot of people might have known better as the Bellevue Alumni team.
7:00 p.m. (Court 2) Bank of Nebraska vs. Thompson Basketball Camp
Bluejays to Watch: Justin Carter, Geoff Groselle, Avery Dingman, Andre Yates, Isaiah Zierden, Livan Pyfrom
For those watching the Judd Knispel Agency at 6 p.m., stick around to watch the future of Creighton basketball in action for Thompson Basketball Camp. Groselle is coming off of a redshirt season, Dingman had some productive games last season as a freshman, and Yates and Zierden will be getting their feet wet as incoming freshman. In a couple of years, this may be a starting lineup you will see on the floor, or at worst case, a group a large contributors. Add in the length of Pyfrom and the veteran Dean Thompson, and this could be a tough group.
Bank of Nebraska is made up of veteran players, many that were on the championship team from two summers ago. Last season, this group struggled to get a win and have done some retooling this summer. Cody Levinson, Ben Holling, Jared Anderson, and former Husker Wes Wilkinson anchor this group, but the addition of former Creighton player Justin Carter and new Husker Deverell Biggs will give them some extra athleticism.
The Rest:
5:00 p.m. (Court 1) Bellevue University vs. HCMC
Bellevue University is the defending summer league champions. A big advantage Bellevue has over schools like Creighton and UNO is that they are able to field their whole team as a group to play together due to their NAIA status. For the returning players, this creates some great chemistry and for the new guys it gets their feet wet with teammates before this fall. Bellevue has some reloading to do this upcoming season, so this will be a good test for them.
Their opponents on Thursday night are of similar standing. HCMC is made up of current Hastings College and Morningside College players. Jake Marvin and Dane Bacon lead the way for this team along with Morningside's Trent Miller.
6:00 p.m. (Court 1) Construction Zone vs. Higgins Weatherguard
The Construction Zone team is made up of all graduate players, mainly those that played at Peru State with a few other players sprinkled around. Higgins Weatherguard on the other hand is made up mostly of current small college players, with Mike Dentlinger from UNK and Austin Hennings from South Dakota State the most notable names in that group.
6:00 p.m. (Court 3) PJ Morgan Real Estate vs. ABIDE
A power team hidden as PJ Morgan Real Estate could make some real noise in summer league play. This team is pretty much all current or former UNO players. The Albers brothers are always tough and Tyler Bullock is always fun to watch.
ABIDE is made up mostly of current players from Nebraska Wesleyan, Briar Cliff, Missouri Western State, Fort Hays State and a couple of JUCO colleges.
7:00 p.m. (Court 1) Chris Carder Agency vs. Wissing
The Chris Carder Agency should be interesting to watch as it includes current UNO players Tyler Egli and Alex Welhouse as well as incoming freshman Jalen Bradley. Add in a few players from Northeast CC and this team could have a lot of chemistry.
One of those teams sort of coming out of the woodwork is team Wissing. The players on this team are veteran graduate players that include a few from Hastings College and Wayne State alumni.
7:00 p.m. (Court 3) Zurlo's vs. Vanderslice
A team to be on the lookout for is Zurlo's. This one is filled with former Nebraska players including Lance Jeter, Ryan Anderson, Cole Salomon, and Nick Krenk. However the closest they get to playing a Creighton-heavy team is against EQ School of Hair on July 12th.
Vanderslice is a bit of a new team this season that includes a couple former UNO football players and some basketball graduates.
7:00 p.m. (Court 4) UNO Alumni vs. Andy's Lawn & Landscape

Bluejays to Watch: Brody Deren
Former Creighton player Brody Deren again plays for the UNO Alumni team this season. This team has been historically tough and will be one to keep an eye on. On the opposite is another team full of former Nebraska players. Jason Dourisseau, Andrew Drevo, John Turek, and Charles Rchardson lead the way for Andy's Lawn & Landscape. This game should be a great one to watch for opening night as I am sure it will be a battle.
Comments