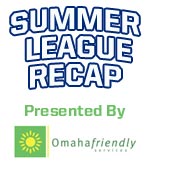 On Thursday night, many fans turned out to see the first night of Metro Summer League basketball at the Omaha Sports Academy.  There were some unexpected players missing, but also some surprises too.
The "Dream Team" was missing a lot of players but an appearance by a former Creighton standout was not enough.  There were some great matchups between the future of Creighton and Nebraska basketball that kept things exciting.  All in all it was a great opening night.  Below are some short recaps of the games.
Narmi Group 82, Judd Knispel Agency 65:
In what was pegged as the game of the night, it instead turned out to be a big win for the Narmi Group.  Doug McDermott was not available as he was headed to the Amare Skills Camp in Chicago.  Nate Funk was also absent.  One bright spot was the surprise appearance of Booker Woodfox for Knispel.  This is the only time he will likely play with them this season, but it was good to see him out there again.
Austin Chatman, Nick Bahe, and Stephon Bradford battled to keep Knispel in the game, but Narmi Group's chemistry was too much in the end.  The Narmi Group is made up of mainly Creighton Prep graduates. Caleb Steffensmeier led the game in scoring with 16 pts. Samford graduate Andy King had 14. Chatman looked great at the point spot. He did not score a bunch, but had A TON of excellent passes to set up shooters. His quickness and vision will make him a valuable PG next season for the Bluejays.
After the game, Bahe was asked about the "dream team" for this summer and he said, "Well tonight the dream team is circa '04 with Stephon Marbury."   Teammate Ross Ferarrini chimed in on Twitter stating that he was the Christian Laettner of the '92 dream team where he contributed nothing.  They will bounce back when more players are available.
Bank of Nebraska 78, Thompson Basketball Camp 68:
Bank of Nebraska looked very impressive in their win over Thompson Basketball Camp. Bank of Nebraska led by as many as 20 but held on late to win 78-68. Deverell Biggs, Justin Carter, and Wes Wilkinson had an array of impressive dunks in this game. They might be the best high flying act in the league.
Creighton's Avery Dingman scored 13 pts.   Isaiah Zierden has an excellent looking shot and knocked down three 3-pointers in the loss. Andre Yates was quick and active driving to the basket. The future Nebraska Cornhusker Deverell Biggs might have won the matchup tonight, but give Yates some time and he will be right there with him. Former Creighton player Justin Carter led the game in scoring at 22 pts. Biggs scored 16.
Shanks Law Firm 85, Paragas Law Offices 83:
Paragas battled late to make it a tight game but Shanks held on. Josh Jones, Will Artino, and Benny Valentine all looked impressive for Paragas as they battled back from a double-digit deficit in the last 4 minutes of the game.  Valentine led the game in scoring with 25 pts. Artino had an easy double double and was very active all night.  "I was impressed how active Will was," said Josh Jones.  "Sometimes during the summer players don't put all the effort out there in these games, but Will was working really hard."  Shanks shot the ball very well and connected on 16 three-pointers as a team.
EQ School of Hair 82, Walentine O'Toole McQuillan and Gordan 58:
Creighton's Jahenns Manigat led EQ with 21 points and Midland's James Parrott also came in with 18 points and several highlight dunks. Parrott is an unbelievable athlete and enjoyed running the break with Manigat and connecting on a few alley-oops. Nevin Johnson led Walentine with 24 pts and Wragge chipped in with 14 connecting on four 3-pointers.  Many observers noted how they enjoyed watching Johnson play and that he could be a real contributor on both ends of the floor next season.  They also noted that he has improved greatly since watching him last summer.
Andy's Lawn Care 90, UNO Alumni 87:
Andy's Lawnscape connected on 18 three-pointers.  Former Husker John Turek had a big night with 34 points for Andy's while former UNO star Mike Jenkins had 28 points to lead the UNO Alumni.
Vanderslice 77, Zurlo's 62:
Josh Vanderslice had 21 points to lead Vanderslice.   Ryan Anderson had 18 for Zurlo's.
PJ Morgan Real Estate 96, ABIDE 78:
UNO's Mitch Albers lead PJ Morgan with 27 points and Bill Freeman had 23 points for ABIDE.
Chris Carder Agency 93, Wissing 81:
Chris Carder Agency had a 20 point lead early in the game but Wissing made a comeback falling short in the end.
Higgins Weatherguard 83, Construction Zone 49
Higgins Weatherguard put on an impressive display of unselfishness and shooting ability to hand it to Construction Zone 83-49. Higgins connected on 16 three-pointers.
HCMC defeated Bellevue University:
HCMC was led by Trent Miller and Jake Marvin who had 15 points apiece to defeat Bellevue University.  The Bruins were led by Dominique Grant with 14 pts.
——
Tim Krueger and Jason Isaacson also contributed to this report
@bluejaybuff on Twitter had more photos from summer league on Thursday night.
Comments