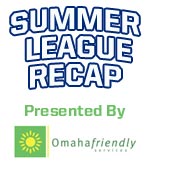 On Thursday night, Summer League basketball continued at the Omaha Sports Academy.  While it was hot outside, it was just as hot inside with some amazing shooting by a future Creighton Bluejay,  some close games and four undefeated teams falling.
Two teams remain undefeated at 3-0–Higgins Weatherguard and Bank of Nebraska.  With both of those teams clearly the favorites so far, they could both go undefeated when the playoffs begin on July 17th.
The first Tuesday of Metro League Basketball takes place this coming Tuesday, July 10th.  In the meantime, here is what happened Thursday night at Summer League.
Andy's Lawn & Landscape 99, Paragas Law Offices 68:
Andy's Lawncare handed it to Paragas Law. Paragas has some talented players but so far they have refused to share the basketball with one another and take good shots. If they figure it out they could still be very dangerous come tournament time.   Josh Jones had 14 and Rodney Buford 12 points in the loss. Jason Dourisseau was the story of the night as he dropped in 45 points on a very hot shooting night.  Another former Husker, John Turek had 20 points and Creighton's Josh Dotzler turned up big as a sub for Andy's simply having the best instincts of any player there on Thursday night with several steals and big assists.
Higgins Weatherguard 102, Chris Carder Agency 84:
The Higgins Weatherguard group of Division II and NAIA players continues to play extremely well together pushing their record to a league best 3-0. Jake Reinders had 18 points, UNK's Mike Dentlinger had 14 points, and Connor Niehaus from St. Cloud State had 19.  Peru State's Eric Donald hit four three-pointers amongst his 14 points.
Thompson Basketball Camp 81, Judd Knispel Agency 78:
This one was that Creighton fans expected as it was a tight game throughout.  Nick Bahe had 15 points for Judd Knispel in losing effort.  Doug McDermott was there in street clothes tonight getting ready to head to Lebron James camp this weekend.
Geoff Grosselle continued to play well after recovering from his offseason foot injury and played well off the pick and roll finishing with 14 points.  He is definitely a bruiser who does well in half court basketball.   But the amazing play of the night belonged to Isaiah Zierden who stroked the nets with 10 three pointers and attacked the rim a few times as well.
Bellevue University 76, Walentine O'Toole McQuillan & Gordon 67.
Blake Zamudio hit four three-pointers for Bellevue to finish with 12 pts while Matt Culliver had a near triple double finishing with 11 points in the win.   Clay Harris for WOMG had 20 points
Bank of Nebraska 94, Narmi Group @ Smith Barney 77:
Bank of Nebraska continued it's dominance with a 94-77 win over the Narmi Group, who were missing some key players. Bellevue graduate Klaye Rowe had 24 points,  Wes Wilkinson had 23, and Ben Holling had at least 10 assists.
Nick Svehla had 18 points on 11 shots, and UNO's John Karhoff had 22 in Narmi's first loss at Summer League.
HCMC 85, EQ School of Hair Design 82:
Morningside's Danny Rudeen had 25 points to lead HCMC to victory. EQ School of Hair made a dramatic comeback in last minute after being down by 8 before losing their first game of this summer league session.  Creighton's Jahenns Manigat had 22 points.
PJ Morgan Real Estate 76, Vanderslice 71: PJ Morgan was hot from outside drilling 16 three-pointers, mainly from Jeff Martin, Galen Gullie, and Tyler Albers. Vanderslice was led by Ben Vanderslice with 14.
UNO Alumni 66, Shanks Law Firm 53:
Andrew Bridger had 14 points and Matt Newman had a hot hand with 21 in the win for UNO Alumni.  Omar Bynum had 14 points and Bryce Johnson had 11 for Shanks in the loss.
Zurlos 80, ABIDE 68:
Nick Krenk drilled five 3-pointers to end up with 17 points to lead the way for Zurlos.
Construction Zone 73, Wissing 72: Construction Zone defeated Wissing in a tight one that went to the wire.  Zone was balanced with Nick Gardner leading the way with 13 points. Meanwhile, Wissing is now sitting at 0-3.
=========
Jason Isaacson contributed to this report.
@BluejayBuff on Twitter shared photos

Comments