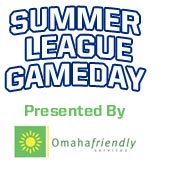 Things start to get crazy now in the Metro Basketball League. This week starts the marathon of basketball with summer league games on both Tuesday and Thursday nights through the end of the league
With this being the first Tuesday session of the summer, that also brings some changes. Due to other activities at the Omaha Sports Academy on Tuesday nights, the games will be played at 8:00 p.m., 9:00 p.m., and 10:00 p.m. Also there are a few Creighton players that have summer class on Tuesday nights leading to some minor changes from the original schedule. Be sure to keep an eye on the Summer League schedule for any other updates through the end of the season.
Here is what to expect on Tuesday night:
Game of the Night
10:00 p.m. (Court 2) Higgins Weatherguard (3-0) vs. P.J. Morgan Real Estate (2-1)
This game features two teams that have been on the winning side of things so far this summer. Higgins is made up of several Division II and NAIA players led by UNK's Mike Dentlinger and Northwest Missouri State graduate Jake Reinders. The team is unselfish with the basketball, which has led to their victories.
On the other side, P.J. Morgan is pretty much a UNO all-star team with the Albers brothers (Tyler & Mitch) leading the way. This squad could probably beat most teams in this league. Their only loss was a one point defeat against Zurlo's. Although this game may not look like the best game of the night, it easily could be.
Creighton-Heavy Games
8:00 p.m. (Court 2) Walentine, O'Toole, McQuillan & Gordon (1-2) vs. UNO Alumni (2-1)
Bluejays to Watch: Ethan Wragge, Nevin Johnson, Matt Dorwart, Brody Deren
Kick off your Creighton viewing by watching Wragge and Johnson lead the way against the UNO Alumni team… oh yeah and Creighton graduate Brody Deren. With a team of undergraduate players, WOMG has been inconsistent. A majority of the UNO Alumni team has been playing together for the past few years. That could be the difference in this one.
9:00 p.m. (Court 1) EQ School of Hair Design (2-1) vs. Andy's Lawn & Landscape (2-1)
Bluejays to Watch: Grant Gibbs, Jahenns Manigat
If you want a dynamic set of players to watch on the floor, you will get that with the EQ School of Hair Design. It is always masterful to see Gibbs distribute the ball, but the running of the court with Manigat and James Parrott is pretty dynamic. Between the three of them, EQ has a solid backcourt. However, Andy's Lawn & Landscape might have a little more power in the post with former Huskers John Turek and Jason Dourisseau. Add in a little perimeter defense with Charles Richardson and this will be a fun matchup to watch during the 9:00 p.m. hour.
9:00 p.m. (Court 2) Judd Knispel Agency (0-3) vs. Vanderslice (2-1)
Bluejays to Watch: Nick Bahe, Austin Chatman, Doug McDermott, Antoine Young, Ross Ferarrini, Nate Funk.
The question on everyone's mind from week to week is "Who will be playing for Judd Knispel Agency?" McDermott has yet to play a game with all of his summer travels, Nate Funk was here one week and even Nick Bahe hasn't been around that much. If anything take advantage of watching Chatman move up and down the floor. The players on Vanderslice are probably tired of hearing this, but their football background is always a factor on the basketball court. They could easily send Knispel to 0-4.
9:00 p.m. (Court 3) Narmi Group @ Smith Barney (2-1) vs. Zurlo's (2-1)
Bluejays to Watch: Taylor Stormberg, Alex Olsen
This one could be fun to watch if you are a Husker fan. A set of former players from Lincoln (Ryan Anderson and Nick Krenk to name a couple) lead Zurlo's, who could easily be undefeated at this point. UNO junior John Karhoff, UNK graduate Nick Svehla, and Samford graduate Andy King will try to help Narmi slow Zurlo's down. The winner of this game will have some seeding advantages for the Summer League tournament that starts next week.
10:00 p.m. (Court 1) HCMC (2-1) vs. Paragas Law Offices (0-3)
Bluejays to Watch: Josh Jones, Will Artino, Rodney Buford
Will Artino has been one of the hardest workers during Summer League play. The thing with Paragas Law Offices in general is that they have not shared the ball as much as some of the other teams, leading to their 0-3 start. The cohesiveness of HCMC could be the difference in this one.
10:00 p.m. (Court 3) Chris Carder Agency (1-2) vs. Thompson Basketball Camp (1-2)
Bluejays to Watch: Geoff Groselle, Isaiah Zierden, Andre Yates, Avery Dingman, Livan Pyfrom
This game was changed in the schedule from the 8 p.m. start so that the Creighton players with class could get out to the Omaha Sports Academy to play. Zierden was on fire last week, nailing 10 three-pointers to go along with several great drives to the rim. It is sort of nice to see all of these players getting the experience playing together in these games.
On the other side with the Chris Carder Agency, they are also a team full of young players with Tyler Egli and Alex Wellhouse from UNO being the elder men on this team. These matchups should create a lot of up and down runs on the court.
10:00 p.m. (Court 4) Wissing (0-3) vs. Bank of Nebraska (3-0)
Bluejays to Watch: Justin Carter
Bank of Nebraska has been pretty much unstoppable so far. There is a lot of balance between the frontcourt and backcourt that makes it hard for the other summer league teams to counter. Carter has been all over the rim while Wes Wilkinson and Deverell Biggs have been all over the court. Nothing against Wissing, but they may have a pretty hard time against Bank of Nebraska in this one. B of N could easily be 4-0 after Tuesday night.
The Rest
8:00 p.m. (Court 1) Bellevue University (1-2) vs. Shanks Law Firm (2-1)
Bellevue University has bounced back since their 0-2 start while the team full of Bellevue alums has been in every game they have played. There will be bragging rights on the line in this one full of current and former NAIA players.
9:00 p.m. (Court 4) Construction Zone (2-1) vs. ABIDE (0-3)
ABIDE has not made too much noise so far in Summer League. They have a lot of work to do before the playoffs next week. Construction Zone has been pretty balanced as far as scoring. Construction Zone is made up of a lot of Peru State graduates.
Comments