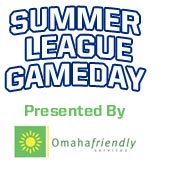 The Metro Basketball League has flown by over the past few weeks.  A lot of games have been played and a lot of fans have been out to watch the league to get their basketball fix.
On Thursday night, the league will finish up pool play as teams are jockeying for seeds in next week's playoffs that start on Tuesday.  With a lot of teams with similar records, a win on Thursday could mean a good seed in the playoffs where any team in the league has the chance to win it all.
To give you a feel for what games will be the key ones to view, here is our quick preview of Thursday night's games.
Game of the Night
6:00 p.m. (Court 4) Narmi Group @ Smith Barney (3-1) vs. Shanks Law Firm (3-1)
Bluejays to watch:  Taylor Stormberg, Alex Olsen
This game qualifies as the game of the night because it is between two teams that are fighting for as high as a #3 seed. Both teams are coming off of wins on Tuesday night and will try to ride that momentum into Thursday's games.  Andy King and John Karhoff have led the Narmi Group through this season while  for shanks, a team full of Bellevue University graduates have played like a team to get this far. 

Creighton-Heavy Games
6:00 p.m. (Court 1) HCMC (2-2) vs. Thompson Basketball Camp (2-2)
Bluejays to Watch:  Isaiah Zierden, Geoff Groselle, Andre Yates, Avery Dingman
Thompson Basketball Camp is  on a roll winning their past two.  A big part of the two wins is team play and one player really stepping up.  Avery Dingman had an unbelievable night on Tuesday, while Isaiah Zierden hit 10 three pointers in their win over Judd Knispel Agency last Thursday.  But HCMC has had some pretty good team play as well.  There will be a big difference between a team that comes out of this with a win and a 3-2 record compared to the loser of this game at 2-3.

7:00 p.m. (Court 4) Judd Knispel Agency (1-3) vs. Paragas Law Offices (1-3)
Bluejays to watch:  Nick Bahe, Nate Funk, Antoine Young, Doug McDermott, Austin Chatman, Ross Ferarrini, Josh Jones, Will Artino, Rodney Buford
At the beginning of the summer this game, fans were probably salivating for this matchup that includes a lot of Bluejays in the mix.  However, both teams have struggled this season and both picked up their first summer league wins on Tuesday.  Many enjoyed watching Nick Bahe, Nate Funk play as well as Josh Dotzler playing for Judd Knispel last week.  Others have enjoyed watching Will Artino's progression this summer.  No matter the records, you can bet the stands will be pretty full for this game in the final hour of the night. 

5:00 p.m. (Court 1) Bellevue University (1-3) vs. Bank of Nebraska (4-0)
Bluejays to watch:  Justin Carter
Bank of Nebraska will most likely be the #1 seed heading into the playoffs next week.  They have been nothing short of dominant with a team of players that might have been overlooked.  Deverell Biggs, Justin Carter, Wes Wilkinson, and Klaye Rowe have all had big games one way or another to lead them to victory.  Bellevue University lost in a one point game on Tuesday, so they will have a chip on their shoulder. 

6:00 p.m. (Court 3) Chris Carder Agency (1-3) vs. UNO Alumni (3-1)
Bluejays to Watch: Brody Deren
The Chris Carder Agency has really struggled in summer league play.  Their weakness on Tuesday night was defense giving up 105 points.  This is the point in summer league play where UNO starts turning on the jets and will be a hard out in the playoffs.  They will try to improve their seeding with another win on Thursday. 

7:00 p.m. (Court 1) EQ School of Hair Design (2-2) vs. Zurlo's (2-2)
Bluejays to Watch:  Grant Gibbs, Jahenns Manigat
EQ School of Hair Design has had their ups and downs this summer.  Grant Gibbs has tried to pace himself to limit the wear and tear on his body while Jahenns Manigat and James Parrott have been busy running the floor.  Zurlo's, behind Ryan Anderson, will want to run up and down the court as well.  This could be a fun one to watch as both teams try to improve their seeding for next week.  

7 :00 p.m. (Court 2) Walentine O'Toole McQuillan & Gordan (1-3)  vs. Vanderslice (2-2)
Bluejays to Watch: Ethan Wragge, Nevin Johnson, Matt Dorwart
Wragge started off hot on Tuesday night scoring 19 of his team's 21 points, but some others will have to step up if they want to have a chance going into next week.  Vanderslice has been led by, who else, the Vanderslice brothers–Josh and Ben.  The team of former UNO football and basketball players and a couple of Bellevue University graduates may surprise some people and make a run in the playoffs depending on the matchup. 

The Rest
5:00 p.m. (Court 2) Higgins Weatherguard (3-1) vs. ABIDE (0-4)
Higgins Weatherguard was rolling along until Mike Dentlinger went down with an injury to his knee before Tuesday's game that will keep him from playing the rest of the summer. It affected their team and they lost on Tuesday night.  However, ABIDE has been overpowered by the teams they have played this year and Higgins may be able to get themselves another win. 

6:00 p.m. (Court 2) Construction Zone (3-1) vs. PJ Morgan Real Estate (2-2)
Construction Zone has been a team quietly playing some good basketball the past few weeks.  After losing their first game of the summer league season, they have rolled off three straight wins and have put themselves into a great position.  The Peru State graduates on this team is helping lead the way.  The UNO stacked PJ Morgan Real Estate, however, could get themselves on a run now and this one could go either way.

7:00 p.m. (Court 3) Wissing (0-4) vs. Andy's Lawn & Landscape (3-1)
Wissing is trying to avoid going 0-5 in pool play, but it won't be easy.  Andy's Lawn & Landscape that has several former Huskers has been playing well, especially over the past two games where they have won by an average of over 21 points per game.  Jason Dourisseau and John Turek have been leading the way for Andy's. 

Comments