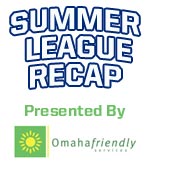 On Tuesday night, the opening rounds of the Metro Basketball League tournament took place at the Omaha Sports Academy.  For the most part there were few surprises.  Several of the White & Blue Review crew were on hand for most of the games after a get together earlier in the evening at one of the MBL sponsors, Zurlo's Bistro Italiano.
The quarterfinal, semifinal and final games of the tournament will be played next Tuesday, July 24th, at the Omaha Sports Academy from 6-8 PM to finish out the summer session.  Here is what when down on Tuesday to setup the quarterfinals.
Round of 16:
#1 Bank of Nebraska 90, #19 Wissing 61:
After Wissing earned their first win of the season earlier in the evening against ABIDE, the Bank of Nebraska team steamrolled over the tired squad.  Bank of Nebraska took it too them early getting off to a 20-7 lead and going into the half up by 23 points.  The second half was much of the same as Wissing was clearly spent.  After a couple of consecutive dominating dunks by Creighton graduate Justin Carter, the game was called with 6:36 remaining.
#2 Andy's Lawn and Landscape 97, #18 Bellevue University 80
The defending MBL champions Bellevue University made a run by getting past the Chris Carder Agency earlier in the evening, but like Wissing, ran out of gas playing a rested Jason Dourisseau,  John Turek and Andrew Drevo led Andy's Lawn and Landscape.  After Andy's ran into the half with a 12 point lead, Bellevue kept it close with Dominique Grant's 18 points.  However, the former Husker trio combined to score 72 of Andy's 97 points.  Drevo had 26 points, Turek had 25 and Dourisseau had 21 to lead their way into the quarterfinals.
#12 Judd Knispel Agency 93,  #5 PJ Morgan Real Estate 84:
This was the one real upset of the evening.  The Judd Knispel Agency has had its ups and downs this summer with a proposed roster that never became reality.  However, Nick Bahe and his assembled crew stuck with it and pulled out an upset win against the #5 seeded PJ Morgan Real Estate.  The Judd Knispel Agency was down by five points at the half before Creighton's Austin Chatman took over the game.  He made key plays down the stretch to help take the lead including hitting several free throws in the final minutes.  Nebraska alumni Stephon Bradford led the way with 18 points.  UNO graduate Mitch Albers scored 21 to lead PJ Morgan in the loss.
#7 Shanks Law Firm 75, #10 Construction Zone 64:
While the #10 seed likes to take down the #7 seed in the NCAA Tournament, that did not happen tonight in this game.  There were some fireworks though as both teams were fighting to get a win to advance in the tournament.  John Higgins was on hand to referee this game and at one point it was pretty heated between both teams and technicals were even called at one point.  North Dakota graduate Ervin Youmans led Shanks with 17 point while Iowa State graduate Omar Bynum was right behind with 16 points.   Shanks will take on Andy's Lawn and Landscape in the quarterfinal round.
#4 Narmi Group @ Smith Barney 78, Walentine O'Toole McQuillan & Gordon 72:
WOMG had the best legs of the teams that had to play earlier in the night keeping the Narmi Group on its heels throughout the game.  Narmi went into the half with a five point lead, but at one point in the second half, WOMG tied things up setting up a thrilling final eight minutes of the game.  But it was the outside shooting of the Narmi Group that kept them one step ahead.  They drained 12 three-pointers in the game with Samford graduate Andy King hitting five of them and UNO Junior Caleb Steffensmeier hitting four more to get the win.  Creighton's Nevin Johnson had 12 points in the losing effort.  The Narmi Group will now face off against the Judd Knispel Agency in the quarterfinals–a rematch of a game from week one where they walked away with a 17 point victory. 
#3 UNO Alumni 89, #16 Paragas Law Offices 77
The UNO Alumni team started off hot early and reminded everyone why this group is so successful once tournament play starts.  After heading into the half with a 10 point lead, they did not let off the gas to let Paragas back in it even behind the strong play of Benny Valentine and Josh Jones.
#6 Higgins Weatherguard 89, Thompson Basketball Camp 77
This one was interesting mainly because of the pieced together Thompson Basketball Camp roster.  None of the current Creighton players–Isaiah Zierden, Geoff Groselle, Andre Yates or Avery Dingman- were on hand for this game.  Even league organizer Jason Isaacson had to play in this one and they gave it their all against Higgins. Like most teams on the night  that had a lead at halftime, that lead was not given up.  Higgins cruised then to victory and set themselves up with a date against UNO Alumni next week. 

Opening Round Games:
#15 Zurlo's 77, #16 Paragas Law Offices 104
#17 Chris Carder Agency 76, #18 Bellevue University 85
#14 Walentine, O'Toole, McQuillan & Gordan 71, #13 Vanderslice 59
#19 Wissing 81, #20 ABIDE 62
Be sure to check out the Metro Basketball League site for the tournament bracket and game times for next Tuesday's games. 

Comments