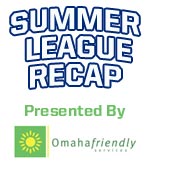 Klaye Rowe scored 21 of his team high 27 points in the first half and the Bank of Nebraska team rolled to victory over Andy's Lawn and Landscape 98-82, winning the Metro Basketball League title on Sunday at Bellevue University.  Bank of Nebraska went undefeated for the summer session.
The game started off fast and furious with both teams going back and forth.  Former Husker Andrew Drevo was hot early for Andy's Lawn & Landscape scoring 9 of the team's first 11 points.  Drevo finished with a game high 37 points and did not seem to miss when he was able to get shots off.
A late arriving Jason Dourisseau might have been the difference as Bank of Nebraska raced out to a quick lead before Dourisseau inserted himself into the game at the 15 minute mark of the first half as B of N had an early 10 point lead.
Former Bluejay Justin Carter was a big difference in the game as he was all over the court not only on offense but was a big time defender picking up steals on a one man press or sneaking behind an opponent with the ball.  He also contributed 18 points in the win.
The lead kept extending through the rest of the first half and Bank of Nebraska went into halftime with a 22 point lead.  The big reason behind the lead was three point shooting as they had 12 of their 14 makes before halftime.
Andy's did make a run in the second half as Drevo continued his hot shooting and Dourisseau started warming up from the field.  John Turek also started getting more looks down low.  Dourisseau finished with 17 points and Turek with 16.
With under 10 minutes left in the game, Andy's got the lead cut to 11 points, but due the balanced scoring of Bank of Nebraska, the lead was never really threatened.  Bank of Nebraska had five players in double figures.  In addition to Rowe and Carter, former Husker Wes Wilkinson and incoming Husker Deverell Biggs both had 16 points while Ben Holling chipped in 11.  Cody Levinson almost became a sixth player in double figures with 9 points.
Bank of Nebraska breezed through the summer league season defeating opponents by an average of 18 points a game.  Their offensive fire power plus their stingy defense helped them be so dominant.  This was one of the more competitive summers in the Metro Basketball League.  Congratulations to Bank of Nebraska and we hope everyone will enjoy another season next summer.
Scoring
Bank of Nebraska
Klaye Rowe (Bellevue University '08)–27 points
Justin Carter (Creighton '10)–18 points
Wes Wilkinson (Nebraska '06)– 16 points
Deverell Biggs (Nebraska Junior)– 16 points
Ben Holling (Bellevue University '04)– 11 points
Justin Levinson (Augustana '03)– 9 points
Jared Anderson (Bellevue '04)– 3 points
Andy's Lawn & Landscape
Andrew Drevo (Nebraska '04)– 37 points
Jason Dourisseau (Nebraska '06)– 17 points
John Turek (Nebraska '05)– 16 points
Scott Abels (UNK '88)– 5 points
Derek Fletcher (Hastings College '11) — 5 points
Phil McClain (Bellevue grad)– 2 points
Comments