UPDATE: The next CU Spirit Fest event will be the Soctober Fest beer garden Saturday, October 20 (4:30-7:00 p.m.), before the men's soccer match against Bradley. This is an Oktoberfest-style beer garden (21+) and there will be food available, too.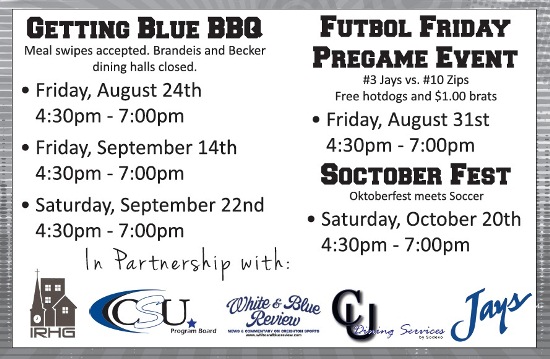 Since 2009, White & Blue Review has provided unique coverage of Creighton soccer and volleyball. And for 2012, we are excited to announce that our promotion of fall sports at CU will expand.
WBR is partnering with Creighton Athletics, CU Dining Service, the IRHG, and the CSU Program Board for a series of CU Spirit Fest events this fall. These pregame parties, located near Morrison Stadium and D.J. Sokol Arena, will bring more excitement to the already popular Creighton fall sports events.
The fun begins Friday, August 24 (4:30-7:00 p.m.), with the first of three Get Blue BBQs. This tailgate event for the men's and women's soccer teams brings Creighton students, alumni, and fans together to show support for Bluejays athletics. There will be food and drink for purchase. And WBR will be handing out limited edition t-shirts to fans Friday night!
After Get Blue BBQs on September 14 and September 22, the next event is the newly created Soctober Fest, where Oktoberfest meets Creighton soccer, Saturday, October 20 (4:30-7:00 p.m.). Bring those WBR Koozies back for your beers or sodas or get a new one, and watch the Creighton men's and women's soccer teams in action.
—
We're excited to continue providing a fresh perspective about Creighton sports. And we're pumped to be able to partner with these great groups to help promote Bluejays athletics. Each of the five pregame events will feature food, drinks, and an engaging atmosphere for Creighton fans of all ages to get together, talk CU sports, and cheer on the Jays!
Follow WBR for more information on these events, as well as the most comprehensive coverage of Creighton soccer and volleyball anywhere. From photos and interviews to pregame and postgame coverage, no one brings you closer to these teams than White & Blue Review.
Comments