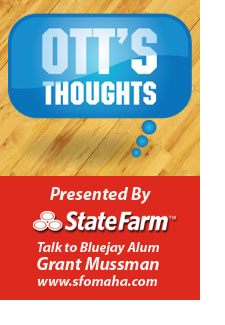 [Check out photos from the game, courtesy of WBR's Mike Spomer and Adam Streur]
Raise your hand if you thought Creighton would lose at home to Boise State? Even the most pessimistic, skeptical Bluejays fans probably penciled a "W" next to this date on their schedule. Why? A glance at the Broncos' record from a season ago (13-17) didn't cause concern. A relatively small frontcourt surely didn't seem like an advantage for BSU against Creighton's post players. CU would have the best player on the court (Doug McDermott), the home crowd behind it (more than 16,000 strong), and simply roll out its top 15 national ranking. The Broncos would surely break.
But every game is important. Even the "bad" ones. The folks on the Bluejay Underground message board were worked up earlier this year when the Broncos-Bluejays matchup landed on the schedule. CU fans wanted a better opponent, one against which the Jays could showcase their improved status in the college basketball world. Simply put, the fans took this game for granted.
The Creighton coaching staff prepared against the Bluejays doing the same. With their guys coming off two solid wins in Las Vegas against Wisconsin and Arizona State, Greg McDermott and his assistants outfitted every player with a DVD showing what Boise State is capable of. Nick Bahe tweeted before the game how impressed he was with Boise's guard play while scouting for his broadcast on Cox 2. Heck, Creighton fans could have asked the Spartan faithful what they thought of the Broncos, who pushed nationally ranked perennial power Michigan State to the brink of a home loss earlier in November.
The DVDs didn't help. Chalk it up to tired legs, a lack of focus, or anything else. The result was the same: a giant let down, at home no less. Boise State torched Creighton's defense to the tune of 83 points. Trip after trip down the floor, Bluejay defenders didn't seem to have an answer for anything the Broncos did. In the second half, Boise's offense really boiled down to just one man, sophomore Derrick Marks. The one-time CU recruit torched the Jays for a career-high 35 points, with 28 of those coming after halftime. For context, he made 10 of BSU's 15 second-half field goals, and his 28 second-half points were just 9 shy of what Creighton scored as a team during the game's final 20 minutes.
The Broncos shot 60% from the field and 53% from three-point range (10 three-point makes). How rare was Boise State's offensive explosion? Last season, during which anyone who could talk about college hoops hollered about Creighton's porous defense, the Bluejays allowed an opponent to shoot 50% or better at the CenturyLink Center five times. The Jays lost one of those games (vs. Wichita State) and won the other four (Chicago State, Northwestern, Long Beach State, and Evansville). Only three times did an opponent make 50% of more of their three-pointers against the Jays last season in Omaha (Campbell, Wichita State, and Evansville), and only once did an opponent make 10 or more threes against CU in Omaha (Northern Iowa).
So while reports of Creighton's improved defense may have been exaggerated, perhaps Wednesday evening was a bit of an aberration. Many of Boise's 9 three-pointers in the first half came when the Broncos were relatively open for a clear shot. But a lot of Marks' makes in the second half were defended well. I could tell. They happened right in front of me (sadly). Still, that didn't stop him from scoring 18 straight points during a long stretch of the second half. He scored on Creighton. All. Night. Long.
The Jays, meanwhile, shot 52% in the second half and made 7 three-pointers. Still, they couldn't get stops, Boise State made 13 of 16 free throws in the second half, and the Broncos committed just 3 turnovers in the final 20 minutes. Outrebounded by 10 in the second half and 13 for the game, the Bluejays got outworked on the boards.
For all of these disappointing developments and startling stats, Creighton cut the deficit to 5 points with two and a half minutes to play. Trailing by 13 with 4:20 to go, Ethan Wragge connected on his only three-point make of the night and then Grant Gibbs and Doug McDermott converted attempts in the paint to cut Boise's lead by more than half. McDermott's was a traditional and-one play, and he hit the free throw to leave the Jays down 75-70. But McDermott got burned as the Bluejays tried to press again, and Anthony Drmic cut through the lane for a layup to stop CU's scoring outburst. The Jays missed their next shot and each subsequent attempt during the last few minutes, and the Broncos made all of their free throws down the stretch to leave Omaha a winner.
Coach McDermott and the Bluejays have plenty of adjustments to make if they want to prevent the Saint Joseph's Hawks from leaving Omaha a winner this weekend, too. If Boise State was undersized and scrappy, St. Joe's is the opposite — long and athletic. Oh, and they pretty much owned the Bluejays in Philadelphia last December. The Hawks posted a 9-point win over CU last year. They crushed CU on the boards, 40-28, grabbing twice as many offensive boards (12) as the Jays (6). Doug McDermott played well (26 points, 10 rebounds) but Carl Jones (29 points) led four Hawks in double figures and St. Joe's picked up a home victory.
With the Hawks coming to Omaha for a non-conference game that may have consequences for March, the Bluejays will need to use lessons learned against Boise State to adjust and improve.
Comments