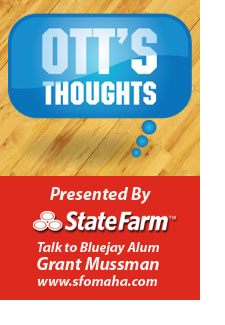 A few days before the New Year seemed a fitting time for the Creighton Bluejays to begin Missouri Valley Conference play. With a program-best 11 wins before Christmas and just one loss in their first dozen games, the Jays carried plenty of confidence along with a lofty national ranking into the league home opener against the Evansville Purple Aces.
Not that Colt Ryan or the rest of the Aces cared much. Ryan has torched the Bluejays in Omaha during his career, including posting a building-record 43 points in the teams' last regular season meeting last February. The man who wrapped up an overtime win for the Jays in that game, Josh Jones, found out over the Christmas break his basketball career was done due to a heart ailment. Jones had played the defensive assignment on Ryan off and on the past few seasons, and with him not an option to guard the explosive Evansville star someone else in white and blue would need to step up to at least slow Ryan down.
Without Jones in uniform but in front of more than 18,000 fans, the Bluejays managed to post yet another double-digit win, beating the Aces by 17. Ryan scored 25 points, but Evansville couldn't hit from three-point range (3-14) and were badly outrebounded by the Jays. Troy Taylor managed the second triple-double (10 points, 10 rebounds, 10 assists) in Aces history, but Creighton's offense was just too much to overcome.
A few thoughts while worrying about just how jacked up Jackie Carmichael and Illinois State will be Wednesday as they try to avoid an 0-2 start in MVC play when CU comes to town.
Gregory Echenique and Doug McDermott manhandled the Aces in the frontcourt. In 23 minutes Saturday night, Gregory Echenique scored 13 points and grabbed 13 rebounds while also blocking a few UE shots. His frontcourt mate, Doug McDermott, scored 29 points and chipped in 10 boards in 32 minutes. Together, Echenique and McDermott nearly outrebounded the entire Evansville roster, 23 to 27. All told, the Jays won the battle of the boards 43-27.
Saturday marked the second time in as many games against Evansville that Creighton has dominated the glass. Last March, in the semifinals of the Missouri Valley Conference tournament in St. Louis, CU outrebounded Evansville 43-17 in a 99-71 win. The 26-rebound advantage was the largest margin on the glass all season for CU.
For as well as Ryan and Taylor play against CU, the Aces don't match up well with Creighton's frontcourt. Starting center Egidijus Mockevicius and starting forward Lewis Jones could muster only a combined 12 points and 2 rebounds in the Aces' frontcourt.
The outcome could have been far better for the Bluejays had they cut down on turnovers. In the last two games, Creighton's committed 30 turnovers. The Jays won both games by 17 points, but mistakes are costing Creighton opportunities to inflict further damage on their opponents. Against the Aces, who only committed 7 turnovers, the Jays coughed it up 13 times. Four of those miscues came from Jahenns Manigat, whose evening was otherwise very good (15 points, 5 assists, 2 of CU's 4 steals). Even ever-steady Grant Gibbs posted more turnovers (2) than assists (1). A bright spot? Austin Chatman, who committed no turnovers in 34 minutes while dishing 8 assists and knocking down 3 of his 4 three-point attempts.
Creighton's next opponent, Illinois State, forces 17.5 turnovers per game while committing 14.7 turnovers on their own. For the Jays to leave Normal with a win, they must protect possessions while stepping up their perimeter defense against Tyler Brown, Bryant Allen, Johnny Hill, and newcomer Kaza Keane.
At the onset of conference play, Creighton's inside-outside complementary offense gives them an advantage against most MVC teams. The Bluejays made 50% of their three-pointers against Evansville, knocking down 12 of 24 attempts. It was the third time in 13 games CU has made 12 three-pointers, and the sixth time the Jays hit 10 or more threes. Creighton shoots 42.5% from long range through 13 games, second best nationally and tops in the Valley (Drake's 41% is closest). Comparatively, Creighton's opponents are shooting a league-worst 28.2% from three-point range this season; that's 25th worst in the nation, too.
Obviously, McDermott's versatility gives the Jays the ability to ride his talents beyond the arc and in his more natural position near the basket. But Echenique's improved offensive moves (an MVC-best 67.5% shooting percentage) in the paint coupled with timely slashing by Gibbs and Avery Dingman have helped the Jays make 50.8% of their field goals, ninth best in the nation. Teams that want to double- and triple-team McDermott may limit his scoring (to a degree) and force a few turnovers, but the Jays are more than capable of knocking down perimeter jump shots in McDermott's absence. And teams that play McDermott and Echenique straight up in the frontcourt will find themselves struggling to stop them.
Comments