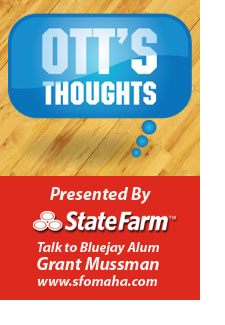 One month after a three-game losing streak threatened to derail a potentially magical season, the Creighton Bluejays strung together three wins in St. Louis to ensure their place in the 2013 NCAA Tournament. For the 12th time in school history, the Jays won a Missouri Valley Conference tournament championship. For the 18th time, Creighton will spend mid-March preparing for and playing in the greatest sporting event in college athletics. And for potentially the final time, thousands of CU fans are traveling back from Arch Madness tired, dirty, and destined to relive a championship weekend in stories for the rest of their lives.
In shades of the 2007 title game, when Dana Altman's Bluejays rode starters Nate Funk, Anthony Tolliver, Dane Watts, and Nick Porter to a hard-fought victory over nemesis and fellow NCAA Tournament team Southern Illinois, CU head coach Greg McDermott turned Sunday's championship game over to his trusted starters and most seasoned vets. They rewarded Coach Mac with a sweep of the regular season and tournament titles, both of which the Jays won in winner-take-all fashion against current adversary Wichita State.
Doug McDermott (14 points on 5-13 shooting, his first sub-50% shooting night since a loss at Saint Mary's two weeks ago) wasn't dominant Sunday. But that didn't stop the two-time MVC Larry Bird Player of the Year winner from earning the MVC's Most Outstanding Player nod for the second consecutive tournament. McDermott battled an off shooting touch and some foul trouble against the Shockers, sitting for a few stretches of extended bench time. But his teammates more than picked up the player that more than enough times has paved the way to the team's 79 wins since the McDermotts stepped on Creighton's campus.
The last day of Arch Madness, should your team get that far, is always about tenacity and timing. Who is willing to fight through soreness and fatigue and the opponent's suffocating familiarity in order to win? Other than the stars, who will show up and be the unsung hero flung onto center stage? Sunday, familiar faces Ethan Wragge and Jahenns Manigat made the most of their opportunities and broke out of their respective offensive slumps.
With both Creighton and Wichita State struggling to score (gross understatement; the two teams combined to start the game 0-15 from the field), Wragge checked in with just less than 13 minutes to play in the first half and CU up 6-3. In the next 4 minutes, Wragge made three threes and missed a fourth by an eyelash. (Trust me, had Wragge made the last one, I'm not sure the Scottrade Center, what with its condensation-ridden floor and all, could have withstood the rush of pandemonium unleashed by they Jays fans in attendance. Seriously.) While McDermott sat, Wragge shined. His third three-pointer gave the Jays a 19-7 lead and forced Gregg Marshall to take a timeout.
The Shockers chipped away at Creighton's double-digit lead, though, and capped their comeback with a go-ahead layup by Malcolm Armstead with just less than 2 minutes to play in the first half. Then, with McDermott on the pine again, Wragge unleashed a #wraggebomb that gave the Bluejays a 30-28 lead. Creighton wouldn't trail again.
Wragge finished with 15 points in 16 minutes off the bench. The league's Sixth Man of the Year showed why voters cast him in that light. But Wragge, arguably one of the most dangerous three-point shooters in the nation, had been anything but automatic recently. He hadn't scored in double figures since January 30. In that span, he had 7 games during which he made one or no three-pointers. In fact, coming into the championship game, Wragge had made more free throws (2) than threes (1) in the first two games of the weekend. But Sunday was his time, and he embraced it.
The same can be said for Jahenns Manigat. The junior from Canada, who always draws the tiresome assignment of guarding the opposing team's best perimeter player, continued his stout performance on that end of the court against Wichita State. The Shockers shot just 34% from the field and a similar 33% from long range, and Manigat had a lot to do with that. But it was his spark on offense that helped bolster a team that wasn't going to get its usual 20-plus point output from its All-America superstar.
Manigat, a streaky shooter his entire career, missed his first two three-point attempts Sunday. He also turned the ball over twice in the first 16 minutes. But when Manigat connected on a deep trey to break a 24-24 tie with just less than 3 minutes to go in the first half, something clicked. Well, almost. He missed his first three-point shot in the second half, too. But then, really, something clicked. He drilled consecutive threes to help push Creighton's lead to 9 right before the under-16:00 media timeout. He'd add his final three-pointer with just about 5 minutes to go in the game; it gave the Jays a 13-point lead, their biggest of the game. And all the while, whether he was knocking down shots or not, Manigat was doing work on defense and doing what he could on offense and on the boards to get the Jays a victory.
Manigat scored a season-high 16 points. He scored 15 points in his previous four games combined. Manigat tied a season high with 5 rebounds. He didn't commit a turnover in the second half. He played a team-high 39 minutes, too, all of which were spent hounding WSU players defensively.
Oh, and Manigat made arguably the most important hoop of his Creighton career. If you told me a few weeks ago that a frenetic Jahenns Manigat layup would seal Creighton's win over Wichita State in the Missouri Valley Conference tournament championship game, I wouldn't have believed you. To say that Manigat has struggled at times with his finishes around the rim would be kind. Two seasons ago, as a freshman, Manigat missed a point-blank layup that would have clinched Creighton's quarterfinal win against Northern Iowa. Instead, the Jays had to play a frenzied final last possession on defense, one that would ultimately see the Panthers lose and the frosh Manigat avoid earning goat status.
Three years later, in the same city but on a significantly more important stage, Manigat made magic happen. With 3:32 to play, an Austin Chatman free throw gave the Jays a 66-55 lead. During the next 3:11, Wichita State scored 10 straight points, pulling to within 66-65 thanks to an Armstead three-pointer. Coach Mac called a timeout to set up a play. So with about a 7-second differential between game clock and shot clock, the Bluejays needed a quality look. What they got was a Wichita State defense that took them out of sync. Manigat ended up with the ball, and he managed to find a crease near the lane through which he elevated and hit a leaning layup. Perhaps he needs a greater degree of difficulty when faced with a shot near the paint?
The hoop gave Creighton a three-point cushion and, when Armstead missed a contested three with the clock winding down, a three-point win.
For all the talk about Creighton's exceptional offense, it was the defense — led by anchor and All-Tournament Team honoree Gregory Echenique — that paved the way to this Arch Madness championship. The Bluejays held the Shockers to 34% shooting Sunday. The day before, Indiana State made just 26.5% of its shots. Friday, Drake suffered to a 35% performance from the field. CU opponents made just 13 of 51 three-point attempts this weekend (25%). Simply, the Bluejays stepped up on the defensive end when the stakes were highest.
In the middle of it all was Echenique, a defensive force all weekend. In addition to his 30 points and 25 rebounds, the three-time member of the league's All-Defensive Team blocked 13 shots. His 6 blocks Sunday came two days after he swatted 6 against Drake. As a team, the Jays blocked 16 shots in the three games of this year's tournament. They blocked 16 in their previous 10 games combined.
Creighton's other senior starter, Grant Gibbs, paced the Jays well on both ends. Against Wichita State, Gibbs was seemingly always where he needed to be to facilitate a score, grab a rebound, or chip in with a basket. In Sunday's win, he put up the typical Gibbs line: 11 points, 6 rebounds, 7 assists, and just a single turnover in 36 minutes of play. He dropped 20 dimes to just 3 turnovers all weekend. He was snubbed with his lack of inclusion on the All-Valley team and couldn't quite nudge his way onto the All-Tournament team, but there is no doubt that Gibbs makes the Bluejays go. They wouldn't be headed back to the Big Dance without Gibbs' exceptional, steady play.
Everyone was chanting "ONE MORE YEAR! ONE MORE YEAR!" at McDermott this weekend, but I'd pay a lot of money to watch Gibbs and Echenique roam the hardwood on the Hilltop for another season.
As you gather to watch what this Jays fan hopes is the first of a few Creighton games in this year's NCAA Tournament, thank your stars that in addition to watching Doug dominate the past three seasons, you had a chance to see Gibbs and Echenique too.
Comments