Saturday is Senior Day, and perhaps the last chance for Justin Carter, Cavel Witter and Chad Millard to play in front of the home crowd. Just for fun, I thought I'd put together a mini-retrospective of the three seniors, with some stats and memories from their time as a Jay.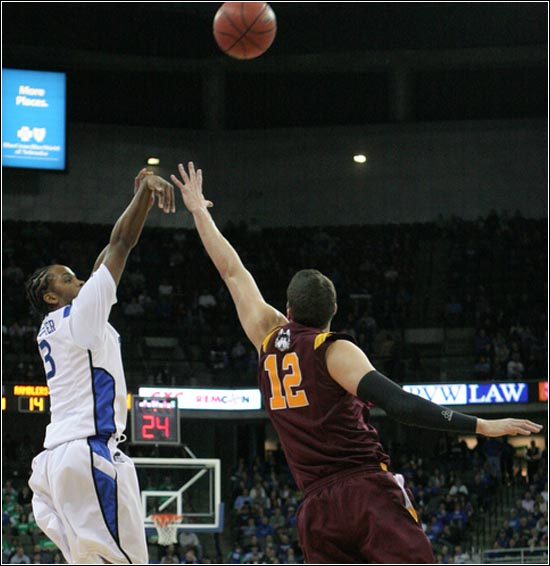 Cavel Witter came to Creighton as a JuCo transfer who played for Trinity Valley Community College in Athens, TX. Originally from Kansas City, Witter played his JuCo ball for coach Pat Smith, who also coached former Bluejays Tad Ackerman and DeAnthony Bowden at the junior college level.
As a sophomore (his first year at Creighton), Witter averaged 9.1 points and 2.6 assists while playing in all 33 games off the bench, finishing fourth on the team in scoring and second in assists and was named to the MVC's All-Bench Team. His 301 points ranked second in the MVC (to teammate Booker Woodfox) and tied for 22nd nationally for most points scored without a start. Season highlights included hitting a game-winning three-pointer with 3.2 seconds left to give Creighton a 74-73 comeback win over Rhode Island (March 18) in NIT play. He also set a Qwest Center Omaha record by scoring 42 points in the regular-season finale vs. Bradley (March 1), a game in which he drained 13-of-20 shots from the floor, went 4-of-6 from three-point range and 12-of-13 at the line in 34 minutes off the bench.
His junior year, Witter averaged 7.7 points and 2.2 assists per game while playing in all 35 games, including two starts, splitting time between the point and shooting guard. Although it seemed like he regressed from the obscene highs at the end of his first season, he did have 13 games of 10 or more points off the bench. He also was second in the MVC in free-throw percentage (85.4 percent), a fact that helped the Jays steal a win when he drained three game-tying free throws with 3.3 seconds left in regulation to send the game to overtime in a win against Southern Illinois  on January 14 of that year. And he had a big week in late November, scoring 15 points on 5-of-7 shooting to go with four steals in win over Arkansas-Pine Bluff (Nov. 20); scoring 11 points and four assists in first career start against UALR (Nov. 25); and scoring a season-high 25 points in a win over Oral Roberts, hitting 6-of-9 from the field, 4-of-5 from three-point range and 9-of-10 at the line (Nov. 22).
After the season, Witter decided to leave the program and explore his options elsewhere, but ultimately decided he wanted back at Creighton. They allowed him to come back, and he's been a solid contributor off the bench in his senior season, although he has not approached the offensive firepower shown at the end of his sophomore campaign.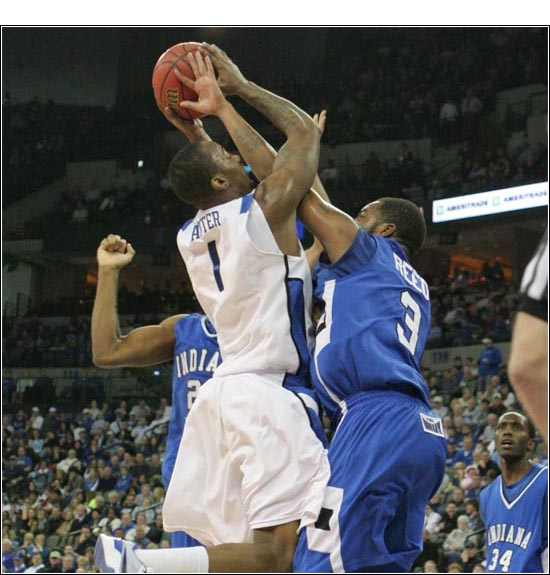 Justin Carter is a native of Gaithersburg, Maryland, and played for two junior colleges (Comption JC and Fullerton CC) before enrolling at Creighton in the fall of 2008. He made an immediate impact, becoming the first player since 1997-98 (Ryan Sears) to start every game of his first season at Creighton. Carter averaged 8.1 points and 5.5 rebounds per game, becoming CU's first junior college transfer to win the team rebounding title in their first year since Chuckie Johnson in 1995-96, ranking 12th in the MVC in offensive rebounds per game (1.7) and 13th in rebounds per game (5.5).
Despite a partially torn labrum, Carter played his best ball down the stretch, averaging 10 points and 11 rebounds per game in team's final three contests. Despite the team's poor play, Carter grabbed 12 rebounds in a MVC Tournament semifinal blowout loss against Illinois State (March 6). He scored 14 points and had six rebounds in a first-round NIT win over Bowling Green (March 18), including hitting a go-ahead three-pointer with 1:46 left. And he had a career-high 15 rebounds in the NIT game vs. Kentucky, the most rebounds by a Bluejay player in any game since Ben Walker in 1999.
His senior year started well, until Carter suffered a knee injury in the Jays' final preseason tuneup against Nebraska-Omaha. Despite the injury, Carter came back in Orlando to nearly lead the Jays to victory over then-15th ranked Michigan. His 21 points on 10-15 shooting and 8 rebounds led the team. He struggled with his quickness, though, following the injury, and has only recently shown signs of regaining his explosiveness. Three times he's led the team in scoring during MVC play this year, all of them winding up as Bluejay wins. Seven times he's led the team in rebounding during MVC play. His 9.5 point, 6 rebound average makes him second on the team in both categories.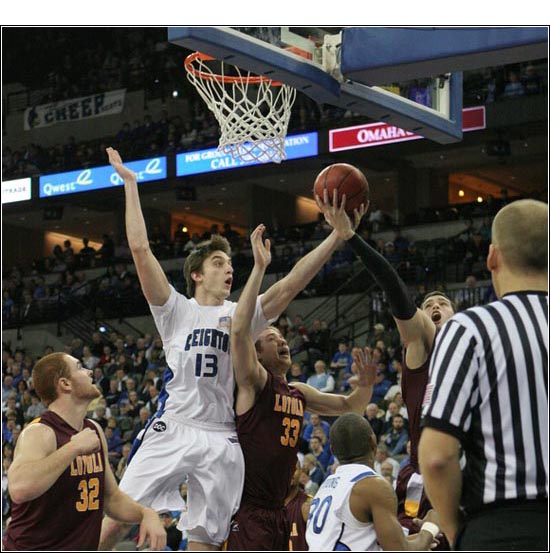 Chad Millard was born in Lincoln, but grew up on the East Coast and played for the renowned Brewster Academy in New Hampshire. A Top 150 recruit out of high school who had offers from almost every Big East school, Millard chose to play for Rick Pitino and Louisville. He played 32 games for Louisville's 21-13 team that reached the semifinals of the NIT, averaging 2.3 points, 1.4 rebounds and 1.2 minutes per game, while shooting 47.3 percent from the field. In a sign of things to come, he took an elbow to the face in practice on Jan. 11 and wore braces and wires as the bone healed.
Millard transferred after his freshman season, and in the summer before his debut, anyone who attended summer league games still marvels at his ability. He was the best player on the court, and it wasn't particularly close, in my opinion. He was an explosive player off the dribble, excelling at taking it to the basket and scoring. In his Bluejay debut, he scored 15 points in the season-opening win versus DePaul, and it looked for all the world like he was the future of Creighton hoops (along with P'Allen Stinnett, whose 23 second-half points fueled a big comeback).
In the 81 games since then, Millard has scored just 171 more points. Injuries are partly to blame; he suffered from a lingering back injury as a sophomore, a concussion and a high-ankle sprain as a junior, and a broken foot as a senior. The latter may have been the most frustrating, coming off a summer where Millard had worked hard to be able to make an impact in his final season. By the time his foot healed, he was way behind his teammates in conditioning and had lost his playing time. He's made the most of his limited playing time as a senior, however, becoming a fan favorite for his hard-nosed play and fire.
I will admit to being amongst the small group of rowdies in Section 113 who began chanting his name during the Southern Illinois game in January, and have continued each game since. He brings energy and toughness that the Jays don't otherwise get, and given his limited minutes and our proximity to the bench, we like to make sure Altman and Co. don't forget about him.

Saturday is the last scheduled home game for these three, and hopefully they can lead the Jays to a victory — and to continue the season a while longer in St. Louis.
Comments