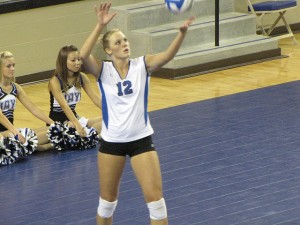 I think if we know one thing about the Creighton volleyball team by now, we know it's inconsistent. The Jays, who lost a match to No. 16 Northern Iowa Friday night but handed the Panthers their first set loss of the young Missouri Valley Conference season, defeated Bradley on Saturday night at D.J. Sokol Arena three sets to one. The combined score in Creighton's three set victories? 75-35. Yet, the Jays still managed to let the Braves take the second set. It's a bit mind-boggling.
Everyone is inconsistent. Sophomore setter Megan Bober appears to be on the same page as her hitters one minute, then confused the next. Sometimes she makes good decisions on when to attack, and at other times she goes through a stretch of poor decisions. Freshman libero Julianne Mandolfo, who replaced senior Nayka Benitez at the position last weekend, may actually be one of the most consistent Bluejays, but she still makes her share of freshman mistakes. The Jays can go a whole set without a serving error. And then they can't go six serves without three errors. They take the first set 25-9, then lose the second set 25-18.
Creighton, except for the second set, dominated the Braves in front of 777 fans Saturday night, hitting a season-high .366. It was the team's first home victory since opening night almost a month ago. Senior outside hitter Alicia Runge led the effort by hitting a robust .615 with 16 kills and only one error. Mandolfo had 27 digs, and Bober had 40 assists while also hitting .417.
The Jays, who are 8-8 overall and 3-1 in the conference, have a chance to finish second in the Valley behind UNI, but they're going to have to become more consistent. If they don't, they won't be able to beat out other strong teams like Missouri State and Wichita State. The Bears (10-3) and Shockers (9-3) were picked second and third in the preseason conference poll.
Creighton heads back on the road next weekend as it travels to Illinois State and Indiana State. Neither match will be on the radio.
Comments