Today we start our brief profiles of each member of the 2010-11 Creighton women's basketball team. Join us each weekday from now until the women's season opener against Liberty at the Wolfpack Invitational  for an introduction to this year's Bluejays, from freshmen to seniors.
***
Creighton Women's Basketball Coach Jim Flanery is heading into this season with the difficult task of replacing four solid seniors in Chevelle Herring, Kelsey Crites, Megan Neuvirth, and Katie Frank. To make up for these losses, Flanery has six new players coming joining his team on the Hilltop.
One key in recruiting is securing your best in-state talent. Flanery did that with the addition of McKenzie Fujan to the Bluejays.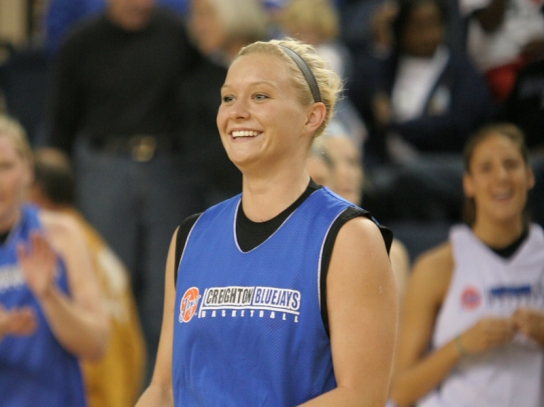 Fujan comes to Creighton after a successful career at Wahoo Neumann High School, which is a short trip west of the Omaha metro. The past two seasons she earned her share of awards. She led her team to two state titles in basketball. She was named the Fremont Tribune Athlete of the Year last season. She also earned her way to All-State honors from the Omaha World-Herald, Lincoln Journal Star, and Huskerlandpreps.com.
As a senior she averaged 14 points, 5 assists, and almost 4 steals a game. She led the state of Nebraska in 3-point shooting percentage as a junior (46%). Creighton fans caught an early glimpse at her long-range shooting touch during the Bluejay Madness event a few weeks ago, where she paired with men's basketball player Doug McDermott in the 3-point shooting contest.
Fujan was a three-sport star in volleyball, basketball, and track. In fact she was dominant in the 300 meter low hurdles, wining the state championship four years in a row. With her speed and agility, it is no surprise that her favorite drill in practice is the 3-on-2, 2-on-1 transition drill.
She had a lot of offers to continue her basketball career, but ultimately it came down to choosing Creighton over Kansas State. "I chose Creighton because I thought it was the best fit for me," Fujan told WBR. "I really, really liked the style of play, the coaching staff, and players here better than the other schools I looked at."
One of the hardest things to do as a college freshman is transition from high school to the next level, but Fujan appears to know what is expected of her with not only her academics but as a part of the basketball team. "The biggest transition from high school for me school-wise would have to be the amount of reading that is required. Basketball-wise, it would be the pace and amount of communication that is needed to be successful."
Luckily for McKenzie, she has a little familiarity with her new teammates and the opportunity to build that communication right away on the basketball court. She played in an all-star game over the summer with fellow freshmen Alyssa Kamphaus and Sarah Nelson. The combination of the three incoming recruits led their team to victory and a glimpse of their future at Creighton.
Flanery's style of play allows him to use his full roster of players, and Fujan will likely have the opportunity to contribute right away. "We are all expected to work hard and communicate. If we do this, we will all get the chance to contribute," she said. "It is up to us how much time we get by our amount of effort put forth."
Comments