We continue our brief profiles of each member of the 2010-11 Creighton women's basketball team. Join us each weekday from now until the women's season opener against Liberty at the Wolfpack Invitational  for an introduction to this year's Bluejays, from freshmen to seniors.
***
Let me put the other teams in the Missouri Valley Conference on notice. If you do not play defense on Jordan Garrison, it doesn't matter where she is on the court: she will shoot the ball.
I'm not talking about guarding her out the women's 3-point arc. Or the men's. I'm talking about from deep, deep in the backcourt. She has no fear shooting from long distance.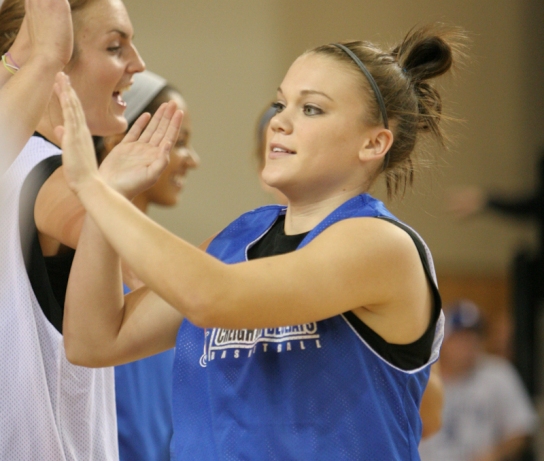 If you watch the freshman's shot, as Creighton fans did during the Bluejay Madness event, it looks a little different. But what it lacks in traditional form, it makes up for with accuracy. She launched shots during the event's 3-point contest from well past the men's 3-point line … and drilled them.
"If I had my choice between a three-pointer and a layup I would probably shoot the three," Garrison told WBR. "I absolutely love the three-point shot, plus it's worth more."
Jordan comes to Creighton from Osceola, Missouri. Playing in a town with a population of 835 people, Jordan relied on AAU ball to be discovered.
"I spent my summers playing AAU basketball, and traveling around to tournaments that would help us get our names out there. I guess I just happened to be at the right place at the right time," she said. "Eventually Creighton contacted my AAU coach, and about a year later I committed to Creighton. I actually don't have any connections to the Omaha area, but I absolutely love it here."
Garrison holds her high school's scoring record with more than 2,600 points in her career. She garnered all-state honors throughout her four years, averaging more than 22 points a game. She hit over 80 three-pointers in each of her final two seasons and once made 10 in a game. During her freshman year when her team went to state, Jordan and her team were recognized by a resolution from the Missouri House of Representatives for their play. Jordan has a few more details surrounding the honor.
"We ended up not only winning districts, but winning sectionals and quarterfinals to advance to the state playoffs. This was a huge deal for our town because no basketball team had ever made it to the state playoffs in school history, and not only did my team make it, but so did our boy's team, which my brother played on. It was such a neat experience to play at state, especially because I as a freshmen was there playing and so was my brother, who was a senior. Unfortunately both my team and his team ended up placing fourth at the state tournament, but it was one of the best experiences ever."
Garrison is part of Jim Flanery's largest incoming class ever and many of them have the opportunity to contribute right away. The competition is fierce, but the members of this incoming class really care for each other.
"I love being a part of a large recruiting class; that means more friends for me," Garrison said. "We all get along great. We are friends not just on, but also off the court. I feel that each of us are and will always be there for each other, and I couldn't have possibly gotten better classmates."
There is also a great relationship with the veteran players. "We don't gang up on the veteran players at all, unless it's in a karaoke contest. The veterans treat us just like they treat each other, and I feel like I have really lucked out being able to have upperclassmen who treat us with respect, who want us to do well, and who are always there for us no matter what."
Coming to Creighton has been a dream come true for Garrison, and she is loving every minute of it. "Ever since I was little I dreamed of playing Division I basketball, and now I am finally getting to live out my dreams with the best teammates and coaching staff ever."
Comments