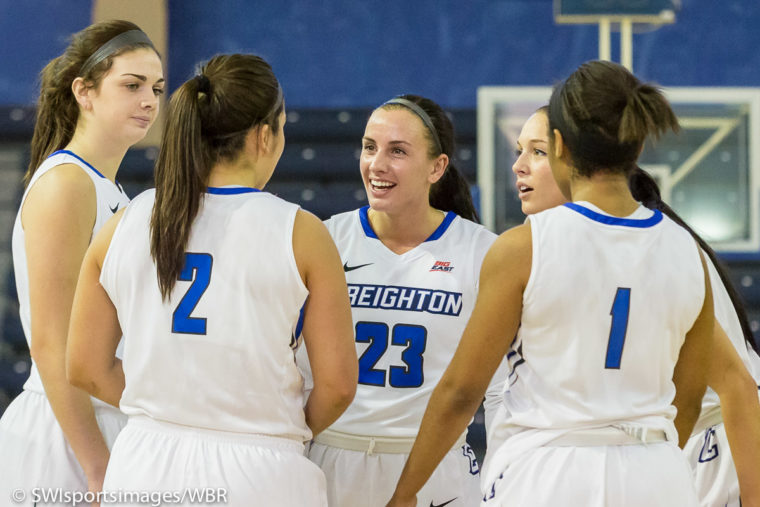 A little faith and some clutch shooting 'Works' for Creighton in an overtime win over Georgetown
January 8, 2017, D.J. Sokol Arena – Omaha, Nebraska
Result (OT):
Creighton Bluejays (10-5, 4-1 Big East) – 70
Georgetown Hoyas (8-6, 0-4 Big East) – 68
Recap:
Creighton got off to a fast start offensively, but hit a wall midway through the opening quarter and struggled to recover. Sophomore forward Audrey Faber started the game 3-for-3 from beyond the arc to give her team a 15-9 lead with 5:46 left in the quarter. However, after converting on five of their first seven attempts from the field, the Bluejays missed their next 10 shots, and ended the first quarter trailing 22-17 after the Hoyas rattled off a 13-2 run to end the period.
The field goal drought extended to 14 consecutive misses before freshman forward Jaylyn Agnew knocked down a 3-pointer from the right wing, ending 7-minute, 24-second stretch without a basket for the Bluejays. Senior starters Marissa Janning and Brianna Rollerson followed up Agnew's make with a couple of their own in the lane to cut Georgetown's lead to 26-24 with 6:42 remaining in the first half.
There were chances to retake to tie the game or even retake the lead, but they struggled to secure rebounds to finish defensive possessions and failed to take care of the ball on their end of the floor. During a 9-0 run by the Hoyas that stretched their lead to 35-24, they forced three Bluejay turnovers and in a span of five possessions and scored seven second-chance points. That helped them offset a 6-for-16 shooting performance in the second quarter to take a 35-28 lead into halftime.
Creighton's offense caught fire again to start the second half as they used a 13-5 run to take their first lead since the 3:25 mark of the opening quarter. Senior guard Lauren Works cut the deficit to two with a 3-pointer from the left wing, then Faber sandwiched two more buckets from the beyond the arc around one from Georgetown to give her team a 41-40 lead. However, the Bluejays couldn't build on it, and a little over one minute later, the Hoyas had them playing from behind again after a 6-0 run put the visitors back in front by five.
A jumper by Faber and another 3-pointer by Works evened things up again, but Georgetown junior guard DiDi Burton made an aggressive move to the hoop and got it to fall, giving the Hoyas a 48-46 lead as the game entered the fourth quarter.
Works and Rollerson each scored to tie the game at 50-50 with 6:17 to go, but Burton answered by going 1-for-2 at the free throw line, then hitting a jumper on the next possession to make it 53-50 at the midway point of the quarter. After a 3-pointer by Georgetown senior guard Mykia Jones made it a six-point game, Faber answered with an old-fashioned 3-point play to cut the deficit in half. A layup by Jones was answered with two more free throws from the Faber to make it a three-point game, but it appeared as if Creighton's come back was destined to fall a little short when the preseason All-Big East forward fouled out with 2:03 left to play.
Fortunately for the Bluejays, trips to the free throw line proved to be a tough final hurdle for the Hoyas to clear on the day. With multiple chances to put the game out of reach in the final minutes, Georgetown went missed five of six from the charity stripe to give Creighton one more opportunity to extend the game, and the Bluejays made this one count.
After securing a rebound with less than 20 seconds remaining, Jim Flanery called a timeout a drew up a play to get junior guard Sydney Lamberty going downhill to draw the defense in for a kick-out three from Lauren Works, and it worked out flawlessly. Lamberty got to the baseline, and when the defense collapsed she found Works in the left corner of the floor. The senior from Lincoln, Nebraska fired away and buried it to tie the game at 59-59 with 7.8 seconds left.
Georgetown had a chance to win it at the end of regulation, but Jaylyn Agnew swiped the ball away from DiDi Burton as she drove to the basket in the final seconds to send the game to overtime.
Agnew's effort on the offensive glass earned her a trip to the free throw line where she went 2-for-2 to give Creighton the lead. Four points from senior guard Marissa Janning — who had been held in check by the Hoyas for most of the day — followed Agnew's free throws to extend the lead to 65-60 with less than three minutes to play.
The Hoyas still had some fight left in them though, and found themselves down 67-66 when Burton drew a foul and a chance to take the lead at the free throw line with 19 seconds remaining. Unlike at the end of regulation, she knocked down both of these to give her team a one-point lead.
But the Bluejays had one more heroic shot in the "works." After a timeout, Creighton ran a high ball screen action for Lamberty, and as Georgetown hedged to the top of the key to stop her, Lauren Works popped free a few feet away on the left wing. Lamberty reversed the ball over to her and she didn't waste a second in burying the go-ahead 3-pointer with 11.1 seconds left on the clock.
Georgetown again put the ball in Burton's hands to win it, but Marissa Janning kept her from getting inside the arc and forced a desperation shot that was well of the mark to seal the come-from-behind win.
Keys to the Game:
The Sharpshooting of Lauren Works
Big shots when her team really needed them. That's what the 5-foot-8 senior guard provided on Sunday afternoon. Works scored 11 of her 16 points in the second half. She knocked down three of her four 3-pointers on the day after halftime — one to cut the deficit to two points in the third quarter, one to tie the game and send it to overtime with 7.8 seconds left in the fourth quarter, and one to win the game with 11.1 seconds left and her team trailing by one.
"Lauren, obviously, hit the two biggest shots of the game," Creighton head coach Jim Flanery said. "She's the one we wanted to shoot the three [at the end] based on what she does in practice, but also what she did today."
Both shots at the end of regulation and in the closing seconds of overtime appeared to be drawn up with Works as the primary scoring option.
"The first one definitely was," Flanery said. "On the second one, if Bri was rolling and Syd had her, she could throw it to her, but otherwise Lauren was what we call 'the drift' behind the ball screen action — typically we run that with our four player. We just had Lauren and Jaylyn switch spots, because at that point I felt like Lauren was more likely to squeeze and make it."
When asked if she's ever hit bigger shots in her basketball life than the ones she hit against the Hoyas, she replied, "probably not."
Bu despite not having very much experience as the primary option in the final seconds, all it took was a pass and a prayer, literally, for her to have the confidence to take them.
"I'm thankful that Flan believed that I could make the shot," Works said. "Syd made a great pass and I honestly said a prayer before I went in the game, and that's what happened."
Sydney Lamberty's Decision Making
Over the last 20 seasons of Creighton women's basketball, only four Bluejays have ever finished a game with at least eight assists and no turnovers: Sydney Lambert, fellow teammate Jade Owens, along with former Creighton standouts, Ally Thrall and Dayna Finch.
In Sunday's win over the Hoyas, Lamberty became the only player to do it on two separate occasions with the first coming as a freshman against St. John's in the Big East Tournament back in 2015. She only scored three points on 1-of-6 shooting, but her eight assists resulted in a total of 22 points for her teammates.
None of the eight dimes she dropped against the Hoyas were as impressive, nor as difficult, than the one that led to the game-tying three from Lauren Works with 7.8 seconds left in the fourth quarter.
"Honestly, I was just hoping that Lauren was going to be there, because I was throwing it either way," Lamberty said. "I didn't even care if she was there, it was leaving my hands.
"She's a great player, so I just trusted that she was going to get there and make the shot, and she did."
The played, which was drawn up for the first time right there on the sideline, had a lot of moving parts. Lamberty's action was starting on the right side of the court at the same time that Works was being freed up on the left side. If anything was off by even a second the play probably results in a turnover and a loss.
"We don't have that play in [our playbook], I drew it up during the timeout," Flanery said. "We had gone small and I wanted Myah [Mellman] on the floor, because I wanted five three-point shooters. We had Myah free up Syd by setting a ball screen, then Jaylyn set a back screen [for Works] as Syd drove it toward the baseline.
"I told Jaylyn a couple times, 'don't set the screen too early, but don't set it too late.' Syd made a great play, but she had left her feet. If it wasn't available it probably would have been stolen or out of bounds. Clutch shot by Lauren, but that was a great play by Syd."
Georgetown's Free Throws
Sometimes you make your own luck, sometimes others make it for you. With their leading scorer fouled out, and not enough shots falling in key moments, the Bluejays were left needing a little help as they tried to extend the game by putting Georgetown at the free throw line to stop the clock.
It paid off.
Georgetown went to the free throw line three times over the final minute and a half, each time to shoot a pair. They came out of it with only point after missing their final five attempts to keep the Bluejays' hopes alive.
On the afternoon, they shot 10-of-22 as a team from the charity stripe. Starters DiDi Burton, Faith Woodard, and Dorothy Adomako each missed three shots at the line. As they sit in last place in the Big East standings with an 0-4 record in conference play it'll be hard to shake the image of the opportunities they missed in a two-point overtime loss.
Jaylyn Agnew's Last-Second Decision
Brianna Rollerson had a double-double and five blocked shots. Audrey Faber led all players with 22 points. Jaylyn Agnew shot 1-for-8 from the field in 27 minutes of action, so why was she key to the game?
As is becoming more frequent with the redshirt freshman forward from Andover, Kansas, it's about the things she does to alter the game. The plays that don't always show up in the stat sheet.
"I liked her effort, and her energy, and her confidence late," Flanery said. "That's what you want a young player to understand. Even when you don't shoot it well you can contribute, and the more you do that the more you believe that you can impact the game. She's shot the ball well lately. She didn't shoot it as well today, but made a lot of really impactful, effort plays."
In overtime, Agnew secured the opening tip then made sure the Bluejays got points out of their first possession. The four-time high jump champion in the state of Kansas soared over taller Georgetown players to draw a foul on an offensive rebound and earn a trip to the line that turned a 59-59 tie into a two-point Creighton lead.
That'll show up in the box score, sure, but the screen she set at the exact right moment to free up Lauren Works for the game-tying 3-pointer to send it to overtime won't. Neither will the decision she made on the last possession of the fourth quarter to help eight feet off her player and clog up a driving lane that DiDi Burton was sprinting through.
"Flan was talking about helping off the trail player a little bit," Agnew said. "She was kind of back behind the ball, so I tried to help off and I guess it ended up working out pretty well."
Agnew cut off Burton and ripped the ball out of her hands with a clean, quick swipe. A high risk, high reward decision in that situation that, like the back screen for Works, had to be executed perfectly. In the end, it made the difference between having a chance to win the game in overtime or losing in regulation.
"You just try to get it as clean as possible then put your hands back because you never know — they could call it, they could not. It is risky," Agnew said.
Standout Performers
DiDi Burton, junior guard, Georgetown: 19 points (7-14 FG, 0-3 3FG, 5-8 FT), 7 rebounds, 6 assists, 2 steals, 45 minutes
Dorothy Adamako, junior guard, Georgetown: 18 points (6-15 FG, 2-5 3FG, 4-7 FT), 8 rebounds, 3 assists, 3 blocks, 39 minutes
Lauren Works, senior guard, Creighton: 16 points (6-12 FG, 4-9 3FG), 5 rebounds, 2 assists, 1 steal, 43 minutes
Sydney Lamberty, junior guard, Creighton: 3 points (1-6 FG, 1-4 3FG), 1 rebound, 8 assists, 0 turnovers, 1 block, 42 minutes
Brianna Rollerson, senior center, Creighton: 17 points (6-15 FG, 5-6 FT), 13 rebounds, 2 assists, 5 blocks, 2 steals, 36 minutes
Audrey Faber, sophomore forward, Creighton: 22 points (7-12 FG, 5-8 3FG, 3-3 FT), 2 rebounds, 1 assist, 2 blocks, 29 minutes
Next Game: Tuesday, January 10 vs. Villanova (6-8, 2-2 Big East) at 7:00 p.m. at D.J. Sokol Arena.
Jim Flanery on the Wildcats: "They are a bigger team. They haven't shot the three as well, other than Hahn. That's probably been one of their bigger struggles, but they're still a good team. Before we played DePaul, their head coach Doug Bruno said they are talented team. DePaul had just beaten them by 30, but he said that was a strange result. I think they'll be a difficult match up."
"They are similar to us in that they are a motion offense and a screening team, so from that standpoint it's not a huge advantage either way in terms of their prep for us or our prep for them."
Comments
Tagged in: