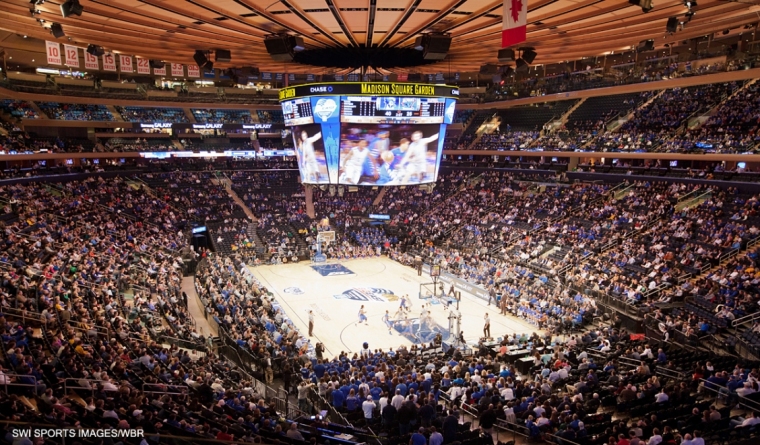 Analyzing The Big East Non-Conference Schedules
Many fans across the nation are getting excited for the start of the college football season that starts on Thursday night. However, when it comes to the Big East, basketball is king, and fans of the ten schools in the league are already looking forward to the beginning of basketball season, which officially gets underway in just over a month's time.
We are just days from the release of the Big East Conference schedule. However, almost every Big East school have announced their non-conference slate (Villanova hasn't "officially" announced theirs, but all their games are known). While it's true that playing in the Big East means that no matter what kind of schedule you play in the non-conference, the toughness of the conference season will provide ample opportunities for resume-building wins, there is still an advantage to creating a non-conference schedule that will test a team and get them battle tested for the tough conference season. It also gets the fanbase excited in a conference that doesn't focus their energy or money on football.
With that in mind, I dug into the non-conference schedules for the Big East in the 2015-16 season and ranked them. Let's take a look at how the teams stack up.
#1 Georgetown
MTE/Exempt Tourney: 2K Sports Classic (open vs. Wisconsin)
Key Games: @ Maryland, Syracuse, @ UConn
RPI Killers (250+): Brown, UNC-Asheville

I have always thought that for the Big East to be relevant and recognized year to year, Georgetown has to be successful. With the non-conference schedule that JT III has lined up for this season, it is going to give Georgetown a great opportunity to be the face of the Big East once again as they face some former rivals. Even better for their fans: with the beginning of a four-year series with Syracuse and a home-home series against UConn, Georgetown gets to reignite the storied rivalries that those teams had in the old Big East. That would be worth the price of admission alone. But it gets even better.
The Hoyas essentially open the season against an even bigger rival: Maryland. Although only a few miles apart, this will be only their fourth meeting since 1980. They also made this a home-home series in conjunction with the brand new Gavitt Games series between the Big East and the Big Ten.
But before all of that happens, Georgetown makes a trip to New York for an exempt tourney opening against Wisconsin and a possible game against defending NCAA champion Duke. The rest of the schedule has a lot of opponents in the 150-175 range, but thankfully the RPI killer games with Brown and UNC-Asheville won't really have an effect with this schedule Georgetown has put together. This team will definitely be battle tested for the Big East conference slate with their road games against top competition.
#2 Xavier
MTE/Exempt Tourney:  Advocare Invitational (open vs. Alabama)
Key Games: Missouri, @ Michigan, Cincinnati, Auburn, @ Wake Forest
RPI Killers: Northern Kentucky, Wright St.

Xavier has a schedule that I just love. Although the Musketeers are in the Big East conference now, their scheduling philosophy for the non-conference follows the pattern of their pre-Big East days. In other words, they still schedule like a team that wants to build a good resume without relying on the conference to get them where they want to be come March.
If you look up and down the schedule, Xavier has games scheduled with schools from each of the Power 5 conferences along with traditionally strong mid-major teams like Western Kentucky. It is hard to really pinpoint a key game, but opening against Missouri and then hitting the road at Michigan will give us a pretty good idea what Xavier might be able to do this season.
Then they add in an absolutely tough tournament with the Advocare Invitational where if they get past Alabama, they will likely face the Wichita State machine. To close out that tournament they could end up facing local rivals in Dayton or Notre Dame.
The overall strength of this schedule will outweigh the Northern Kentucky's on the schedule and in reality, it looks like Xavier will have few nights off with this non-conference schedule.
#3 Creighton
MTE/Exempt Tourney:  Men Who Speak Up Main Event (open vs. Rutgers)
Key Games: @ Indiana, @ Oklahoma, @ Loyola-Chicago, Arizona St.
RPI Killers (250+):  Western Illinois, IUPUI, Coppin St.
It is hard to overlook a non-conference schedule that features a team going on road trips more than anyone else in the league. Yes, DePaul has four road games on their schedule and Georgetown and Villanova also go on the road three times, but the reality is that these schools are either on the road against teams in town or just down the road from their campus. Creighton is actually getting out of state to play quality opponents.
The Bluejays basically open the season at Indiana as part of the Gavitt Games after playing two games associated with their exempt tournament. Despite the offseason issues that Indiana has had this summer, the Hoosiers are still expected to be a top 25 team, and this will be a very tough game — most impartial observers would likely figure on the Jays being an underdog in the game. Then they stay on the road and head to Vegas to play Rutgers followed by either Clemson or UMass. While those games aren't the caliber of some of the other exempt tournaments, they will still be challenging games.
Going on the road against Loyola won't be easy either. The game exists because of a return game that was required from the 2010 BracketBusters, back in Creighton's Missouri Valley days. Among the storylines to look for: Head Coach Porter Moser is a Creighton alum, Loyola replaced Creighton in the MVC when the Bluejays left the conference for the Big East two seasons ago, and this will be CU's first game against a Valley team since leaving the conference.
After the always-heated game against in-state rival Nebraska, the Bluejays head to Norman, Oklahoma to take on the Sooners, expected to be a Top-15 team. Creighton hosted Oklahoma last season and the Bluejays rallied from a 19-point deficit in the second half to win the game. The Sooners are sure to still have a bitter taste in their mouth from that game, making that an even tougher game than it might already have been.
However, if the Bluejays can get through that with some quality W's, they will open eyes and won't be flying under the radar anymore.  The non-conference schedule here could be the difference if Creighton and, let's say, Marquette are on the bubble for getting into the NCAA Tournament.
#4 Villanova
MTE/Exempt Tourney:  NIT Tipoff (open vs. Stanford)
Key Games: @ Virginia, vs. Oklahoma (in Hawaii), Big 5 games
RPI Killers: Delaware, Penn,  Fairleigh Dickinson

I have no doubt that Villanova will be a top 10 team this season, so they were smart to get a series with Virginia to create an exciting non-conference game that fans around the country will pay attention to, as it includes two top 10 teams. Additionally, Jay Wright jumped at the chance to play another top 10 team in Oklahoma, though it's clear out in Hawaii. Those are two high profile games that will keep Villanova in the national conversation before conference play begins, though obviously they need to win those games for them to really help come March.
The NIT Tipoff isn't what it used to be, but it isn't completely bad either. Akron and ETSU are decent preliminary opponents while Stanford and Arkansas or Georgia Tech will be like Creighton's opponents in Vegas — decent and challenging games against teams that might turn out to be better than expected when February and March roll around. Meanwhile, the Big 5 games are a staple for Villanova, and while Penn won't help them, the games against LaSalle, St. Joseph's and Temple keep the Wildcats non-conference schedule strong.
Overall, the schedule as a whole doesn't break into the top 3 for the conference, but it is still really, really solid.
#5 St. John's
MTE/Exempt Tourney:  Maui Invitational (open vs. Vanderbilt)
Key Games:  Syracuse, vs South Carolina (@ Mohegan Sun)
RPI Killers: UMBC,  Niagara, Wagner

New head coach Chris Mullin faces a decent non-conference schedule in his first season at the helm. I would guess that at least half the schedule was inherited from Steve Lavin's tenure, so it will be interesting to see how Mullin schedules down the line. The biggest flaw in this schedule is the fact that other than going to Maui for their exempt tourney, St. John's is staying close to home during the non-conference slate.
It appears that a game at Long Beach State that would have been perfect for a road game on the way out to Maui ended up being delayed for a season, likely because of the scheduling of the Gavitt Games and the required early season game against a Big Ten opponent. The Johnnies got a home game out of the deal, but it could have an effect on the team as they quickly get out to Hawaii after the game against Rutgers.
St. John's had a game scheduled against Arizona State out in Las Vegas, but at the last minute (after Arizona St. released their non-conference schedule) pulled out of that game and took a game against South Carolina closer to home at the Mohegan Sun. The only true road game on the schedule is at Fordham, but calling that a road game is a stretch — just 15 miles separate the campuses of the two schools.
Maui will be the only opportunity to truly play away from home and if it wasn't so hard to reschedule that trip, Mullin may have opted to do so since it is up in the air how the team will be with a new coach. Still, their schedule is still strong enough that if they garner some success in the non-conference, they'll be able to enter Big East conference play with plenty of confidence.
#6 Providence
MTE/Exempt Tourney: Wooden Legacy (open vs. Evansville)
Key Games:  Harvard, Illinois, Boston College
RPI Killers (250+): Hartford, Brown

Providence boasts the returning Co-Big East Player of the Year, Kris Dunn, with a schedule that is average at best. They do start the season with two tough games against Harvard and Illinois at home, but this is the point in our ranking where the Big East non-conference schedules start to show symptoms of "Syracuse Syndrome" where the teams have no desire to leave their home court, nor leave their home state.
The Friars do start a new series with historical rival Rhode Island (URI) on the road as well as a game at resurgent UMass, and continue their annual rivalry game against Boston College thanks to the Wooden Legacy exempt game. However, I wish they would play a game on the road farther away to make their non-conference schedule a little stronger.
Providence does head to California to play in the Wooden Legacy this season. That tournament has the potential to be really great if they meet Arizona and Michigan State…or the potential to be a disaster if they land on the other side of the bracket by losing to Evansville in the first round. The reality of their middling schedule is this: their performance in the Wooden will define how strong their non-conference schedule ends up being.
#7 Seton Hall
MTE/Exempt Tourney: Charleston Classic (open vs. Long Beach State)
Key Games: Wichita St., Georgia, @ George Washington
RPI Killers (250+): Wagner, Troy, South Florida

Seton Hall seemed to be in shambles by the end of last season with some players transferring out and other players having trouble getting along. It was also a bit of a surprise that assistant coach "Tiny" Morton, who came onto the staff when Isaiah Whitehead signed with Seton Hall, abruptly left to take a middle school math job just this last week. The distractions off the court may cause others to overlook the Pirates when it comes to their non-conference schedule. I may be guilty of that myself.
I debated for a while on putting Seton Hall's schedule higher in the rankings because it really isn't that bad. Their biggest home game is probably the return game against Wichita State, who will potentially be a top 10 team. But the downside is that there may not be any students there to cheer Seton Hall on as this game comes after first semester finals and before Christmas, so no one will be focused on going to a Pirates game.
However, the Charleston Classic field is really strong and will be a great opportunity to bolster the non-conference strength of schedule.  Seton Hall opens with LBSU (who as always, is playing a tough, tough schedule) and could also face Virginia and Oklahoma State. Road games at Rutgers and George Washington should also provide a good challenge.
#8 Butler
MTE/Exempt Tourney: Puerto Rico Tip-off (open vs. Missouri St.)
Key Games: @ Cincinnati, Tennessee, vs. Purdue (Crossroads Classic)
RPI Killers (250+): IUPUI, Southern Utah, VMI, SIU-Edwardsville, The Citadel

Butler comes off of a great season and could be in the top of the Big East again this season. However, if they find themselves on the NCAA bubble, their downfall could be their non-conference schedule because this is the very definition of playing it safe.
After Butler gets back from Puerto Rico, the Bulldogs won't leave the state of Indiana the rest of the non-conference season except for the beginning of a home-home series with Cincinnati on December 2nd. Butler loaded up on home games, and takes a big hit by having five 250+ teams come to Hinkle to play. Relying on Puerto Rico won't be good enough to build a solid non-conference resume as the field is not stellar for that tournament. And with it coming so early in the slate, things could turn out really bad if Butler gets the season started off the wrong foot.
#9 DePaul
MTE/Exempt Tourney: Paradise Jam (open vs. South Carolina)
Key Games: @ Penn St., Northwestern, @ Stanford
RPI Killers (250+): @ UIC, Chicago St., @ Drake

Dave Leitao starts his second stint as the Blue Demons head coach. The strength of the DePaul non-conference schedule, such as it is, lies with the sheer number of road games it features. They hit the road four times, heading to Penn State, Stanford, and Drake, while also traveling across town to play at the Flames of UIC. You have to give them credit for being willing to go on the road, but because those games aren't against top-flight competition, you also can't say that their non-conference schedule is any better than Butler's in the final analysis.
Additionally, the Gavitt Games this season is almost a disadvantage to DePaul. They head to Penn State for the series game on November 17th, but then have to turn around and get to the Virgin Islands for their first Paradise Jam game on November 20th.  That won't be an easy turnaround, especially since their first opponent — South Carolina — gets to play at home on the 16th.
#10 Marquette
MTE/Exempt Tourney: Legends Classic (open vs. LSU)
Key Games: @ Wisconsin, Iowa
RPI Killers (250+): Pretty much every other game

The media is in love with Marquette heading into this season, expecting head coach Steve Wojciechowski to restore the Golden Eagles back to their previous glory and expecting them to make the biggest improvement in the league. I'm not buying that, and you shouldn't either.
I understand scheduling some games to give players confidence, which is exactly what is being done with so many new players in the program this year, but Woj has put himself into a precarious situation with the non-conference schedule. Marquette has loaded up on home games for the duration of the non-conference season with the only true road game coming down the road at Wisconsin. Worse, these aren't just normal home games: they are games with some of the worst teams from last season based on numbers. Seriously.
IUPUI (282), Jackson State (315), Grambling St. (351), Maine (345),  San Jose State (346), Chicago St. (329), Presbyterian (326), and Stetson (337) are all on the non-conference schedule. Scheduling like this is not good for the league. And perhaps worse, they are making fans pay to come watch this series of glorified scrimmages. Marquette will almost assuredly get early season love after piling up a great record, but they will be a paper tiger heading into Big East play with little margin for error.
Because of all those cupcakes, all their eggs are in one basket for the Legends Classic — it's almost a must win tournament for Marquette. If they truly are going to be in the top half of the Big East as predicted by the media, there may be some issues come tournament time when their non-conference performance is compared to others on the bubble.
Comments
Tagged in: