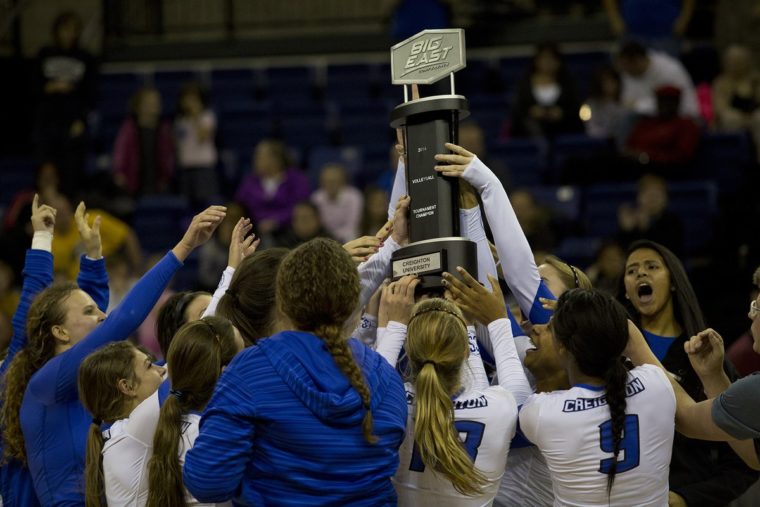 Another Sweep, Another Big East Regular Season Title for Creighton Volleyball
Photo courtesy of CreightonVB on Twitter
Creighton Volleyball claimed their third consecutive outright Big East regular season title on Saturday night. In the second leg of a weekend double-header against the Friars of Providence University, Creighton moved to 16-0 in conference play, cementing their spot atop the 2016 Big East rankings. This is the fourth conference regular season title in the last five seasons for Coach Kirsten Bernthal Booth and the Creighton P\;rogram. Although a more competitive showing for the Friars than Friday night's match, the Bluejays pulled away with another sweep winning 25-18, 25-22, and 25-13.
The first set began as a back and forth battle, with five ties and two lead changes before Coach Booth called her first time out at 9-9. Following the break, Creighton began to pull ahead and forced Providence's Coach Margot to call timeouts after falling behind 15-11 and 19-14. Each team was rolling offensively and taking advantage of defensive blunders on both sides of the net. The Friars hit .375 as a team, led by freshman Jenae Alderson's four kills. The Bluejays hit a slightly better .464, with sophomore Taryn Kloth recording five kills to lead the team. With only seven digs apiece, neither side was able to find an answer to the other's impressive attacking efficiency. The Bluejays recorded four aces in the first set, providing some of the necessary momentum to take a 1-0 lead.
The most competitive set of the weekend matchups between the two teams followed in the second set. Long and scrappy rallies were common in the second set, including a 6-0 run by Providence early in the set to take the lead 11-10. Senior serving specialist Amanda Foje provided an ace to even the score at 19-19. Throughout the match, sophomore Jaali Winters excelled all across the court. Winters led both sides in kills (6) and digs (7). Defensively, she kept many plays alive when Providence aimed to tool their hits off the Creighton blocks. In a surprising shift from the first set, Creighton and Providence hit far less efficiently at .211 and .143 respectively. Kills by Winters provided four of Creighton's final eight points as they took a two sets to none lead with a 25-22 victory.
When asked about her incredible second set, Jaali Winters credited junior setter Lydia Dimke, "It just happens as it happens. There was no plan for me to have the game I did tonight. Lydia was setting me really great balls and I put them away. I just wanted to get the job done for our team tonight."
Following the intermission, Creighton got out to a quick 4-0 start before allowing Providence to crawl back in and tie the third set at 6-6. In the remainder of the decisive third set, the Bluejay attack was finally able to pull ahead. With a balanced attack featuring senior Lauren Smith, junior Marysa Wilkinson, freshman Megan Ballenger, as well as Kloth and Winters, Creighton overpowered Providence. With a 25-13 set win, the Bluejays finished their second sweep of the weekend and clinched the outright Big East regular season title. Creighton hit .500 in the final set while holding Providence to .148. Creighton's height advantage at the net was evident for the second night in a row, as the Bluejays out-blocked the Friars 9-1 on the night.
A key part of the Bluejays' presence at the net is middle blocker Lauren Smith. This match was the 129th start of Smith's outstanding career, a new Creighton record. She recorded two blocks and eight kills in the match Saturday night.
Coach Booth spoke about the staff's emphasis over intermission that helped the Bluejays come out and finish strong.
"We all felt it was stuff within our control," said Booth. "We felt our hand contact offensively wasn't that good late in game two. We just challenged them to play better. This is not who we are, and to their credit, they did. I thought we played a much better set three. Our blocking got better and led to some offensive digs."
Jaali Winters and Lydia Dimke echoed their coach's sentiment.
"I think our confidence is always high, even in those tight, frustrating situations." Winters added, "It wasn't our cleanest ball and we had to play through it. Luckily we were able to figure it out at the end."
Dimke, a crucial cog of the Bluejay offense, spoke of the confidence she sees in her team.
"We got into the locker room and we were kind of like, 'We don't really know what's going on.' Providence challenged us in ways that we weren't use to…We came back, and we always stay confident. We were going to win, and we believed that."
Creighton was presented with the Big East regular season trophy and "back-to-back-to-back" t-shirts following the match's conclusion. As excited as they were, the team has its sights on even bigger and better things.
Coach Booth is impressed with the accomplishment but also sees it as part of their larger goals.
"It's huge. I think this a special group and what they have done and the way they have done it so decisively. We have had mostly 3-0 victories throughout the Big East Conference and the Big East is very strong, stronger than last year is really impressive." Booth continued, "I can nitpick on tonight, but I am really proud of them. I want them to take some time to reflect and hopefully this drives them to want to be better. It's a goal we definitely had and we are thrilled to reach it. We want to go after more goals that we have."
Even Dimke, after experiencing her first Big East regular season title, is ready to improve and move on.
''We didn't play as well [tonight], but we can be happy because we won," Dimke admitted. "Although we won, we have good teams next weekend and we need to win those for the post season. We are celebrating, it will last about 24 hours, and then we will be moving on and focusing on next weekend."
Winters may have summarized the team's attitude best, "it was definitely a big goal, but there are much bigger goals ahead of us."
When asked if she is concerned her team will lose focus over the two remaining regular season games, Coach Booth was confident, "That won't be an issue. They will be ready to go. We want to go undefeated, that's a goal. Bigger picture, we are in the hunt to host and going into night we were 16th in RPI. Top 16 get to host and we feel like our resume I strong if we keep doing what we have been doing. That's something we are talking about."
Creighton has two remaining home matches next weekend. They will face the Hoyas of Georgetown on Friday night at 7:00pm. A 1:00pm afternoon match against Villanova on Sunday will serve as the regular season finale and include senior day activities for Jess Bird, Amanda Foje, and Lauren Smith.
Comments
Tagged in: