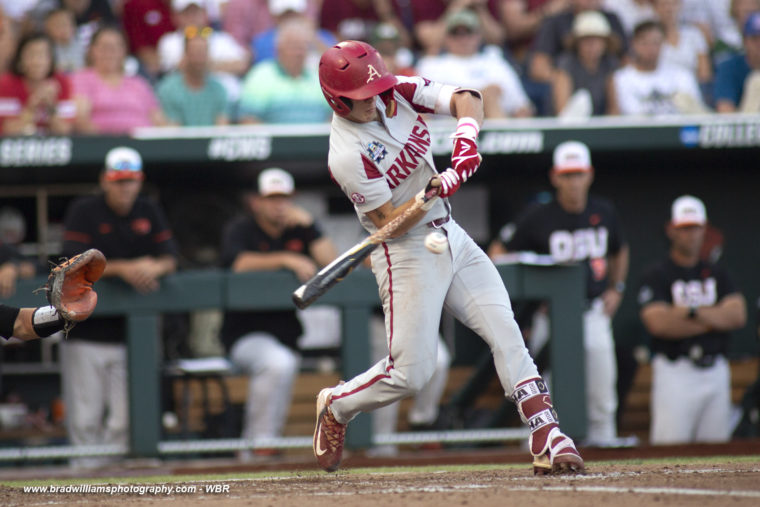 Arkansas Prevails 4-1 Over Oregon State Behind Brilliant Pitching
A sea of red painted the outfield bleachers as the sun bloated the Arkansas faithful, illuminating their presence as they Called The Hogs. The echoes of this chant, that begins with a long winded Wooooooo followed by a striking and in-your-face PIG SOOIE! This recipe, repeated twice, then ends with an energetic Wooooooo and followed with an emphatic Razorbacks!
Juxtaposed against this was a spattering of orange shirts among the throng of Razorback red, though this small minority of Oregonians made their presence felt, as they made a full-throated effort to be noticed. Going for their third College World Series win in under fifteen years, the Beaver congregate was small but mighty, much like the townfolk of Corvallis.
With the summer sun finally pushing through the all too familiar cloud cover, we here in Omaha were treated to a night if perfect baseball weather. The temperatures in the low 80's, a slight southern breeze pushing out to right, and the glorious cotton candy clouds peppering the sky, it was everything you could ever want in a ballgame.
Oregon State's starting pitcher happened to be Luke Heimlich, current courting partner of the Kansas City Royals. His performances in the College World Series have been poor and unforgiving thus far, posting a 14.40 ERA previous to today. As far as disappointments are concerned, Heimlich has been a great one.
In this outing he was masterful, reverting back to his 2.38 ERA of a pre-CWS past. As he kept the Arkansas offense off balance, he forced weak contact and blew by the heart of the order even the second time through, taking the uber-potent bats of the Razorbacks and throwing them into the Missouri River.
Blaine Knight was equal parts good, but not quite phenomenal, as he allowed a run in the second after allowing a double and back-to-back singles to give the Beavers an early lead. Knight eventually settled into a groove but hit a bit of a hiccup in the bottom of the fourth inning.
Trevor Larnach belted a high fly ball into left field, where Razorback outfielder Heston Kjerstad immediately lost the white pearl in the blazing sun. The ball took a hot hop off the warning track and landed in the Oregon State bullpen for a no-out ground rule double.
Trouble.
Adley Rutschman then singled, sending Larnach to third, giving the Beavers runners on the corners and no one out. What happened next was bizarre, as Malone grounded to short, the flip to second complete, but the throw to first was technically interfered with as Rutschman failed to slide and awkwardly cowered away from the throw. Larnach was called back to third and Knight struck the next guy out, leading to a disappointing fourth for the Beavers.
in fhe fifth inning, this is where Heimlich, who'd been stellar all night, suddenly and inexplicably became unreliable like an insistence of innocence after pleading guilty to a crime he committed.
After a pop up to first to record the initial out of the inning, Heimlich proceeded to walk Carson Shaddy on four straight balls. Jared Gates then bounced a chopper over the first baseman's head, Shaddy taking third on the play, giving Arkansas runners on first and third and one out.
Jared Koch lofted a single to left, scoring Shaddy, and the game was knotted at 1-a-piece, yet Heimlich was visibly shook, and he went into a deep and depressing spiral that you can only hope never really ends, as he proceeded to bean Jax Biggers on a 1-2 count. He dealt out another meat unit to Eric Cole, forcing in a run, and leaving the bases loaded with just that one out.
Casey Martin then chopped a ball to the second baseman Nick Madrigal, who goofed and booted the ball, allowing yet another run to score, and giving the Razorbacks a three spot on a litany of errors that the karma-balancing baseball gods thrust upon the Beaver boys. That's what you get when you allow Heimlich to throw a baseball and represent your university.
Heimlich was promptly pulled after giving up a 2-0 count to Heston Kjerstad, with reliever Christian Chamberlain throwing two consecutive balls and walking in another run, making it 4-1 Hogs.
Chamberlain then righted the ship and struck out the next two batters, but the damage had been done and the Beavers were rightly rattled.
The Beavers came out attacking in the bottom of the fifth – sort of. After a strikeout, Knight's sixth on the evening, Zak Taylor lifted a ball into foul territory adjacent to Arkansas first baseman Jared Gates. Gates read the ball off the bat and sprinted towards the warning track, making a full-extension dive onto the crushed lava rock, picking the ball out of the air with the heel of his glove. It's going to be a play you'll see over and over again on SportsCenter and on CWS highlight reels for years to come.
It gave Arkansas two outs but a Steven Kwan single kept things alive for the Beavers, who were happy to get a kiss on the cheek at this point. Cadyn Grenier then followed with a lofty slapshot to right field that landed on the painted line in the grass, yet the umpire who was standing just a stones throw away called the ball foul. A lengthy delay ensued and was ultimately ruled a single, yet had the ball been called correctly on the initial landing it would've at least been a RBI double, so the Razorbacks got a lucky bounce and the folks in Fayetteville took a deep breath and relaxed. Knight got the third out on a liner to second, sending the rally into the storm cellar for no one to ever see again.
Knight's night came to an end in the top of the sixth, handing the ball off to Barrett Loseke. Knight's final line: 6ip, 7 hits, 1 ER, 6 K's, 1 BB on 97 pitches of pure, unadulterated filth. He forced the hot Beaver bats into six fly outs and five ground outs, utilizing a deft mix of pitches to own the lineup.
Meanwhile, Chamberlain settled into a groove, but threw a lot of pitches for a reliever, thus making his availability null for the Beavers going forward. By the end of his night he threw 94 pitches but kept the Razorbacks scoreless, striking out 11 in 4.2 innings of work. Solid efforts, but man, the Beavers are going to miss him going forward, especially when things eventually get sticky.
Barrett Loseke ran into a bit of trouble in the bottom of the ninth, allowing a single on a hard hit ball by Rutschman. Loseke would be replaced by Matt Cronin who proceeded to strike out the next two and got a lineout from pinch hitter Andy Armstrong, whose infamy grew exponentially after he bunted with the bases loaded and two outs in the 8th inning in a one run game against Mississippi State.
Blaine Knight, likely in his final outing of the season, finishes the year with a 14-0 record. Heimlich, hopefully in his final outing ever, finished with a 16-3 record.
Arkansas is a win away from their first national title in baseball. Oregon State and their glass defense will need to win two without ace reliever Chamberlain – a tall task to ask.
See Brad William's photo gallery from the game. 
Comments
Tagged in: