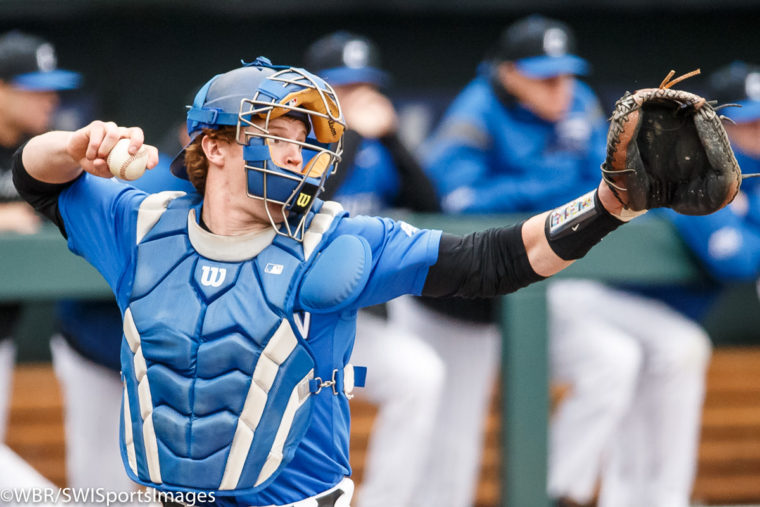 Backed by Albrecht, Bluejays down Aggies 2-1
The Creighton Bluejays did exactly what head coach Ed Servais envisioned in game two after a 12-1 defeat in game one vs. the UC-Davis Aggies. That was to get productive innings out of senior Jeff Albrecht in order to get to Ethan DeCaster and David Gerber. The Bluejays wouldn't need the last part of that equation though, as DeCaster closed the door for a two inning save. Sophomore catcher Michael Emodi continued his strong 2017 season, going 2-for-4 with an RBI and a gunning down a would-be base stealer. It was Creighton's fifth win in their last six games after beginning the season a dismal 1-11.
The Bluejays jumped out to an early lead, just as Servais wanted. With leadoff hitter Clark Brinkman on, a stolen base attempt pressured UC-Davis catcher Ignacio Diaz into making a poor throw passed his target and into center-field, allowing Brinkman to advance to third base. Then with two outs, Emodi made sure the Jays would not miss an opportunity to score as he laced a line drive shot to left-field for a base hit RBI single.
That one run lead would last nearly five innings as Albrecht worked around hitters, inducing double-plays and getting Aggie hitters to flyout to well-placed CU outfielders. The Creighton Prep product and Omaha native threw seven complete innings, giving up six hits while striking out two batters while only throwing 84 pitches. Albrecht has been Creighton's most consistent starter this season, compiling an ERA of just 2.61 with 31 innings of work.
UC-Davis would knot the game at one run each in the top of the 5th inning, however. The Aggies began the inning with two straight hits, placing runners on first and third base. Albrecht got out of the jam though by only allowing the one run thanks to a nifty double-play to limit the damage.
The Bluejays answered immediately in the home half of the 5th. UC-Davis starting pitcher Justin Mullins was hurt by his defense with a fielding error that resulted in Brinkman getting on base. That error was followed up by a passed ball that allowed Brinkman to move to second base. A single to right-field by freshman Isaac Collins forced a quick decision from Servais to send Brinkman home or not. He decided to hold Brinkman as the hit by Collins was too sharply hit, putting the pressure on Thomas Luevano. He delivered though with a sacrifice fly to center-field, giving the Bluejays the go-ahead run.
Junior reliever Ethan DeCaster came on in relief of Albrecht to start 8th inning. DeCaster made quick work of UCD, striking out his final two hitters of the inning. His strong performance that inning led to the decision by Servais to leave him in to attempt the two inning save. DeCaster backed his coach by making relatively quick work of UCD in the final frame with not much drama.
The win improves the Bluejays to 6-12 while UC-Davis falls to 6-11 on season. The two teams will face one another on Tuesday afternoon at 2:30 p.m. for the final game of the three-game series.
Comments
Tagged in: