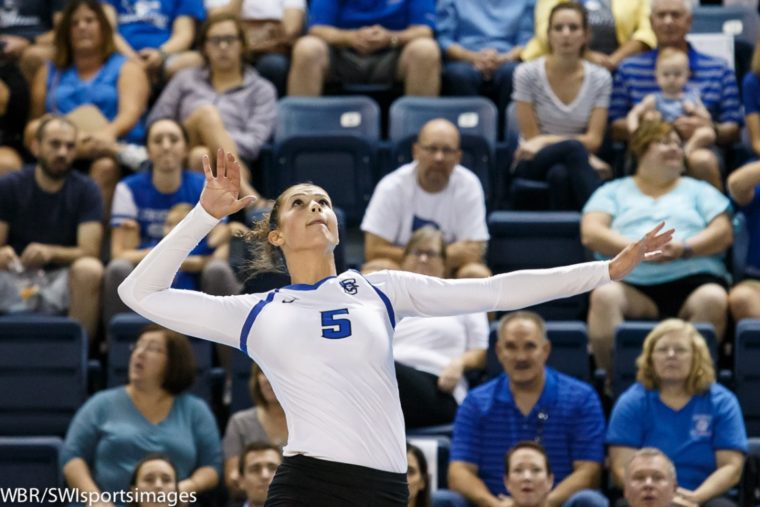 Balanced distribution carries ninth-ranked Creighton to season-opening sweep of Saint Mary's
Three different players finished with double figures in kills and six players all together had at least five as Kirsten Bernthal Booth's ninth-ranked Creighton Bluejays opened their 2017 campaign on Friday evening by taking out Saint Mary's in straight sets (25-14, 25-23, 25-20) to kick off the Husky Invitational in Seattle, Washington.
Senior middle blocker/right-side hitter Marysa Wilkinson led all players with 13 kills, while Ankeny, Iowa standout Jaali Winters and Megan Ballenger each finished with 10. The Bluejays finished with a .353 attack percentage as a team, including a .381 and a .410 mark in the second and third set to close out the match.
"Our offense looked pretty good," Booth said. "We'll see if that continues. It's defense and serving that I'm focused on right now as areas we have to get better."
With an understanding that not everything fires on all cylinders in the first match of the season, the 15-year Creighton coach thought her team could have been better in several key areas, such as block touches, back row play, and first-ball-back serves. Despite posting some impressive offensive numbers, it was the latter category that contributed to an overall lack of rhythm throughout the match.
"I thought we did some good things," Booth said. "We sided-out well and we hit at a high clip, but we have to do a better job of scoring behind the line. I thought we missed a lot of serves — a lot of first-ball back serves.

"I think it's hard to get a ton of rhythm when you never score behind the line. I think we sided-out at 70% in one game and 80% in another game; those are insane numbers, but yet we barely won those games. That tells me that we aren't getting into a rhythm because we aren't scoring when we're serving."
Saint Mary's moved out to a 9-7 lead early in the opening set, but a combo block by Winters and Ballenger, and back-to-back aces by junior outside hitter Taryn Kloth put Creighton in front for the rest of game one as the Bluejays closed with an 18-5 run to win game one, 25-14. Wilkinson had three kills and three blocks in the set.
Set two was tightly-contested with the Gaels holding a slight edge until late. With her team trailing 20-19, Jaali Winters evened things up a tip kill over the block on the left pin. Not only did it tie the set, but it made the two-time All-American the second-fastest Creighton player, and 11th overall, to record 1,000 career kills.
Saint Mary's moved back in front 23-22, but the Bluejays rattled off the next three points — beginning and ending with kills by true freshman middle blocker Naomi Hickman — to take game two and head to a intermission with a 2-0 lead in the match.
Creighton led almost wire to wire in the third set to finish off the match. Taryn Kloth had six of her nine kills in the final game as her and Winters got rolling late to help the Bluejays hit .410 with only three attack errors in set three. Wilkinson added two blocks to finish with five to lead all players. On match point, Ballenger terminated a joust ball to seal the win, similar to her match point in the second round of the NCAA Tournament against fourth-ranked Kansas last December.
"I always tell the players the first set of the first game of the season you can roll in it, or you can get rolled, and it really means nothing," Booth said. "I think you saw that tonight. We came out and dominated that set, then St. Mary's got their rhythm and almost won set two … to get the first game under our belt with a sweep is a great thing."
With the win, the Bluejays improved to 11-4 in season-opening matches under Kirsten Bernthal Booth. Now they will get some rest and prepare for a double feature Saturday against the Pitt Panthers and third-ranked Washington Huskies.
"We went over a general Pitt scout with the players already from what we of them last year, so we have some knowledge of how they run things," Booth said. "We'll get the scouting report ready tonight as coaches, then we'll go over it in the morning."
Creighton will play Pitt at noon, then finish the weekend with the top-ten tussle against Washington at 9:00 p.m on the Pac-12 Network. The Huskies swept the Panthers 25-17, 26-24, 25-16 in the nightcap of day one.
Comments
Tagged in: