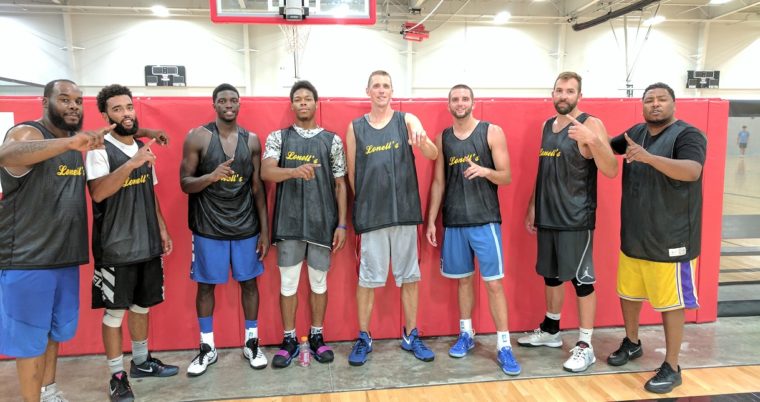 Ballock and Thomas Lead Andy's Lawncare to Omaha Metro Summer League Title
Khyri Thomas may have been the MVP of the annual Omaha Metro Summer League this summer, but it was the clutch shooting and dynamic passes of incoming freshman Mitch Ballock down the stretch for their team.  Andy's (Daeges) Lawncare team pulled out an 87-83 victory over Going Vertical in the finale of this year's summer league tournament at the Iowa West Field House on Thursdsay night.
Both teams had a bit of a battle to get through their semifinal games in the first hour of the evening, so the start of the final was a bit slow as the players got their second wind.
Khyri Thomas vs. Tra-Deon Hollins in the @OMAMetroLeague title game. Omaha hoops fans getting their money's worth tonight.

— Matt DeMarinis (@mjdemarinis) July 21, 2017
Going Vertical's Klaye Rowe was on fire early scoring 9 of their first 13 points as they took an early 13-12 lead.  Rowe continued his hot streak throughout the first half as he went 7-of-8 from the field to score himself an easy 15 points during the first twenty minutes.   Along with Rowe, Tra-Deon Hollins contributed 11 points and 4 assists while James Parrott contributed 10 points and 5 rebounds to carry Going Vertical into the half.  However, Andy's had their own set of contributors.
Khyri Thomas came into the evening averaging over 50 points a game the last four games, but was "held" to 34 points in the semifinals and started off 2-of-7 from the field in the finals.  However, that slow start was quickly made up after a possession where Thomas dribbled through two defenders and then posterized James Parrott.  Well see for yourself.
Khyri Thomas. Destroyer of souls. pic.twitter.com/Rl0hFLnW0k

— Ravi Lulla (@ralulla) July 21, 2017
Making up for the missing scoring punch was future teammate Mitch Ballock who went 5-of-7 for the half with 17 points and four assists while Eric Tyler patrolled the post and contributed 11 points of his own.  Andy's went into the half with a 44-38 lead.
Khyri Thomas misses the first, makes the second because threes are worth more than twos pic.twitter.com/nyjgm3iv8f

— Ravi Lulla (@ralulla) July 21, 2017
The second half was a whole different story from the first half and both teams started fast and furious.  It also became pretty physical.  Both teams battled back and forth as Andy's held on to a slight lead 53-52 with 12 minutes to go.
After a few back and forth possessions putting Andy's up 65-60 with 8:20 to go, Going Vertical finally got themselves a lead, although it was relatively short.  Former Husker and pro Wes Wilkinson had been off all evening in the semifinal and the first half of the finals, but then went on a stretch to hit three-pointers on three straight possessions, including taking advantage of two empty possessions for Andy's Lawncare to give GV a 66-65 lead with 7:30 to go forcing Andy's to take a timeout.
Andy's turned things right around with James Dumes driving into traffic to hit a layup to take the lead back at 67-66 and then it was Ballock's turn to take over.  After a free throw and a three pointer from Rowe to give Going Vertical another 3 point lead at 70-67, Ballock came right down the floor and nailed a long three pointer that was so surprising where he pulled up, it caught Bluejay Banter's Ravi Lulla offguard when trying to capture the video.
This is what it looks like when Mitch Ballock pulls from 3 before the cameraman thought he was in range. Shame on me. pic.twitter.com/1bQgf4jewk

— Ravi Lulla (@ralulla) July 21, 2017
Going Vertical looked like they were going to pull away a bit with under four minutes to go when they took a 78-73 lead and had possession of the ball, but an errant pass led to a steal by Dumes who hit a three to cut the lead to two.  Ballock on the next possession took on Parrott 1-on-1 and pulled up to hit a floater to tie the game with 2:25 to go.  After another empty possession, Ballock was found in the corner feeling it and nailed a three to put Andy's up 81-78 at the two minute mark.
After a crazy series of events that I couldn't even keep up with at the time, that included baskets from Bion Flint and Thomas, Andy's was about to close it out up 85-78.  The final scoring included Parrott getting a three-point play with 30 seconds left, but they could not get any closer before Andy's ran out the clock to get the victory and the MBL championship.
This is the first time in MBL history that a team with current Creighton players made the final, not to mention win it.  Ballock finished the evening with 32 points including going 6-of-11 from behind the arc along with 7 assists.  Khyri Thomas went for 21 points and 6 assists in the victory.
For Going Vertical, Rowe led the way with 30 points and 7 rebounds, Parrott put in 22 points and grabbed 7 boards, while Tra-Deon Hollins put in 17 points, dished out 7 assists and had 4 steals.
Khyri Thomas was the MVP of Summer League
Mitch Ballock was MVP in the MBL Final
Stats
Andy's Lawncare
Mitch Ballock: 32 pts, 7 assists, 4 reb., 3 stls
Khyri Thomas:  21 pts., 6 assists
Eric Tyler: 15 points, 5 rebounds
James Dumes:  13 points
Nelson Brooks: 4 points, 3 rebounds
Going Vertical
Klaye Rowe:  30 points, 7 rebounds
James Parrott:  22 points, 7 rebounds, 2 blocks
Tra-Deon Hollins:  17 points, 7 assists, 4 steals, 4 rebounds
Wes Wilkinson:  14 points, 1 rebound
Derek Paben:  5 rebounds
Semifinals:
Andy's Lawncare 91, Rooferees 70
Khyri Thomas and Mitchell Ballock got to the Iowa West Field House extra early tonight. @OMAMetroLeague Semifinals tip-off at 7:00 p.m.

— Matt DeMarinis (@mjdemarinis) July 20, 2017
Midway through first half, defending champs Rooferees up 31-25 over Khyri Thomas and Andy's LawnCare #metrobball

— OmahaSummerLeague (@OMAMetroLeague) July 21, 2017
Khyri Thomas scores over the double team pic.twitter.com/1dPqlGL366

— Ravi Lulla (@ralulla) July 21, 2017
James Dumes with the Grant Gibbs move with the ball out of bounds and then grab and score to cut Rooferees lead to 4 right before half

— OmahaSummerLeague (@OMAMetroLeague) July 21, 2017
Khyri Thomas dropping dimes pic.twitter.com/a1AFKuPho2

— Ravi Lulla (@ralulla) July 21, 2017
Khyri Thomas has 21 points at halftime, but Justin Carter has 13 to give the reigning champion Rooferees a 48-46 lead. #metrobball

— Matt DeMarinis (@mjdemarinis) July 21, 2017
Mitchell Ballock tossing the alley oop, showing off those pg skills pic.twitter.com/lOrSCW8F0k

— Ravi Lulla (@ralulla) July 21, 2017
Andy's on a big run to start the 2nd half. Mitch Ballock to James Dumes for an all-out. Up 60-52. TO by Rooferees

— OmahaSummerLeague (@OMAMetroLeague) July 21, 2017
Andy's with an 80-71 lead with 2:42 to go. Khryi Thomas with 28 points. #metrobball

— OmahaSummerLeague (@OMAMetroLeague) July 21, 2017
91-70 win for Andy's. Defending MBL champs fall. https://t.co/PRsl54yK9r

— OmahaSummerLeague (@OMAMetroLeague) July 21, 2017
Khyri Thomas & Mitchell Ballock are heading to the @OMAMetroLeague title game. Tazz finishes with a game-high 34 points.

— Matt DeMarinis (@mjdemarinis) July 21, 2017
Going Vertical 76, BD 66
BD & Going Vertical back & forth early. Tra-Deon Hollins w/ 3 points 3 assists so far. Klaye Rowe with 9 points. Andy King w/ 5 #metrobball

— Patrick Marshall (@wildjays) July 21, 2017
Going Vertical takes a 40-30 lead into half over BD after James Parrott flies in with a put back in the air before the buzzer #metrobball

— Patrick Marshall (@wildjays) July 21, 2017
Going Vertical starting to run away in the 2nd half. Up 57-41 w/ 12 minutes to go forcing BD into a timeout after Parrott dunk #metrobball

— Patrick Marshall (@wildjays) July 21, 2017
Tra-Deon Hollins taking over for Going Vertical. 13 of his 15 here in the second half. Up 69-61 with 2:10 to go #metrobball

— Patrick Marshall (@wildjays) July 21, 2017
Comments
Tagged in: