Behind the Numbers: MVC Non-Conference Scheduling
The college basketball offseason is frustrating calm for die-hard hoops fans. Sure, there is a bit of recruiting news to follow, but the more prevalent topic of conversation tends to be the mystery that is non-conference scheduling. When will the distorted puzzle be finished!?!
It isn't only Creighton fans that wait with baited breath for the non-con slate. Obviously teams have to win games, but the non-conference schedule for schools like CU and the others in the Valley is arguable one of the most important factors of the season, relative to potential consideration for NCAA Tournament bids. All of the MVC schools have released their schedules, and a closer look at each team's slate of games reveals some interesting changes from last year to this year.
And these may not be good changes.
Last year, on my old blog, I compiled an analysis of the Valley's non-conference schedules. I thought it would be interesting to pull the information together this year, to make some comparisons and check the trends. The numbers I use are based on the final rankings from the College Basketball Ranking Comparison site that takes the different RPI, Power, Sagarin, Pomeroy, and other power rankings and provides a "RPI" ranking for teams. Also, for the MTE (Multi-Team Events) I took the potential matchups and averaged the RPI for those opponents. For example, the Bluejays could possibly play Alabama, Florida State, Baylor, or Iona in their final game of their Old Spice tourney. So, I took the average of the four teams for that particular game to give it a rating.
Average Non-Conference RPI
The average RPI of the Valley's non-con opponents this season is 173.84. This is down from last year's combined average of 160. This is not surprising, though, as 7 of the 10 conference teams arguably have a worse schedule this year on paper compared to last season's slate. As a Creighton fan, it is nice to see that CU appears to have the league's best non-con schedule before the season starts, based on the numbers below: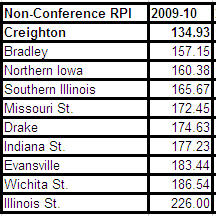 Last season, the non-conference RPI average worked a little better as a mean: five of the Valley teams were above the average, while five were below. A tell-tale sign that the scheduling is slightly down this year is only four of the teams — Creighton, Bradley, Northern Iowa, and Southern Illinois — have non-con schedules currently above the average RPI. Based on last year's final ratings, four teams in the Valley scheduled up and six scheduled down.
For a little perspective, below are the non-con RPI numbers from last year. Following the table, let's take a look at how the non-con schedules have changed for each team.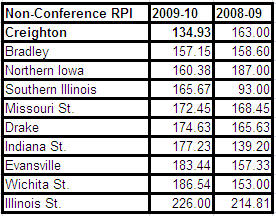 Bradley: Jim Les has scheduling down to a science as he has consistently stayed around the 150 average rating. The Braves are sort of in the same situation as Creighton; a majority of their key non-con games are on the road this season. Les takes his team to BYU for the MVC-MWC Challenge, Las Vegas to face Oklahoma State and either Illinois or Utah (another MWC foe), and Ames against Greg McDermott and the Cyclones of Iowa State. Those trips will prove challenging for a Bradley team that sees its head coach squarely on the hot seat after not building on the school's trip to the Sweet Sixteen in 2005-2006.
Drake: The Bulldogs head to Daytona Beach to play in the Glenn Wilkes Classic, but the teams Drake most needs to play for RPI sake won't see the Bulldogs … unless they're all on the beach at the same time. Drake draws Georgia State, Akron, and Central Florida, while the tournament's two heaviest hitters Auburn (SEC) and North Carolina State (ACC) steer clear of the Bulldogs. Drake also hosts a couple of random tournaments at the Knapp Center, with three of the four games in those two tourneys likely against teams with RPIs of 300 or worse.
Evansville: The Purple Aces made strides in Marty Simmons' second season last year, but they lose almost all of their scoring. To build some early season confidence, they've scheduled games against Oakland City (D-II) and SIU-Edwardsville (D-I transition). They've got to put all of their non-con eggs in one basket when they host Butler at Roberts Stadium on November 21. They also travel to tough spots Tennessee Tech and Western Kentucky. But this is a team building for the future, and they'll bring the Valley a huge RPI boost with a home game against North Carolina during the 2010-2011 season.
Missouri State: Cuonzo Martin's team gets to host one of the two BCS teams Drake will only catch a glimpse of in Florida, the Auburn Tigers. This is the second straight season Missouri State will host an SEC team at JQH Arena; last year it was Arkansas, and the Bears will play in Fayetteville on December 22. MSU travels to Arkansas-Little Rock (hopefully they can hold a halftime lead, unlike last year's Jays) and Saint Louis University and hosts Tulsa, which is always a tough team from a mid-major conference.
Illinois State: Wow. The Redbirds actually seem to have scheduled worse this season than last, a dubious achievement considering how badly panned their non-con was last year during at-large discussions toward the end of the season. Last year, the Redbirds handled Creighton twice and fell in the conference championship game to UNI in overtime — yet they couldn't get a sniff of the NCAA Tournament. One has to think it was because their non-con schedule was severely underwhelming. A couple games against better RPI squads might have garnered them more consideration. This season's Illinois State non-con schedule features Utah and a bunch of home games against less than impressive names. They'll go on the road just three times in non-con play: SIU-Edwardsville (yawn), Illinois-Chicago, and Ohio.
Indiana State: Welcome to the great unknown. Kevin McKenna entered his team in the Preseason NIT, which features the Sycamores heading to Baton Rouge for their first two games of the season. They get LSU (SEC) first, then either Western Kentucky or Milwaukee. ISU's RPI averages are a bit skewed because of the potential combinations of teams the Sycs might play, but if things went extremely well they could face the Tigers, the Hilltoppers, Connecticut, and Duke. Take that, Redbirds! Even if they lose in the first round against LSU, the potential opponents for the consolation games are more likely better than guaranteeing "buy" home games and not taking part in the tourney.
Northern Iowa: Welcome to paradise, Panthers! A trip to the Virgin Islands to play in the Paradise Jam this November sets UNI up with games against DePaul (are they really a Big East team?), East Carolina or Tennessee (how much will Bruce Pearl sweat in the Caribbean?), and then either Boston College, Saint Joseph's, Purdue, and South Dakota State. Additionally, UNI gets Iowa in Cedar Falls and visits Iowa State in Ames, two more BCSers. They also host Siena and Wyoming.
Southern Illinois: The Salukis scheduled tough last season, and look what happened. After losing games in the Coaches vs. Cancer Classic against Duke and UCLA and dropping non-con games against Western Kentucky, Charlotte, Nevada, and Saint Mary's, SIU hit a downward spiral that they never really recovered from. Then with defections and injuries depleting the team, that did not help either. SIU scheduled down a bit this season, to say the least. Replacing the Wolverines and Blue Devils are the Runnin' Rebels of UNLV (in Vegas) and the Billikens of Saint Louis U. Chris Lowery takes his team to Sin City again for a couple games against San Diego and San Francisco. Their best non-con opponent might be Western Kentucky, which is right smack in the middle of MVC play in late January.
Wichita State: The Shox can't get a game with Kansas or Kansas State, but they'll play at least one Big 12 school in 2009-2010. Gregg Marshall's got his team in the CBE Classic, which culminates in Kansas City with the Shox getting a game against Pitt and then either Texas or Iowa. Before they get to the Sprint Center, though, they'll play Fairleigh Dickinson (not a person; a school) and Arkansas-Monticello (not a type of wine or moonshine; a school) at Koch Arena. The game against Monticello was added when Illinois-Chicago backed out of the tournament. Monticello is a D-II school. Needless to say, WSU wasn't pleased with the news. And I don't know if people have a problem with the Shockers, Marshall, or the City of Wichita as a whole, but the city lost its bid to host the NCAA Tournament in a newly built arena, they have to go on the road to return a BracketBusters game from last season, and then go on the road against for this year's BracketBusters matchup (one of only three Valley teams to hit the road for the event).
Creighton: Compared to the other MVC schools, and the average RPI numbers listed above, the Jays have taken steps to significantly increase their non-conference slate (as much as you can without hosting any BCS schools other than Nebraska). And even with the downside — the Bluejays play many of their best non-con games on the road — there is an upside: more statistical importance is placed on road wins. And with a neutral court opportunity to play Michigan, Xavier or Marquette, and then one of either Alabama, Baylor, Florida State, or (please not) Iona, there are plenty of chances for positive RPI wins. Plus, CU doesn't have the worst home non-con schedule in the Valley (more on that later). Here, White & Blue Review already broke down the Creighton schedule, just in case you didn't see it yet.
Major Conference Teams
Valley teams do, however, have a number of opportunities against teams from the BCS conferences:
Big 12: Oklahoma St. (Bradley), Nebraska (Creighton), Iowa St. (Drake, UNI, Bradley), Texas Tech (Wichita State)
Big 10: Michigan (Creighton), Iowa (Drake, UNI)
Big East: DePaul (UNI), Pitt (Wichita State)
SEC: LSU (Indiana State), Auburn (Missouri State), Arkansas (Missouri State)
Potential BCS Opponents: Illinois (Bradley), Marquette (Creighton), Baylor (Creighton), Alabama (Creighton), Florida State, (Creighton), Duke (Indiana State,) UConn (Indiana State), Tennessee (UNI), Boston College (UNI), Purdue (UNI), Iowa (Wichita State), Texas (Wichita State)
Schools With no Major Conference Opponents: Evansville, Illinois State, Southern Illinois
Out of those 25 games (and, really, only 19 can take place because of the brackets at the multi-team events), only 5 are being played on the Valley home courts — Nebraska at Creighton, Iowa State at Drake, Auburn at Missouri State, Texas Tech at Wichita State, and Iowa at Northern Iowa. Three of the five are standard rivalry games that occur every year at one place or the other. The fact is there are not many BCSers coming to MVC facilities.
With the Aces, Redbirds, and Salukis not playing a BCS team this season, their non-con average RPIs are significantly altered compared to last season. Many expect SIU and Illinois State to be in the top half of the MVC this year, but they might have to nearly run the table in conference play and avoid an early stumble in Arch Madness to have a shot at an at-large bid.
Best Home and Away Games
What are the best home and away non-con games for each of the Valley schools? This chart shows you some options.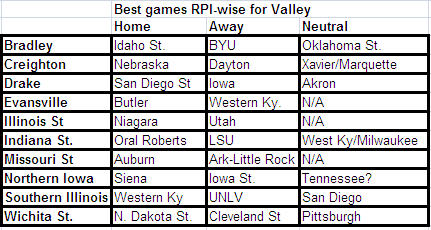 A few notes on this:
The Mountain West-Missouri Valley Challenge definitely bolsters the non-con schedules for a lot of the Valley schools. Some of the teams' best games appear to be from this series (SIU vs. UNLV, Bradley vs. BYU, Drake vs. San Diego State, and Creighton vs. New Mexico).
Western Kentucky should join the MVC. The Hilltoppers potentially play three MVC opponents this season (SIU, Evansville, and potentially Indiana State).
An interesting argument is whether Michigan is the biggest non-con opponent for Creighton, or their Jesuit brethren Marquette. The Wolverine hype is heavy right now, but coming from the Big East the Golden Eagles will likely carry a high RPI all season.
ISU Blue's game against LSU is supposedly neutral because it is part of the Preseason NIT, but it is a road game; they're playing in Cajun Country.
People bust on the BracketBusters, but if you look above, it helped UNI and Illinois State get their best non-conference home games (along with WSU's best true road game). CU fans tend to think the Jays are above the BracketBusters event, but it is a good thing for many Valley teams.
Home Sweet Home
To close our MVC non-conference schedule analysis, here's something that might be of interest. Fans of the MVC teams pay a lot of money for season tickets and the opportunity to see their favorite school play at home. But who are they playing?
When I saw Creighton's home non-conference schedule this season, I sort of winced at the opponents that will come to the Phone Booth. But the Shockers and Redbirds have worse home schedules. The bottom four teams in this chart have arguably the biggest and most rabid fan bases in the conference.
Obviously, better known BCSers don't want to come to play at these Valley home arenas. I had a discussion with a coach at a Big 12 school earlier this summer and they said they would in no way, shape, or form come to Creighton to play at the Q. "Why would we want to go there? What would we gain?" he said. So I asked him how it could happen. His reply: "It won't." And no, this wasn't Kansas or Texas I talked to.
So what do you do? I don't know. Not going to the games or boycotting games will not help. Some things will never happen. I hope fans enjoyed seeing Kentucky come to Omaha last season in the NIT because you will probably never see it again. For Valley schools, you have to have things like Conference Challenges and BracketBusters to build your schedule. Sure, there are tweaks we'd like to see, but we're fighting an uphill climb.
Regardless, it will be interesting to watch the non-conference schedules play out and get a better idea if the Valley can rise up to multi-bid status this season.
To take a look at the league's non-conference schedules, click here.
To see the TV broadcast schedules we are compiling, click here.
What are your thoughts on this? We would like to hear from you.
Comments
Tagged in: