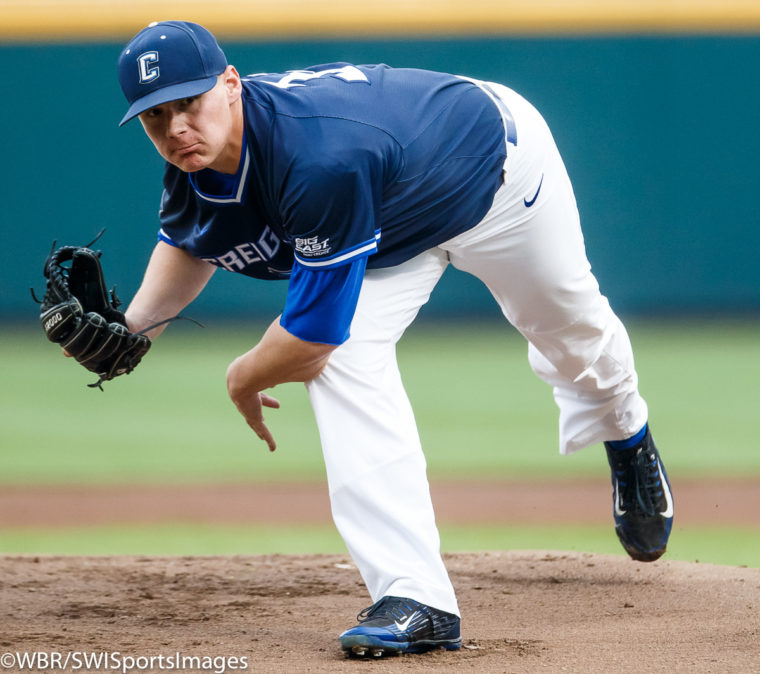 Bluejay bats pepper the gaps to set up Sunday afternoon rubber match with No. 14 St. John's
Friday night's 14-inning loss to 14th-ranked St. John's was filled with blunders and blown opportunities by the Creighton Bluejays baseball team, but Saturday night turned out to be a different story as sophomore center fielder Clark Brinkman, sophomore shortstop Thomas Luevano, and senior left fielder Riley Landuyt drove in seven runs on three swings to help the Bluejays even up the weekend series with the Red Storm, and set up a rubber match a little over 14 hours after the final out was recorded in Saturday night's 7-4 win.
"They got a couple balls down for once," Creighton assistant coach Rich Wallace said of his team's clutch hitting. "We were chasing some balls up earlier and fouling those off. That's why you saw some decent swings on some balls that ended up in the backstop. We got some balls down and they didn't miss them."
While Friday night's defeat featured a fast start by the Bluejays then a slow, four-hour, 13+-inning death, Saturday was the opposite. On Friday, the Bluejays took the bat out of Jesse Berardi's hands late in the extra-inning loss to the Red Storm, so the junior shortstop made his first trip to the plate a productive one on Saturday by smacking a one-out triple into the left-center field gap to give his team a 1-0 lead. Berardi came home three pitches later on Anthony Brocato's RBI single to left field to stake the visitors to a 2-0 lead against Jays' left-hander Jeff Albrecht.
With a depleted bullpen at his disposal, Albrecht was aware going into his start that no matter how much early trouble he found himself that it would up to him to work his way out of it.
"I just wanted to go out there and attack, and let the guys behind me work," the senior lefty said. "They are an ultra aggressive team and they kind of showed that in the first inning. I thought, 'uh oh, we might be in for some trouble,' but I just kept a focused mindset, stayed aggressive, and let my guys make plays."
St. John's continued to get on base, but Albrecht and his aforementioned defense held them off the scoreboard until their own offense finally came through with a big hit in the bottom of the fourth inning. With the bases chucked after two lead-off walks and a two-out infield single by freshman designated hitter Parker Upton to keep the rally alive for sophomore center fielder Clark Brinkman to come through with a bases-clearing, three-run double down the left field line that put Bluejays in front of the 14th-ranked team in the country, 3-2, heading to the middle innings.
"We are a confident team, and we know we can hit the ball if we take the right swings at the right pitches," Brinkman said. "It was definitely a big pick-me-up when you get something done like that and get the team going, especially in a situation like this, against a team like this in conference — it was big."
That's a little bit of understatement if the dugout's reaction is any indication. As Brinkman's ball was racing down the left field foul line, everyone in a Creighton uniform hopped the dugout fence as if they were about to celebrate a walk-off win. They say seeing is believing, and the Bluejays needed to see someone produce a moment like that in order to believe it was possible.
"We needed it big time," Luevano said. "Last game to only put up two runs in the first and then get shut down, so for Clark to do that in that situation it just picks the offense up. We just needed that one thing to get ourselves going. It kind of let everyone play a little bit freer, a little bit looser, and not afraid to swing at one pitch. We weren't guessing anymore because we knew we could hit these guys. All it takes is one good swing."
The Bluejays got "one good swing" a couple more times to tack on more runs in the bottom of the sixth and eight innings. In the sixth, Luevano ripped a two-run triple off St. John's reliever Turner French into the gap in in right-center field to extend the lead to 5-2, then after the Red Storm had trimmed the lead to two, Riley Landuyt drove a 1-2 offering into the gap in left-center field to double up the lead and make it 7-3 heading to the ninth inning.
Albrecht scattered nine hits, eight of which were singles, and only issued one free pass as he struck out seven hitters over his career-high eight innings of work.
"We talked before the game that no matter what happened he was going to have to figure it out, whether he gave up runs or not," Wallace said. "To go out there, give up two, and keep battling, he really got that [fourth] inning for us, because if he goes out there and keeps giving up runs and not zeros we're not even going to be in that situation. He was enormous."
After throwing 105 pitches — 74 for strikes — he gave way to senior right-hander David Gerber to finish the job, and although he gave up four hits and allowed a run in the ninth, he ultimately left the bases loaded to close out the win and set up a big opportunity for a team that is looking something positive to latch on to.
"Tomorrow is all that matters," Luevano said. "We've got to go out and do what we did today and swing the bats aggressively. To win tomorrow would be a huge step in the right direction for us. We have to get after it."
The rubber match between the Bluejays (9-16, 1-1) and 14th-ranked Red Storm (22-4, 1-1) is scheduled noon at TD Ameritrade Park. Right-hander Keith Rogalla (1-2, 3.38) gets the ball for Creighton, while fellow righty Michael LoPresti (5-0, 3.18) is scheduled to start for St. John's.
Comments
Tagged in:
Similar posts