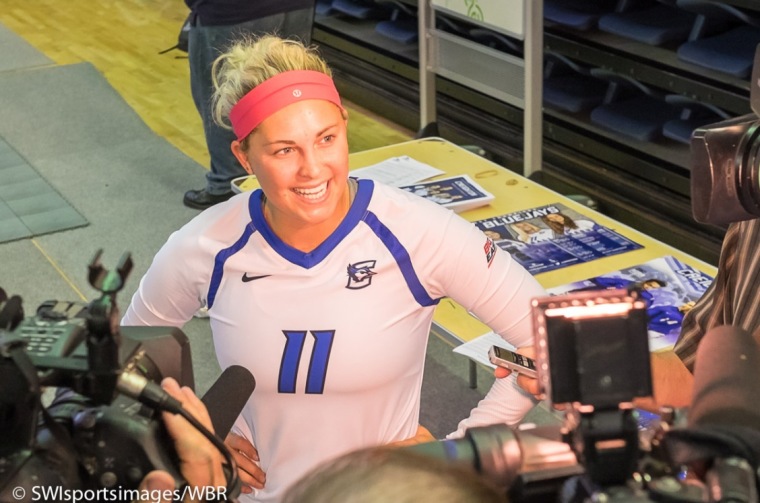 Bluejay Invitational Finale Offers Unique Opportunity for Kate and Lexi Elman
Growing up nine months apart in age gave sisters Kate and Lexi Elman many chances to measure up against one another in various forms of competition, except for one — volleyball. On Saturday night at 7:30 p.m. inside D.J. Sokol Arena, and in front of around 70 friends and family members, not to mention the many more in attendance, they will finally get the opportunity to stand across the net from each other.
Lexi, or "Allexa" as Kate calls her, is a junior outside hitter for the Pacific Tigers while Kate or "Katelyn", as Lexi refers to her, is a senior libero for the Creighton Bluejays. They were teammates on the volleyball team at Omaha Marian High School where Kate was First Team All-State at libero as a senior, while Lexi led all of Class A in kills a year later on her way to being named a High School All-American by PrepVolleyball.com
They haven't stepped on the same court in the five years that have passed since Kate moved on to Creighton, but when Lexi went out to California to play for Pacific, she didn't hide her desire to return home to play in front of her family. When she eventually got her wish, the decision of whom to tell first was an easy one.
"I called Kate right away," Lexi said when she found out her Pacific squad would be playing in Creighton's annual Bluejay Invitational in the fall. "I was so excited. I've been talking about it with [Pacific head coach Greg Gibbons] since my freshman year. Along with [junior setter Jessica Diederich], our other Omaha girl, we really just wanted to come home and be able to play in front of our families, and it was a big thing. My parents come out to Pacific and stuff, but I think it's going to be really fun to play in front of a home crowd I guess you could say, and I'm really excited to play Kate. I haven't played with her for five years, so I'm really excited."
If you know Kate at all as a player, then you know she's always full of energy when she steps on the court no matter the opponent, but getting to face her sister adds a new layer to things.
"I was excited," she said. "I've been asked how much 'Lex' and I have talked about it, but I think we only maybe talked about it a couple times last week. We haven't really talked a whole lot about it, but I think we were both really fired up just because we get to play on the same court — we've been on the same court, but we've always been on the same side. It will be really interesting and fun to see how well she does, because I obviously haven't been able to watch her play [at Pacific]."
What Kate has missed out on in the last three years is a stellar career as a member of the Pacific Tigers program. Fifteen games into her freshman season, Lexi moved from outside hitter to libero. While leading the Tigers' defense she set the program freshman record for digs in a season with 429, and set the single-match record with 30 digs against 19th-ranked Brigham Young University. As a sophomore she moved back to outside hitter where she then led the team in kills with 377 on her way to being named Honorable Mention All-West Coast Conference for a 24-win Pacific team.
She's been even better as a junior, ranking 16th nationally in kills per set with 4.64, and she is not even one week from recording a career-high 28 kills in a four-set win over Oregon State, the same school that eliminated Kate's Creighton team in the NCAA Tournament last December.
Kate may not have been able to see Lexi's career unfold, but she knows what kind of challenge her younger sister will represent on the court on Saturday night.
"Pacific is a good team and I think she is one of their anchors," the senior libero said. "I'm pretty sure last weekend she had 28 kills. She's a rock star, she's very very good."
The Bluejay libero isn't so bad herself as it took her just three years to become the all-time digs leader in school history. Growing up the way they did, it's no surprise that Kate and Lexi are assaulting the record books at their respective universities. They are two of four siblings raised by Mark and Jennifer Elman. Their brother — and Kate's twin — Taylor, is a pitcher for the Creighton baseball team. While their sister Kelsey, the eldest of the four, played volleyball at Nebraska Wesleyan.
"It was very competitive," Kate said. "We weren't just competitive in volleyball, it was just in anything that we did — all four of us siblings really competing. It was two-on-two for everything. Growing up it instilled in us a sense of competitiveness just trying to go after it."
With Taylor, Kate, and Lexi being around the same age they all had similar experiences competing with one another. Though, Kate and Lexi do remember those times a bit differently.
"I think Allexa and Taylor are probably closer," Kate said. "In high school they were closer than Taylor and I were."
Lexi disagrees, "I always thought that they were closer, because they were twins and I always thought that they ganged up on me."
One thing they are on the same page about is the sport that has linked them together. The same one that will provide an opportunity for them to reunite on Saturday.
"There were obviously times we would butt heads, all sisters do," Kate said. "But I think volleyball is something that we both hold really close to our hearts and really encourage each other on."
The youngest Elman agreed that volleyball helped to bring them closer together, and even gives her middle sister credit, along with the rest of her family, for pushing her to be better on the court.
"We definitely had our fights," Lexi said of her relationship with Kate. "It was kind of week by week. One day we would be friends and another it would be a stay away from me kind of thing, but when it came to volleyball she was always supportive and always pushing me, and I really appreciate that even looking back on it now. She's a part of where I am today, and why I'm out here … I just think that I owe a lot to her and my other family members that have helped me play volleyball."
On Saturday night, as was the case when they were growing up, volleyball will once again be the thing that brings Kate and Lexi closer together. Though with Kate being in her final year at Creighton, it might be one of the last times they get to play it together in a competitive setting.
One last chance to see which one walks away with the bragging rights, perhaps?
"I think so, yeah," Lexi says. "You can call it that. We'll play for bragging rights."
Comments
Tagged in: