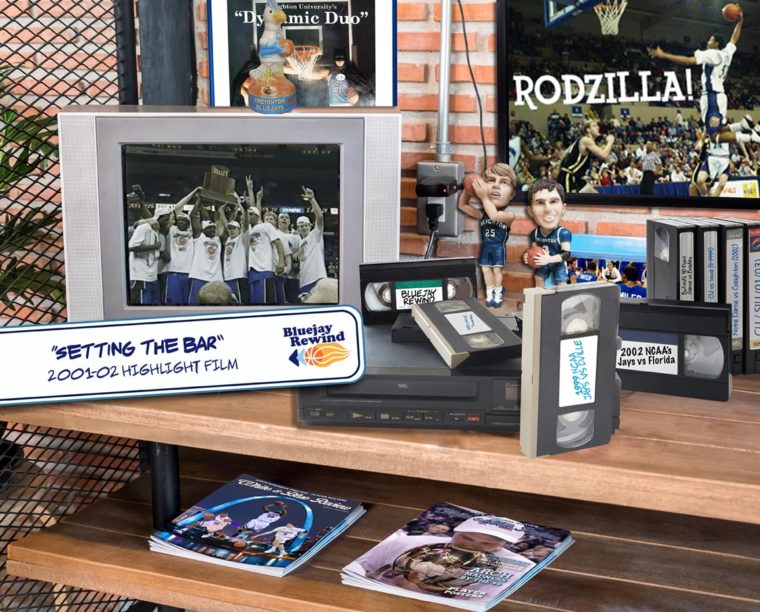 Bluejay Rewind: 2001-02 Highlight Video
Ed. Note: "Bluejay Rewind" is our popular summer series that looks back at games from years past, including highlight packages. Not all of these games are classics in the traditional sense, but all of them feature terrific performances from Bluejay greats, and we think you'll enjoy watching them as much as we did.
A couple of years ago, Creighton Athletics shared VHS copies of several season highlight videos from the late-1990s and early-2000s with us during a visit to the archives. These videos were produced by Godfather's Pizza, and shown at the annual Bluejay Bash each summer; while a few copies have circulated "underground" over the years, they've never been digitized (or been viewed since then by anyone except those lucky enough to have a second or third generation VHS copy).
This week on Bluejay Rewind we're sharing three of these films that we've digitized and remastered from the original tapes, covering three early 2000's seasons in the Altman Era. Yesterday we featured the 2000-01 retrospective, and today it's the 2001-02 season highlight video. As with all of these videos, it's immensely fun to watch, but this one has clips of the NCAA Tournament win over Florida with audio from T. Scott Marr's call on Bluejay Radio (including Kevin Sarver yelling excitedly after Terrell Taylor's game-winner), which is amazing. Enjoy!
Comments
Tagged in: