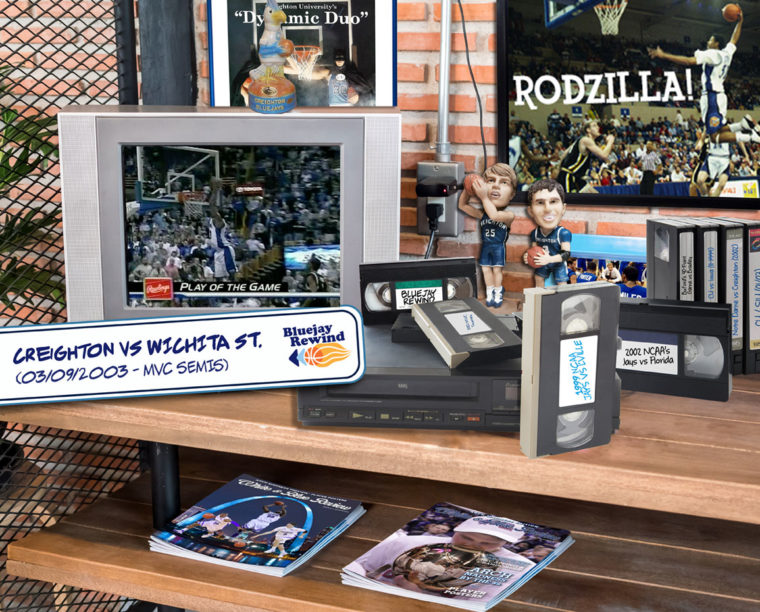 Bluejay Rewind: Creighton Comes Back from Double-Digit Deficit to Topple Wichita State, Advance to 2003 MVC Title Game (03/09/2003)
Ed. Note: This is the part of our summer series that will look back at games from years past, including highlight packages. Not all of these games are classics in the traditional sense, but all of them feature terrific performances from Bluejay greats, and we think you'll enjoy watching them as much as we did. This week is special, as we look back at all three games of the 2003 MVC Tournament with three Rewinds in three days. Enjoy!
Less than 24 hours after surviving — escaping, really — a quarterfinal battle with Indiana State, Creighton took the floor to face Wichita State in the 2003 MVC semifinals. They knew they'd need a better, more focused performance to advance.
"Hopefully we can get a big lift from this win," Coach Dana Altman said in the media room after the win over Indiana State. "I don't know if embarrassed is the right word, but we know we didn't play well. We have all these fans here, and they're counting on us to win. We'll bounce back tomorrow and hopefully we'll play better. We'll have to play significantly better to get a win. And we will."
The teams had split the two regular season games, with the Shockers winning 80-74 at home and the Bluejays winning 86-60 in Omaha. But a week after committing 25 turnovers in that blowout loss to the Jays, Wichita State played a nearly flawless first half. They shot 59% from the floor, turned it over just four times, and were dominant on both the glass and on defense. Meanwhile CU did none of those things, and the halftime score reflected it:
Wichita State 40, Creighton 30.
In the locker room, Altman was furious with his team's effort, and took the frustration out on a whiteboard marker. As Kyle Korver recalled to the World-Herald later, "Coach kind of had a fight with the marker and beat it up pretty good. He was frustrated, we were frustrated."
Per usual, Altman downplayed it and put the focus on his players. "Wichita State had played very well, but we didn't compete," he said. "Even when we've played poorly this season, we at least competed. We were selfish on the offensive end in the first half and we didn't extend much energy on the defensive end. I was extremely disappointed in them."
And so he issued them a challenge, particularly to Larry House, DeAnthony Bowden, and Korver, his three seniors:
"I told them this would be a heck of a way for the people in this conference to remember them. They'd fought their tails off, for two years in the case of Larry and DeAnthony and for four years in Kyle's case.
"This is the way you want to end it?"
It was not.
***
In the second half, Korver scored 14 of his 19 points, including a three-pointer with 1:31 to play that put Creighton ahead for good at 68-66. Brody Deren scored eight of his 10 points after the break, blocked four shots and changed the direction of too many others to count as he harassed Shocker offensive players for virtually every moment he was on the floor.
"When he goes after rebounds like he's been going after them here, there's no one better," Korver said after the game. "As big and as athletic as he is, there's no one who can keep up with him. He's out there trying to block shots, he's being aggressive. We need him to keep that up, especially tomorrow and in the (NCAA) tournament. He can do things the rest of us can't, no matter how hard we try."
He wasn't alone. House scored five of his 12 points in the second half, while Mike Grimes and Nate Funk each had half of their 10 points for the game in the second half. Still, even with all the big performances, there was that little matter of a ten-point deficit…and a good Shocker team playing for their NCAA Tournament lives.
Four times the Jays tied it. Each time, Wichita had an answer, and even when the Jays finally managed to take a lead, it was brief — after Grimes' two free throws with 5:10 to play put CU up 63-61, the Shockers immediately re-took the lead with a bucket and a free throw. And after Deren hit a layup to make it 65-64 Creighton, they answered again as Aaron Hogg stuck a jumper to make it 66-65 Shockers.
Korver responded with a three — his fourth of the game — with a minute and a half left, giving CU a two-point lead. That set the stage for a frantic final sequence full of drama.
Hogg missed on a drive to the basket, and Shocker coach Mark Turgeon went bananas on the sideline when no foul was called. While Turgeon was throwing a fit, House secured the rebound. However, Jamar Howard stripped the ball from a streaking Funk near midcourt to give the Shockers the ball back with a minute left.
Randy Burns, the Shockers' leading scorer on the day with 21 points, somehow broke loose and fired up a wide-open three for the lead. It missed, and Deren rebounded it…but was fouled, and the 35% free throw shooter missed both attempts from the stripe.
Burns got the rebound, and was heading up court for a chance at another game-winning shot attempt. Much like Howard had done moments earlier to the freshman Funk, DeAnthony Bowden snuck up behind Burns and knocked the ball loose; House corralled it and called timeout. Altman said he was afraid when Bowden made his move that he'd commit a foul. "I could see it coming, and I just hoped we'd pick it up. I was hoping he wouldn't hit it too hard and knock it by someone. It was really a good play."
On the inbounds play, House did some sneaking of his own, winding up all alone near the basket. He caught the pass and threw down a thunderous dunk to seal the victory as a Savvis Center dominated by Bluejay blue went crazy.
For the second time in as many days, Creighton won by the slimmest of margins. This one set up a championship game rematch with Southern Illinois; would it be a third nail biter in as many days?
Comments
Tagged in: