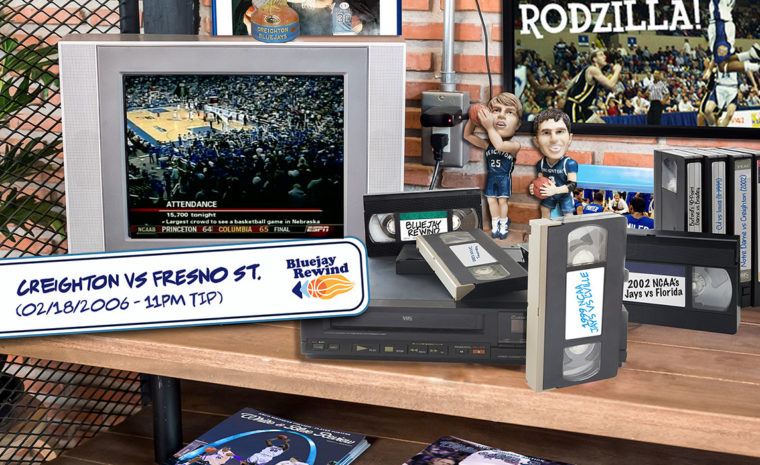 Bluejay Rewind: Creighton Defeats Fresno State in Late Night BracketBuster Battle (02/18/2006)
Ed. Note: "Bluejay Rewind" is our popular summer series that looks back at games from years past, including highlight packages. Not all of these games are classics in the traditional sense, but all of them feature terrific performances from Bluejay greats, and we think you'll enjoy watching them as much as we did.
***
Creighton's fourth BracketBuster matchup was a rematch of their first — playing host to the Fresno State Bulldogs — though everything else surrounding it was wildly different.
Creighton came into that 2003 game 23-3 and ranked 18th in the country, while Fresno State was 19-5 and in first place in the WAC. The 2006 game featured a CU squad holding tenuously onto at-large hopes with a 17-7 record, one week removed from losing point guard Josh Dotzler to a torn PCL against Southern Illinois (and three days removed from a heartbreaking 62-61 loss at Wichita State where Matt Braeuer drained a three-pointer with under a second left in OT to give the Shockers the win.) Meanwhile, the 2006 Fresno State team was 13-10 and on NCAA probation banning them from postseason play.
As for the venue? That 2003 game took place at a wild, rowdy Civic Auditorium for an 11:00am tip, while the 2006 battle took place at a wild, rowdy Qwest Center Omaha for an 11:00PM (yes, PM) tip.
The Jays' victory in the 2003 game was a bullet point on their resume heading into March; in 2006, the game had many inside and outside the program worried that it might damage their resume, regardless of the outcome. Steve Pivovar wrote in the Omaha World-Herald the morning of the game that "a loss would be a huge black mark on Creighton's resume, especially if the league's other NCAA tournament contenders win today on national television." Dana Altman agreed, but also told the media he wasn't too thrilled about the event in general. "Everybody tries to read so much into these things. We just need to go play. What makes this tough is that we have four or five teams that still have a shot at winning the championship. Wichita has the lead, and instead of thinking about their last two conference games, they have to be concerned about a very good George Mason team. Southern is trying to catch Wichita, Northern is trying to catch them, we're trying to catch them. We all have to shift focus to something else. The timing of it is kind of awkward, especially this year when we have so many teams chasing the title."
In front of the largest crowd in school (and state) history at the time, 15,700 — this game took place prior to the arena's expansion — the Bluejays roared out to a 14-2 lead just minutes into the game. The opening salvo featured a dunk from Anthony Tolliver and back-to-back threes by Jimmy Motz, and with a fairly comfortable 35-26 halftime lead, it looked like that early run would be the difference in the game. But the Bulldogs hit three straight threes in the first two minutes of the second half to slice the deficit to 39-37. And though Creighton maintained a lead the entire game, they were never able to put more than two possessions of separation between themselves and the Bulldogs until late in the game.
Six of Nick Porter's 12 points came in a decisive 10-3 run that put the game away after Fresno State cut the lead to 54-51. The other bucket in that run? A putback dunk from Jeffrey Day, who finished with eight points on the night, which was ultimately the exclamation point.
The real story, though, and what most remember from that night? The 11:00pm tipoff, and the resulting extra-juiced crowd. From longer than usual lines at the beer stands, to young kids wearing "Up past my bedtime to cheer on the Bluejays" t-shirts, to the public address announcer calling out "last call for alcohol" as 1:00am neared because it was nearly bar time according to state laws, to former Bluejay great Kyle Korver making his first trip back to Omaha for a CU game since graduating, there were a lot of memorable things about that night before you ever get to the actual game.
Enjoy this trip down memory lane!
Comments
Tagged in: