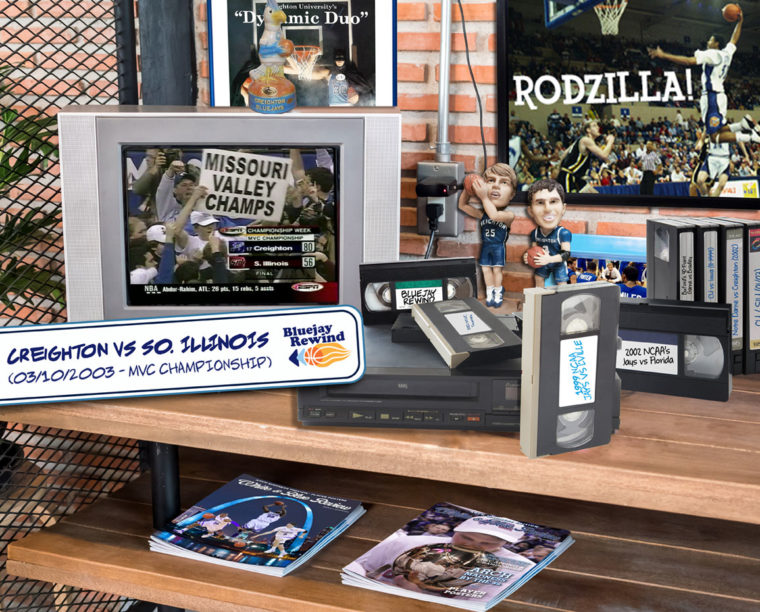 Bluejay Rewind: Creighton Destroys SIU to Win MVC Title (03/10/2003)
Ed. Note: This is the part of our summer series that will look back at games from years past, including highlight packages. Not all of these games are classics in the traditional sense, but all of them feature terrific performances from Bluejay greats, and we think you'll enjoy watching them as much as we did. This week is special, as we look back at all three games of the 2003 MVC Tournament with three Rewinds in three days. Enjoy!
After a pair of one-point wins that came down to the wire, conventional wisdom said the Creighton Bluejays might be emotionally drained heading into the 2003 MVC Championship Game. On ESPN prior to the game, analyst Digger Phelps said the key to the game would be Dana Altman finding a way to keep his team from coming out flat, and that he worried they'd expended too much energy the first two days of the tourney.
As it turned out, Phelps was right; he was just talking about the wrong team.
When Southern Illinois coach Bruce Weber accepted the MVC Coach of the Year award on the first morning of the 2003 tournament, he mockingly referred to it as the "Dana Altman Trophy" in his acceptance speech and said while people in Carbondale were happy he had finally won the honor, they thought he should have won it the year before, too. Then he ended his speech by saying he hoped the Salukis got a chance to play the Bluejays for the title on Monday night and avenge their title game loss from the year before.
Weber's performance at the luncheon (and his endless array of sideline antics during games) led Omaha World-Herald columnist Tom Shatel to refer to him as Bruce "Whiny" Weber in the newspaper, writing about the "obnoxious way SIU has turned this series and 'rivalry' into a goofy grudge match."
Taking cues from their coach, SIU fans all over St. Louis wore "IH8 CR8N" shirts: to games, to bars and restaurants, anywhere they hoped to get a rise out of a flock of Bluejay fans. SIU players wore shirts during shootaround that had "Who will be celebrating on Monday night?" emblazoned on the back.
If SIU's coach, players, and fans were hoping to intimidate Creighton by continually poking them with a stick, they were in for a surprise: the veteran Bluejays treated those tactics as taunts, and by the time Monday evening rolled around, used them as motivation.
"The energy was there tonight, and it came from anger," Larry House noted afterward. "We've been reading everything they were saying, that they wanted us again, that they wanted to win the tournament real badly."
***
Prior to tipoff, Kyle Korver went up to his coaches with a crazy idea. He wanted to guard Jermaine Dearman, the Salukis' 6'8″ big man who had scored 43 points in the first two games of the tourney, and had lit up the Jays in two previous meetings that season. Assistant coach Greg Grensing said after the game that Korver had all but demanded the assignment, saying he knew Dearman played off emotion and he could "get inside Dearman's head."
It was a gamble, because if Korver wasn't able to back up his talk, he could have wound up in foul trouble and planted on the bench. But he was magnificent, refusing to let Dearman go to his right where he made his living, preventing drives to the basket, and generally shadowing him everywhere he went.
Meanwhile, House and DeAnthony Bowden combined to take on Kent Williams, who had scored 24 points against Creighton the week prior to Arch Madness. Harassed by the CU duo, he missed eight of his 12 shot attempts and was a complete non-factor. While the Salukis' two best players were essentially taken out of the game, their teammates couldn't make a shot either, and as their struggles mounted, the once-swaggerin' Salukis began to press…and the angry Bluejays were there for the kill.
CU opened the game with 10-0 run, punctuated by a quarter-court bounce pass from Korver to Joe Dabbert for a dunk. They had built an 18-4 lead by the second media timeout, and by the halfway mark of the half, were ahead 22-4 after House drained two consecutive jumpers. Weber burned through nearly all of his timeouts for the game in those first 15 minutes as he attempted to stem the tide, but the reality was they'd created a monster and once it was unleashed, they had no clue how to stop it.
House hit a three with 1:35 left in the half, then stripped the ball away from Dearman and took off the length of the floor for a thunderous dunk that gave the Jays an unfathomable 42-14 lead.
Creighton built a lead as large as THIRTY-TWO points in the second half, appearing to be unsatisfied with anything less than a complete and thorough destruction of the Salukis. They got 20 points from House, 12 from Korver, 11 from Mike Grimes, and 10 from Michael Lindeman; Korver's final line of 12 points, 10 rebounds, six assists, two steals and a block in 35 minutes was remarkable on it's own, but combined with his smothering defense on Dearman, might have been his finest performance as a Bluejay.
"Everyone simply thinks of Kyle as a scorer," Creighton Assistant Coach Len Gordy said after the game. "Kyle can rebound, Kyle can pass the basketball and Kyle can guard, when he's ready to guard. He was ready tonight."
It was the Jays' fourth MVC tourney title in five seasons, and the second straight they'd won over SIU. Despite all the theatrics leading up to the game, once again the result was Creighton cutting down the nets and Southern Illinois sulking in the bowels of the Savvis Center.
"This one is hard to explain," Weber said afterward, the formerly cocky coach struggling to find words. "They just kept coming at us, and I'm not sure this one will heal very quickly."
Comments
Tagged in: