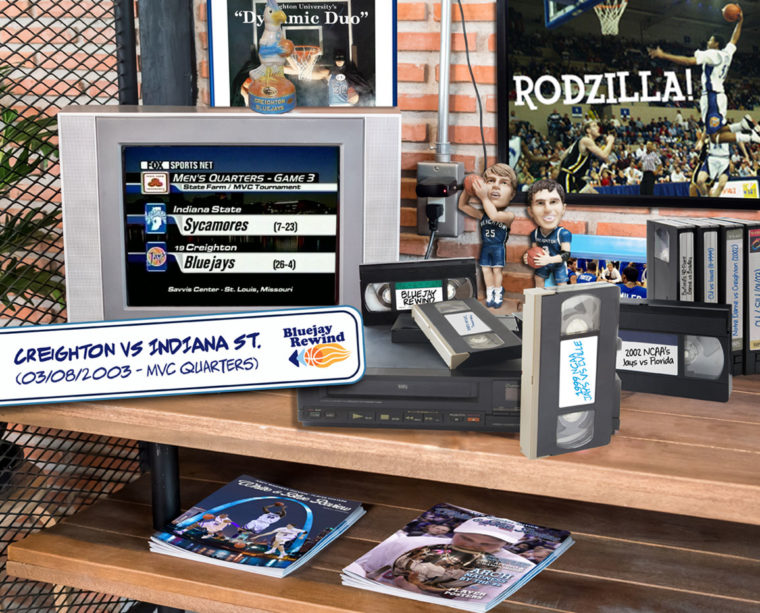 Bluejay Rewind: Creighton Holds Off Upset-Minded Indiana State in 2003 MVC Tourney Quarterfinals (03/08/2003)
Ed. Note: This is the part of our summer series that will look back at games from years past, including highlight packages. Not all of these games are classics in the traditional sense, but all of them feature terrific performances from Bluejay greats, and we think you'll enjoy watching them as much as we did. This week is special, as we look back at all three games of the 2003 MVC Tournament with three Rewinds in three days. Enjoy!
The 2002-03 Creighton Bluejays entered the Missouri Valley Conference Tournament with a nation-leading 26 wins. They'd been ranked for 13 straight weeks, held an RPI of 31, and had two wins over Top 20 teams (#10 Notre Dame and #19 BYU), as well as wins over #38 SIU and #62 Fresno State. They were projected to be a #6 seed in the NCAA Tournament by Joe Lunardi's Bracketology on ESPN, all but assured of a tourney berth regardless of what happened in St. Louis.
What they didn't have was a regular season title or the top seed in Arch Madness, because the Southern Illinois Salukis had tripped them up in the second-to-last game of the regular season in Carbondale 70-62 to put them in the drivers' seat. And so despite a 26-point rout of Wichita State in the season finale, which doubled as the final regular season game played at the Civic Auditorium, one of the best teams in school history finished second in the league.
It wasn't all that dissimilar from the year before, when Creighton stumbled into St. Louis having lost on Senior Night to Drake, costing themselves an outright regular season title. As co-champs but the #2 seed due to losing a tiebreaker with SIU, they stormed through Arch Madness with a purpose — beating UNI 80-65, Illinois State 90-63, and SIU 84-76 — and claimed the title.
"We were really disappointed with the way we finished the season here last year against Drake," Dana Altman said before the 2003 tourney. "It kind of got our attention. We had a couple of good days of practice, and we went down there and played. We hope that the same thing will happen, that we'll have a couple of good days of practice and go down there with a purpose and maybe be ready to play."
Would the same hold true in 2003?
"We're just looking forward to going to St. Louis and making some noise," DeAnthony Bowden told the World-Herald. "We're going to St. Louis knowing that we're going to win. We've either won the regular season or the tournament the last four years. It would be great to make it five. So we're going there to play hard and get the job done."
Bowden was diplomatic, but some of his teammates were a bit more direct.
Brody Deren was, as the World-Herald's Steve Pivovar wrote, "hacked off" because there were no big men on the All-Valley first team. "Being a big guy is kind of like being an offensive lineman in football," Deren said. "You do all the dirty work, but you don't get the credit."
But he wasn't just made about that. He was also upset that Larry House was left off the first and second teams entirely, despite finishing second on the team in scoring (10.2 points) and landing at 10th in the player of the year voting, a season after averaging just 6.8 points per game in a more limited role.
"Larry got shafted," Deren said. "He was at least a second – team player. He didn't even make the all-improved team, which is a joke to me."
And he wasn't done.
"I feel bad for (SIU's) Jermaine Dearman and (Drake's) Greg Danielson because they both had very good years and didn't make the first team," Deren said. "I'm not saying the other guys aren't deserving, but to me, you have to have one big guy on the team. Traditionally, I guess this is a guard's league."
Dearman had ranked among the league leaders in points (14.1) and rebounds (6.2); Danielson led the league in rebounds (9.0) and was close behind in points (13.7).
To say Creighton had a chip on their shoulder would be an understatement.
***
CU brought a then-record 1,102 all-session ticket fans with them (plus another 650 student tickets), nearly double their previous high set the year before. And it was a good thing, as the quarterfinal game was hard to find on TV back in Omaha. Fox Sports Midwest had hockey obligations to the St. Louis Blues, and showed the Saturday night action on tape-delay; Cox found room for the games on a random cable access channel, but before the days of WBR's Media Menus or social media to get the word out, a lot of folks had no idea.
From the opening tip of Saturday night's quarterfinal game against #10 seed Indiana State — a team that had won just seven games that season — it looked like the Jays were motivated to blow through the rest of the league towards another title. They had beaten the Sycamores by 28 and 23 points in their two prior meetings that season, and led 11-2 after four minutes in St. Louis.
But then a crazy thing happened. The Sycamores put together perhaps their best sustained stretch of basketball of the entire season, rattling off a 25-8 run that spanned 11 minutes and gave them a 27-19 lead that gave them hopes of becoming the first-ever #10 seed to win a quarterfinal game in Arch Madness.
The Jays were able to get it within five by halftime, 34-29, and then came out on fire in the second half. They forced four turnovers on Indiana State's first five possessions thanks to their press, with Larry House gathering three steals. They used a 13-2 run to retake the lead, and seemingly take control of the game.
Instead, it simply was the beginning of a back-and-forth battle. A barrage of threes from Lamar Grimes and Marcus Howard gave the Sycamores a 45-44 lead; Kyle Korver pushed the Jays back out in front by five, 51-46, with a pair of jumpers; five unanswered points by ISU gave them back the lead 52-51 with just under seven minutes to play.
It looked like the type of game where someone — Korver? Bowden? House? McKinney? Deren? — would need to take over to put the underdogs away. Instead, it was Mike Grimes.
Grimes scored buckets on three straight possessions, and with 4:52 to go the Jays were finally pulling away. The last one was a virtually uncontested drive to the rim, despite scoring on the previous two possessions, because ISU's defense was still preoccupied with stopping Korver. That basket put the Jays up 57-52.
They would not score again, however. CU missed their last five shot attempts, missed their last four free throw attempts, and turned it over in the backcourt with 29 seconds left to give Indiana State a final shot at victory. ISU's Catrel Green pulled up for a 15-foot would-be game winner with three seconds left, but it rattled off the iron and Grimes secured the rebound — and the win — for the Jays.
CU had survived and advanced to play another day in the 2003 MVC Tournament, but if fans had any nails left to bite after this win, they'd need them on Sunday afternoon when Wichita State gave the Jays an even bigger scare. Tomorrow, Bluejay Rewind looks back at that one.
Comments
Tagged in: