Bluejay Rewind: Jays vs Wichita State (11/30/1968)
In the fall of 1968, Creighton was coming off of an 8-17 season that saw them lose each of their last eight games. As Red McManus prepared for what would ultimately be his final season as head coach, there were several promising developments. Wally Anderzunas, who had averaged 15.5 points and 8.8 rebounds a game as a junior in 1966-67, had been suspended the previous season but was set to return. Dave Hickey averaged 14.4 points a game in 1967-68 despite playing the second half of the season with an Achilles tendon injury that severely hampered his mobility, and now that he was fully healthy, McManus expected great things from him. Newcomers Joe Bergman (a transfer from Iowa) and John Watts (a JuCo transfer from Imperial Valley Junior College in California) were expected to split duty at center, shoring up a weakness on the '67 squad.
And then there was Bob Portman, who was fifth in the nation in scoring as a junior with 29.5 points a game in 1967-68, and entered his senior season with 1,195 points, putting him inside the top five on the school's all-time scoring list after just two seasons. Portman would score 30 or more points 15 times in his career, and the footage we're sharing today is from one of those games — the season opener of the 1968-69 season against Wichita State.
The Shockers, then as now, hailed from the Missouri Valley; this was a non-conference series at the time, however, owing to Creighton's independent status. The teams had met twice earlier in the decade, with the Jays losing to them 84-68 in the 1964 NCAA Tournament, but winning 91-88 in December of 1966. The Valley was among the best leagues in the country in the late-60s, and Wichita State was a perennial contender. They'd gone to the NIT — at that time the more prestigious tournament — in 1966 and made the finals of the NCAA Tournament in 1965.
In previewing the game, Shocker coach Gary Thompson noted, "Creighton has a very strong club. In fact, we hear this is the best team since the one with Paul Silas that came here for the NCAA regional several years ago."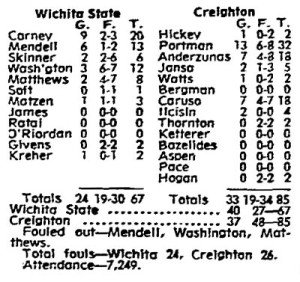 Wichita State came out on fire, taking an 18-9 lead after ten minutes of play. Mike Caruso, a sophomore from Oakland, California, bailed the Jays out by scoring ten points during a surge that brought them back to within three at halftime. When he came out for a breather with two minutes to go in the half, McManus received a chorus of boos from the Civic Auditorium crowd, but as he explained in the next day's paper, it wasn't his call. "Mike looked over at the bench and said, 'Can I have a couple of minutes?'" The coach obliged, and the rest would pay off as Caruso played a huge role in a second half rally.
Six minutes into that second half, the Jays held a precarious 51-50 lead. Caruso keyed a 14-4 run with six points and two assists, giving CU a 65-54 lead. They never let up, and would push the lead out to as many as 18 at 79-61 late in the game before holding on to win 85-67.
Portman scored 32 points on 13-25 shooting from the floor and 6-8 from the line, and contributed 17 rebounds in a dominating effort. Meanwhile, Caruso and Anderzunas each had 18 points, with the latter grabbing 13 boards for a double-double in his return to action.
"We were kind of shaky there for awhile," McManus told the World-Herald after the game. "The guys who probably sparked us were Caruso and Jocko Ilcisin. They came off the bench when things weren't going too well, then the regulars came back when the going got tough. Dave Hickey, who was not shooting well, started handling the ball well. And Portman, who's used to being double-teamed and played up-close, led us in scoring by working himself loose. Wally Anderzunas did a key job on (leading scorer) Ron Washington, and he also went to the boards and hit some fine shots."
Creighton would go on to finish the season 13-13, a marked improvement over the previous season but not enough to stave off changes in the coaching ranks. McManus would depart after compiling a 138-118 record in ten seasons, and Eddie Sutton would take over in the spring of 1969. Though it was a disappointing season record-wise, it did have some outstanding individual performances. Portman averaged 26.2 points a game, shooting 43.9% from the field, and grabbed 11.8 rebounds a game making him the rare player to AVERAGE a double-double. Anderzunas joined him in that club, averaging 21.5 points and 11.0 rebounds a game, while shooting 42.6%. Their defense was atrocious, however, as they allowed opponents to shoot 44.6% from the field (making everybody into Bob Portman!), and then compounded their poor defense by putting their opponents on the free throw line too often. Creighton's opponents made 70 more free throws than the Jays did, while attempting over 120 more. Ouch.
The 8mm reel this film was shot on is not complete — it was heavily spliced for use by Red McManus in the film room — but despite the occasional awkward cut, contains most of the action. For reference, Creighton is in white and Wichita State is in gold (which appears as a slightly gray-ish hue in this B&W footage), and we've identified the Bluejays who score since there's no audio and for most of us, this is the first time we've seen these guys on film instead of in text. We also did some digital restoration to clean up the picture quality a bit. Enjoy!
Comments
Tagged in: