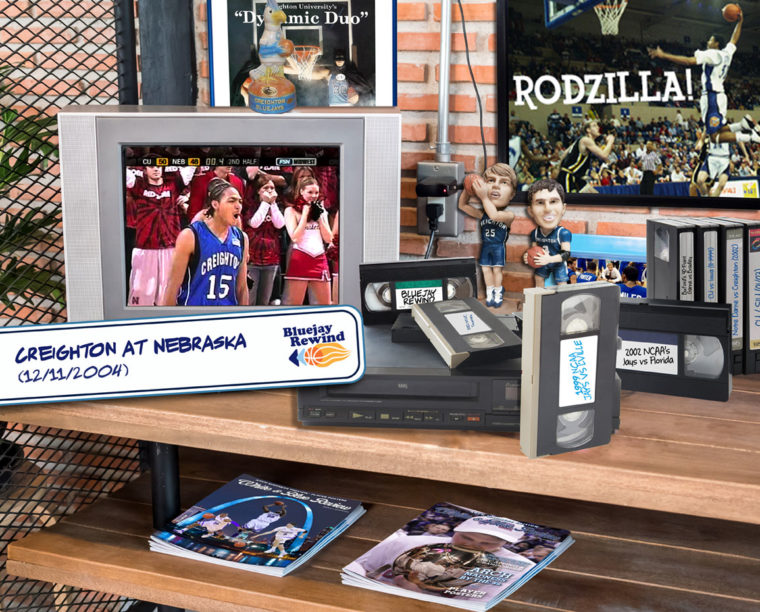 Bluejay Rewind: Kellen Miliner's Buzzer Beater Takes Down Nebraska (12/11/2004)
Ed. Note: This is the part of our summer series that will look back at games from years past, including highlight packages. Not all of these games are classics in the traditional sense, but all of them feature terrific performances from Bluejay greats, and we think you'll enjoy watching them as much as we did.
Despite winning 20 games in 2003-04, Creighton's streak of five straight NCAA Tournament appearances came to an end with an NIT berth. The 2004-05 Bluejays were a team determined to get back to the big dance, and with a veteran backcourt featuring senior Tyler McKinney and juniors Nate Funk and Johnny Mathies, they were positioned to do just that.
They began the year 7-0, including wins over Mizzou, Ohio State, and Xavier, and did so dramatically: McKinney hit game-winning shots on their final possession to beat both Ohio State for the Guardians Classic title and Xavier in a true road game in Cincinnati. They entered the December 11 battle with Nebraska at 7-1, having lost inexplicably to Kent State at home 67-58 three days before.
As if that loss wasn't motivation enough, there was also the little matter of Nebraska ending their season the year before in the aforementioned NIT — with some dramatics of their own. In that game, CU had a 70-67 lead with a minute to play, but would not score again. They surrendered a dunk to John Turek and a running jumper to Nate Johnson, then had a last-second shot attempt by Funk blocked at the buzzer by Jake Muhleisen. It was a bitter pill to swallow, and was on their minds entering the 2004 game.
Junior Jimmy Motz told the World-Herald the day before, "If you can't get ready to play this one, you might as well not get on the bus."
It was the first time in ten years that Nebraska sold out a non-conference home game, but despite all the hype, the game was a mostly dreadful affair for 37 minutes. The Huskers shot 17-48 (35%) from the field and made just 7-19 free throws. The Bluejays made just 16-47 shots (34%) and gave up 18 offensive rebounds. It was a slugfest, and with just over three minutes to play, the score was tied at 42.
Yes, 42.
Nebraska's Marcus Neal broke the deadlock with a three; Funk answered with a driving layup to cut the deficit to one, and had a chance to retake the lead when Turek missed a pair of free throws. Kellen Miliner's jump shot with 1:25 to play misfired, but freshman Dane Watts ripped his way through two Nebraska defenders to secure the offensive rebound, drawing a foul in the process. In just his ninth collegiate game and staring down a hostile crowd, Watts made both free throws to give CU a 46-45 lead.
Seconds later, Watts made a completely under-rated and under-appreciated defensive play, locking up with Turek in the post and preventing him from getting free for a post entry pass from teammate Wes Wilkinson, who was trying to lead him towards the rim for a high-percentage shot. Watts' defensive positioning didn't allow him to get there, however, and Funk intercepted the pass.
As the clock ticked under one minute, the Bluejays calmly used up the entire shot clock, and then got the ball to their point guard to make a play. McKinney drove down the right side of the lane, just as he'd done for his game-winners against Ohio State and Xavier, but instead of spinning around a defender to get a short jumper, he was forced to take a tough running jumper in traffic.
"The shot clock was at seven when I started my drive," McKinney said after the game. "I felt I could get to the middle, and I was going to try to pop up and shoot. Their big guy didn't step (back), and I thought, 'Well, I have to kind of put this one up. I adjusted it so it wouldn't get blocked, and I threw it up there."
Dana Altman wasn't crazy about the shot, and shook his head in dismay afterward as he talked about it. "Oh, boy, that was a runner," he said in the press conference as he laughed. "He made up his mind that he was going to shoot it, there's no doubt about it. I think Tyler thought he could get by the guy but the guy bumped him. It was like, 'I'm committed to it, and it's going up.' "
A three-pointer from the corner — banked off the glass! — from Jason Dourisseau tied the game at 48 with 26.8 seconds left, and after running down the clock to get the last shot, Funk made his move. He drove at the rim and challenged Turek, but had his shot emphatically blocked out of bounds.
With 3.2 seconds left, they opted not to call timeout, and McKinney inbounded the ball under their own basket. Funk was covered up at the three-point line, and the pass came in to Miliner just inside the arc. He put the ball on the floor, drove past Jake Muhleisen, and stuck a jumper from 15 feet out with under a second to play to give CU a 50-48 lead. A desperation three by the Huskers' Marcus Neal was offline, and the Jays had escaped Lincoln with the win.
Miliner's 20 points led the team, and the buzzer-beater was etched into the Bluejay history book despite coming in a game that, prior to his shot, had been mostly forgettable.
"We're all fairly in agreement that won't make the ESPN classics," Altman noted after the game. "I think both teams tried awfully hard and worked awfully hard, but neither team could seem to get a flow to the game. It was just one of those games that turned into a slugfest."
It may not have ever made "the ESPN classics", but it has made WBR's Bluejay Rewind, and now you can enjoy all the action from this 2004 win.
Comments
Tagged in: