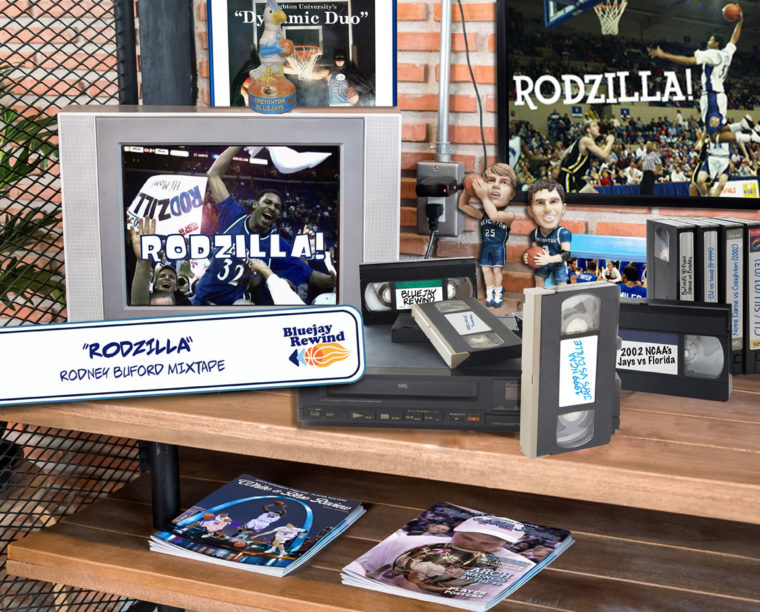 Bluejay Rewind: Rodney Buford Mixtape
Three weeks ago, we asked our readers to support White & Blue Review as we grow our Creighton coverage in Year Nine of the website. Thanks to your overwhelming support, WBR met the Kickstarter goal and will be mailing an exclusive 2016-17 Creighton Athletics yearbook to everyone who contributed $50 or more, and sending an e-book to everyone who contributed $25 or more.
As the goal neared, I promised our readers a special mixtape of dunks and other highlights from the career of Rodney Buford when they got us over the top.
Buford — or "Rodzilla" as fans called him during his days in Omaha — was Creighton's all-time leading scorer from 1998 until 2013 when Doug McDermott surpassed him. Known for his acrobatic dunks and moves around the rim, he unfortunately played in an era when coverage of CU hoops isn't what it is today, and much of his career happened away from the bright lights of television cameras.
So as a "thank you" to White & Blue Review's readers for supporting our 2016-17 Kickstarter, we dug into the archives and compiled a three-minute highlight reel of Buford flying over and around opponents, launching long three-pointers, and being a general badass in his record-setting career. There's even some low-budget CGI and a period-specific soundtrack. We hope you enjoy it. And we appreciate the support of our readers who will help us grow our coverage of CU sports!
Comments
Tagged in: