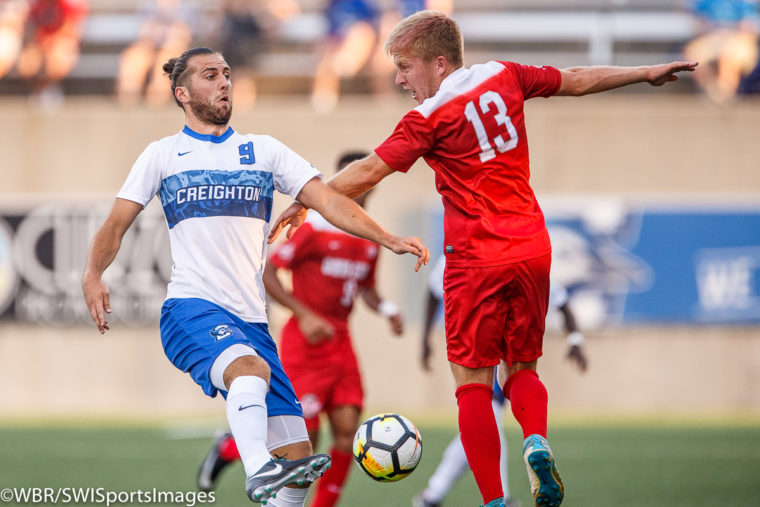 Bluejays Blank Ohio State to Wrap Up a Perfect Preseason Slate
Creighton's dynamic top line showed off another new weapon on Saturday night when Akron transfer Anthony Macchione became the second newcomer to score in as many matches with a hard-earned tally in the 12th minute of a 2-0 exhibition home win over the Ohio State Buckeyes.
The junior forward joined foreign grad transfer Marios Lomis, who scored the lone goal in Wednesday's win at Wisconsin, and senior captain Ricky Lopez-Espin in the game-winning goal department to help the Bluejays finish the preseason with a perfect 3-0-0 record. Sophomore midfielder Luke Haakenson found the back of the net 1:14 into the second half to produce the final result as Creighton finishes their exhibition slate with six goals coming from their attacking players, five of which were produced in the run of play — only Lopez-Espin's game-winner with nine seconds left against SIU Edwardsville came off of a set piece.
"It's huge because the more depth you have on the attack the better," Creighton head coach Elmar Bolowich said of the widespread production from his attacking players. "Those are the dynamic guys that need to go a lot. They make a lot of runs where they don't get the ball played to them. You normally don't see that because you're just following the ball … the more depth you have to substitute, the more you can keep that momentum up and wear teams down. Eventually we are going to find them, so it's just a matter of the guy picking his head up at the right moment and see who is making that clever run and feeding him through. That will come over time, but if you have three or four subs that you can use as attacking players, I mean, you look pretty good."
Macchione, specifically, has come on strong during the last two matches, and he came up with the momentum-shifting goal early in the first half to help the Creighton settle in after a somewhat sluggish start.
"Anthony is coming along strong," Bolowich said. "He rewarded himself with the first goal purely on work rate alone."
The goal was set up by Lomis, who headed a deflection on the left side of the penalty area back to Macchione just outside the six-yard box. After getting tangled up with an Ohio State defender, Macchione stayed on his feet, slowed his momentum, and fired a strike into the back of the net for his first goal as a Bluejay, unofficially.
"The ball got lofted in and Marios did a great job winning it," Macchione said. "It was fortunate to kind of bounce my way. I gave the defender a little bit of a nudge and he fell over and left me one on one with the goalie. I was just fortunate enough to be in the right place at the right time to put it away."
There was a brief moment of hesitation on the Washington native's part, but when he didn't hear a whistle he lined up his shot and made it count.
"I wasn't sure if I fouled him or what was going on, time kind of froze for a second, but when I struck it and it went in I kind of looked around and wasn't sure, but I'll take it."
After Haakenson doubled up the lead in the 47th minute, Creighton's defense stepped up to keep the Buckeyes off the board. Senior goalkeeper Michael Kluver, the projected starter in net for the upcoming season, was an especially strong presence in the box in helping to preserve Creighton's second straight clean sheet. Bolowich, who doesn't dole out praise lightly, was pleased with his defensive unit.
"It was a solid defense performance," the seven-year Creighton coach said. "The effort was outstanding defensively. I thought we covered for each other when we were a little bit out of position with one of the other guys. We helped each other out, shared the load, and really didn't make it easy for them to get open looks. The chances that they had were off the restarts and loose ball situations, and then a shot from distance here and there, but nothing really one on one."
With three matches in the books before anything becomes official, Bolowich and his staff have quite a bit of information to assess heading into the regular season the begins with Saturday night's 7:00 p.m. match at Morrison Stadium against 17th-ranked Virginia Tech.
His evaluation was cautionary, however, as the upcoming non-conference slate could possibly expose any shortcomings that didn't during the preseason.
"It looks good, but it can be deceiving because you don't know how the other team has trained, or what they did the day before the game or the day of the game," he said. "I'm sure Ohio State had a difficult trip to come up here to travel after playing Wednesday against Butler, so you never know.
"We are going now into games against Virginia Tech, Stanford, South Florida, Grand Canyon — these are true tests. Cal looks good. These are true tests, so that will show us really quick where we are, and we know in soccer that it go one way or the other within a split second. You don't necessarily have to be the worse team of the two."
See more photos from the game courtesy of WBR Photographer Mike Spomer.
Get your favorites over at the WBR Photo Store.
Comments
Tagged in: