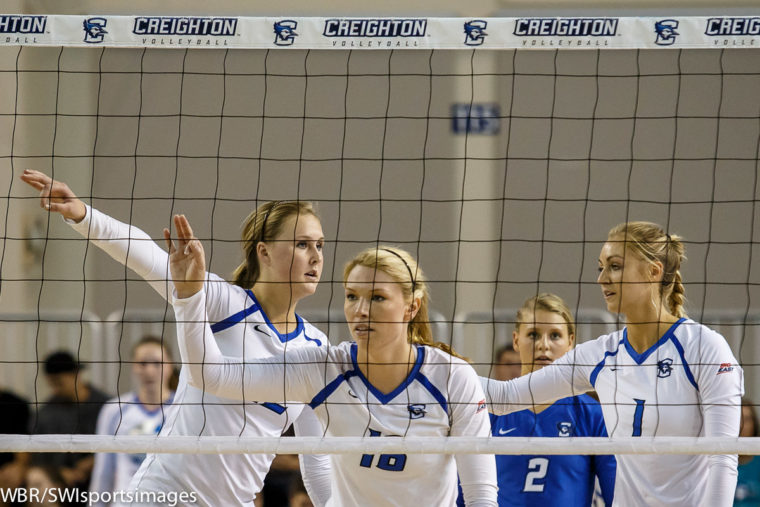 Bluejays Clinch Share of Big East, but are Far from Finished
Creighton Volleyball continued its dominance of the Big East Friday night as they swept the Friars of Providence in three sets to clinch at least a share of their third straight regular season Big East title. Creighton now stands in at 21-6 on the year and 15-0 in conference play. The Friars came into Omaha last in the Big East standings, with a record of 1-13. Due to a scheduling rarity designed to cut travel costs, the Friars and Bluejays will meet again Saturday night in Omaha. Creighton will return the double home game favor next year, playing twice in Rhode Island. Since losing their home opener to Kansas on September 8th, the Bluejays have now won nine home matches in a row including an impressive eight sweeps.
Both teams got off to a decent start in the first set. Creighton's offense was on the attack but the Friars held strong defensively and worked to a 4-4 tie. From there, the height and presence of the Bluejays at the net began to overwhelm. Bluejay scoring runs forced Providence to call timeouts when trailing 12-6 and 20-9 in hopes of shifting momentum away from the home team. Ultimately, the Bluejay attack proved too dynamic with six Creighton players registering kills and hitting .389 as a team in the first set. Creighton took the first set 25-15, led by sophomore Taryn Kloth, who recorded six kills on only 10 attempts. Reigning Big East player of the week, junior setter Lydia Dimke also got off to a strong start with 11 assists, 6 digs, and one kill.
Creighton senior Jess Bird entered the match for the second set, taking the place of sophomore Jaali Winters. The Bluejays hopped out to a quick 10-4 lead featuring big plays from Bird and fellow seniors Lauren Smith and serving specialist Amanda Foje. Utilizing a diverse attack, the Bluejays closed out a 25-18 second set win. Providence twice pulled together three point runs, but Creighton coach Kirsten Bernthal Booth let her team play through and they rewarded her confidence. Freshman Cayla Veverka of Providence led both teams with five kills in the second set. Bird and Smith led the Bluejays with four each.
Following the intermission, Providence took early leads of 2-1 and 3-2. However, those would prove to be their only leads of the match. Defensive adjustments by the Bluejays held Veverka to zero kills in the third and decisive set. Although their worst set in terms of hitting percentage (still an in incredible .344), the Bluejays turned in their best score of the night, defeating the Friars 25-13 to secure the sweep. Kloth notched an additional five kills for the Bluejays to bring her total to 14 on the night, with a .560 hitting percentage. Junior Marysa Wilkinson added four kills of her own in the set.
Providence has had one of the most diverse attacking offenses in the conference this season, but Creighton proved an even deeper threat in the match. Seven Bluejay players ended the evening with three or more kills. Dimke was the focal point of the offense, creating opportunities for so many of her teammates. She ended the match with 34 assists and 12 digs, yet another double-double performance. Freshman libero Brittany Witt was the only Bluejay with more digs, with 14 of her own.
With their eyes set on even bigger goals, Coach Booth and her players were quick to stress the importance of continuing to improve and take each game one at a time. Booth recognized the well-rounded play of her team in the match but, as always, saw room for growth.
"I liked our offensive efficiency. We were really trying to key on dig transition and I thought we did a pretty good job of that tonight. As I said to them in the intermission, I want perfection, so of course I can point out things that I thought we had opportunities for at certain points."
Booth's message and her team's focus on playing each match have been cornerstones of this season and have helped the 2016 team stand out among many great teams in the program's recent history.
"One of the things that is great about this team is that they have proven to me that they lock in every match… This team has probably had more maturity than I've had on a team in 14 years," Booth said. "The way they come out every single night is important. I have had teams win conference championships. Last year even, we were 17-1, but we went to five [sets] a couple times or barely won games. This team's maturity to come out and not worry about who is on the other side and win games regardless, in dominating fashion, is really impressive. In my coaching career I've never had a team that does that as well night in and night out. That is the expectation here and moving forward."
Fifth year senior Lauren Smith, now part of her fourth conference championship team, knows that a Big East regular season championship is only the first step for the team's vision this year.
"I think it's wonderful but it's obviously part of a process and a path towards the really high goals we set for ourselves. While we celebrate this tonight, as a team we have to come in tomorrow and we can't let up. Like Coach says, 'enjoy it for 20 minutes and then we are back at it'."
Booth was clear that a share of the Big East regular season title was not enough in their mind. The Bluejays are looking forward to the next match, where they can clinch it outright. After that, she wants her players to enjoy the accomplishment but also keep in mind that it is a stepping stone to their post-season aspirations.
"Tomorrow night is when we, in our opinion, win the conference title; a share is not what we are going after." Coach Booth continued, "We haven't talked a lot about the Big East title recently. The spread has been big enough that there has been assumption that we were going to play well enough to win it. I don't want to take away from what a huge accomplishment it is and I haven't probably talked enough about really enjoying that. Hopefully it will take place tomorrow night… We have to approach it as the most important match of the season because it is. If we don't come out and perform, it will really damage our resume and Providence is obviously formidable and played a good match tonight."
Providing a newcomer's view, transfer Lydia Dimke added, "I'm excited. I knew coming in to this school that we had a good opportunity [to win the Big East] but knowing it is so close is still really exciting."
The turnaround will be quick before the Bluejays meet the Friars again, but the objective remains the same: win the match they are faced with and then move on. Back-to-back matches are rare in collegiate volleyball and even Booth did not know fully what to expect.
"They are going to have familiarity with us and we will have some familiarity with [Providence]. Ask me tomorrow night whether we like it or not. Whichever team can learn from what we saw tonight and move forward to be better will succeed."
Tonight's match against Providence will take place at 7:00 pm at DJ Sokol Arena. The Bluejays hope to secure their third straight Big East regular season championship. As a note to Creighton fans, tickets from Friday night's Mens Basketball game verse UMKC can be redeemed for a free ticket to tonight's volleyball match.
Comments
Tagged in: