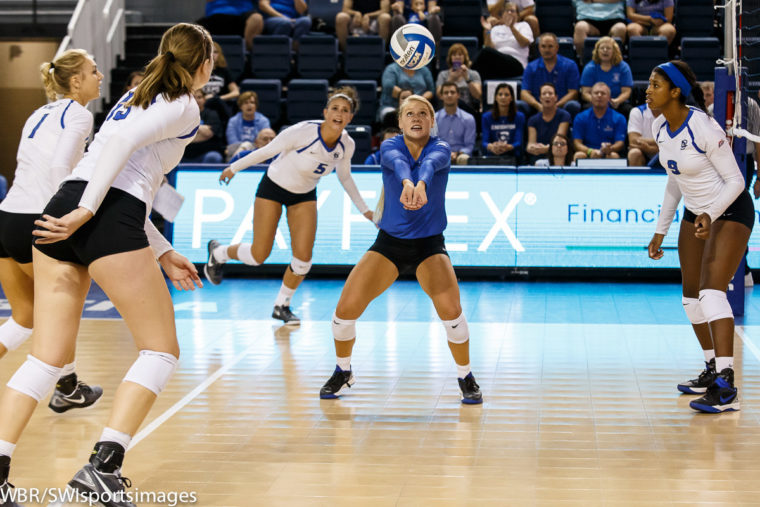 Bluejays Sweep Again, Historic Run Continues
Creighton extended its winning streak to 17 matches last night in a sweep of the Georgetown Hoyas. The win streak is tied for the longest in Creighton history and also tied for the third longest active streak amongst NCAA teams. Although the Bluejays clinched the regular season Big East title last weekend, their lofty goals include an undefeated conference schedule and a potential chance to host a match in the NCAA tournament. The 25-17, 25-20, and 25-19 victory on Friday night keeps all of those hopes alive heading into their final regular season match on Sunday afternoon.
Creighton freshman Megan Ballenger, winner of three Big East Freshman of the Week awards so far in 2016, did not suit up for the match. She was present, but wearing a medical boot at the match. Senior Jess Bird replaced Ballenger in the starting lineup against the Hoyas. Ballenger leads the Big East in aces per set with .42, and has proven a valuable offensive player for the Bluejays this year. Coach Kirsten Bernthal Booth said Ballenger's status is day to day at this point, but does not think it will keep her out the remainder of the season.
Coach Booth was quick to point out the way Jess Bird stepped up in the match, when the team needed it. "Jess hitting .500 with zero errors, she had a phenomenal night." Booth continued her praise, "especially since she was playing right side. She trains on the left and the right side in practice, but right is not a position she has played historically here at Creighton, except maybe her freshman year a little bit. Great to see her have such a great night."
The match began with 13 straight side outs as neither team was able to piece together a run. After finding themselves tied 6-6, the Bluejays pulled off a 6-2 run capped off by back-to-back aces by sophomore defensive specialist Samantha Bohnet, forcing Georgetown to call a timeout. Following the break, Creighton dominated the remainder of the set. Outside hitters Jaali Winters and Taryn Kloth provided the fire power for the Bluejay offense registering six and five kills respectively. Defensively, Creighton contested the Hoyas' attacks at the net and the back row provided 20 digs. Georgetown struggled on the attack; they only recorded six kills and committed six attack errors, bringing their hitting percentage to .000 in the first set. The Bluejays, on the other hand, hit an impressive .344 with 16 kills as a team. Four service errors were the only real blemish on Creighton's otherwise dominant first set win 25-17.
The second set also began with the two sides trading points until a three point Hoya run convinced Coach Booth to call her only timeout of the match, down 13-15. Sophomore Taryn Kloth had two kills in a row following the timeout and Creighton rolled off a 6-1 rally of their own, exciting the 1,321 fans in attendance at DJ Sokol Arena. Kills by seniors Jess Bird and Lauren Smith late in the set, helped propel the Bluejays to a 25-20 second set victory that was capped off by Samantha Bohnet's third service ace of the night. Although more competitive than the first set, Creighton still out hit Georgetown .395 to .206 in the second set. Following the Creighton timeout when they were down two, the Bluejays closed out the set on 12-5 run.
When asked how her team turned it around following the timeout, Coach Booth said discussions during the huddle included "Nothing profound, I wasn't yelling at them." She continued, "It was just a re-group and let's do the things that we can control."
The decisive third set played out as a mix of the previous two. Service errors again plagued the Bluejays, but their well-rounded offense and strong defensive performance proved too much for the Hoyas to handle. Georgetown did take a 14-13 lead following errors by Winters and Smith, but it would prove their only lead of the set. The Hoyas had no answer for stopping Taryn Kloth.  She ripped seven kills on 11 attempts in the third set, a fitting conclusion to her 16 kills in the match on .577 hitting. Creighton came up with two blocks and back-to-back aces by Jaali Winters in the final five points to close out the match. Freshman libero Brittany Witt led both teams with 15 digs on the evening. Junior setter Lydia Dimke added 10 more of her own. Combined with her 39 assists, Dimke posted her 14th double-double of the season.
Taryn Kloth recognized the efforts of her teammates in allowing her to be so successful in the match. "Our passing was amazing. They were giving the ball to Lydia and she was putting up a great ball. Every single hitter was holding blocks and I couldn't do it without them."
Lydia Dimke added, "Every team is different. Georgetown had a different blocking scheme and were doubling our middles and bunching a little bit. That meant the pins were open. Any times that we had perfect passes, the middles could hold the blockers and then the pins were wide open."
Friday night's sweep was the 14th sweep in their 17 conference games this year.
While usually focusing on continued improvement, Coach Booth hopes that particular accomplishment is not overlooked by her team. "To some degree we are almost taking [all the sweeps] for granted as players and coaches," said Booth. "We have talked in the locker room about appreciating that we have been able to sweep some good teams."
Following last weekend's double header against Providence, Creighton's focus was on improving their defensive digs and dig transitions. The work this week appeared to pay off and Coach Booth noticed.
"I thought we made some progress in some things that we have been working on. First of all, Georgetown is a good team so anytime getting a sweep is a really good thing." She described the match further, "we really keyed in on defense. I thought we made better touches, particularly in our backcourt. I still think we can get better, but it was improved. I feel like [Georgetown] really worked us on the line from the outside. It took us a while to make some adjustments there. Again, our hitting efficiency is really high, which is good to see. We passed really well tonight and that is indicated by hitting .370 as a team."
Always looking to get better, Creighton's 11 service errors in the match caught the eye of the coaching staff.
"I was probably most frustrated with the service errors," said Booth. "I thought we made a couple of attack error that were maybe mental mistakes but I can think of a couple that were good swings. As for the service errors, we want to be able to go on runs, score multiple points behind the lines. We missed a lot of first ball scenarios, we have got to get better."
The Bluejays will return to the court on Sunday afternoon at 1:00pm for their final regular season match against the Wildcats of Villanova. Creighton will also be honoring its three graduating seniors at the match: Jess Bird, Amanda Foje, and Lauren Smith. Villanova is fighting for the fourth and final spot in the Big East tournament, and the Bluejays are not overlooking them.
Dimke, for one, is excited to see Villanova again. "I think it will be awesome, Villanova is borderline to make it to the tournament. They are going to do everything in their power to win." Dimke added, "They took a set from us last time. They have a lot of fire coming in, so we can't count on it yet, but I think we are really going to step up to the challenge. It's going to be a really fun game on Sunday."
Villanova was the only Big East team to beat Creighton last season. When asked about avenging the loss, Coach Booth laughed while saying, "Don't even get us started on that!" Booth continued, echoing the excitement of her players for Sunday's regular season finale.
"It's pretty exciting. In my coaching career, I've never swept through a conference. I'm not sure [the players] get the gravity of what they have the opportunity to accomplish on Sunday. I hope they do, we will talk about it tomorrow. Hopefully we can come out and play a good volleyball match against a good volleyball team."
Notes:
Senior middle blocker Lauren Smith moved into first place all-time at Creighton for sets played. Now standing at 482 sets, she passed Megan Bober for the top spot on Friday night. Smith is two matches away from also taking the top spot in program history for matches played. 2015 graduates Melanie Jereb and Ashley Jansen are the only two currently above Smith.
Comments
Tagged in: