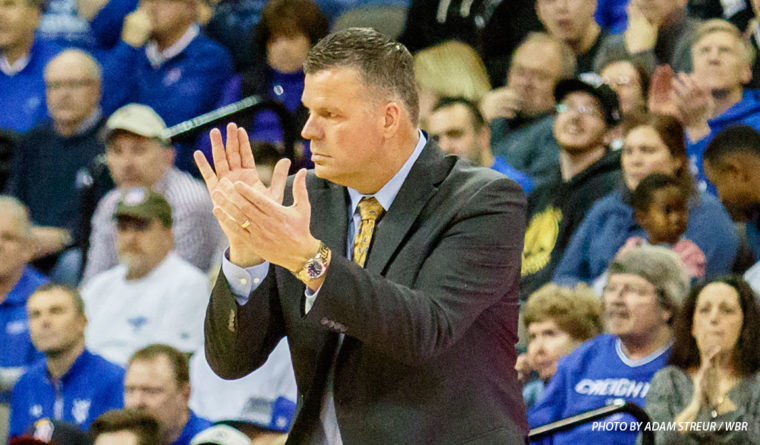 Creighton Adds Grad Transfer Manny Suarez, 6'10" Center Immediately Eligible
After the departure of both Justin Patton and Zach Hanson following the 2016-17 season, Creighton needed help in the middle. They got that help on Monday with the commitment of 6'10", 225-pound center Manny Suarez, who played the last two seasons at Division-II Adelphi in Long Island, NY. Suarez is a graduate transfer who will be immediately eligible, and will play one season for the Bluejays.
Suarez averaged 9.4 rebounds and over two blocks a game last year at Adelphi, while shooting 55.2% from the floor and averaging 16.9 points a game. Now, obviously, those are DII numbers and should be taken with an enormous grain of salt. However, his footwork and positioning to get those rebounds — and his frame, which should allow him to hold his own against bigger D1 centers — indicate he can help the Bluejays in 2017-18.
He's got surprising range on his jump shot for a player his size, as well. Check out this video from a NYC Streetball game last summer, where Suarez made three consecutive shots from near half-court, each one a bit further than the last. That shooting touch allowed him to make over 80% from the free throw line last year at Adelphi, so he's not a big man opponents want to foul.
Suarez was originally recruited to A-10 school Fordham, but was ruled academically ineligible his first season. His second year with Fordham, he played sporadically in 19 games. Despite averaging just 7.5 minutes of playing time, signs of his rebounding ability were evident against good DI teams: he had five boards against Maryland, three against St. John's, eight against VCU, and 10 against St. Bonaventure (in 14 minutes of play).
In two years at Adelphi, his game evolved; he became a better shooter with more range, and became a better rebounder. Suarez averaged 15.1 points, 8.6 rebounds, and 2.2 blocks in 58 games. And after earning a degree from Adelphi, he became immediately eligible as a one-year rental for a D1 program, which made him attractive to a host of programs; Georgetown was also interested, according to Rivals' Corey Evans.
Michigan grad transfer Mark Donnal visited Creighton in April and was the Jays' top choice as they scrambled to get an additional big man after Patton opted to enter the NBA Draft. Donnal ultimately decided to play his last season at Clemson. An already-small list of immediately eligible big men has shrunk since then, leading the Jays to check out the JuCo and DII ranks, where they found Suarez, who visited this past weekend and committed shortly thereafter.
Suarez isn't an All-Big East level recruit, but he doesn't need to be in order to bring a ton of value to the Bluejays. He's an experienced one-year bridge to four-star recruit Jacob Epperson, who most pundits agree needs a year in the weight room to be effective at this level. As a scrappy, physical big man that can play serviceable defense and grab some rebounds, Suarez fills a huge need for the Bluejays next season.
Comments
Tagged in: