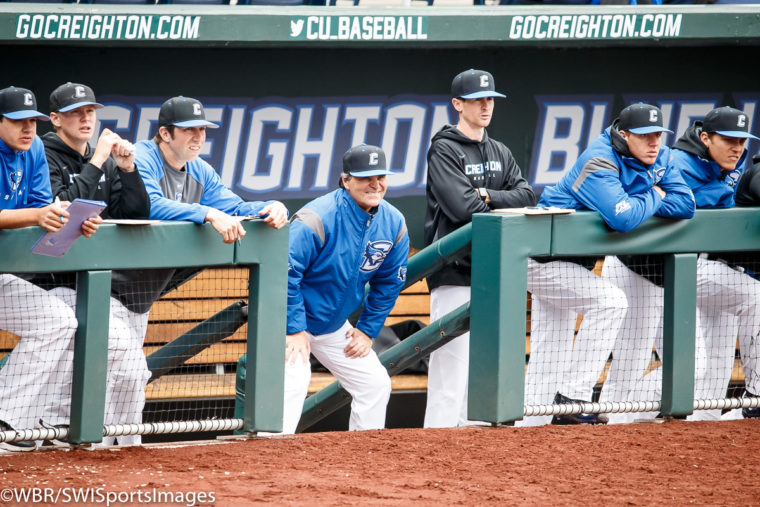 Creighton bats go silent in 4-0 loss to Winthrop
For a day when Omaha saw sun for the first time in what seems like forever, the Creighton offense went dark as Winthrop's starting pitcher Nate Pawelczyk controlled the game from the outset in a 4-0 loss to the Eagles.
The Bluejays entered Saturday's game against Winthrop having won the opener of the series with a combination of offense and defense. Their recent play has been a far cry from the way they began the season. Creighton entered game two having won seven of their last eight games, having scored 42 runs in those seven wins.
The Winthrop Eagles out of the Big South Conference sent right-handed pitcher Pawelczyk to the mound to combat Creighton's hottest starter, Jeff Albrecht. Albrecht, who last defeated UC-Davis on Monday, entered Saturday's game with a 2.90 ERA and 3-2 record. Hitters were hitting just .212 off of Albrecht entering the game.
The game began brightly for the Bluejays with a quick 1-2-3 inning from Albrecht before he gave up a lead-off double to Winthrop's Mitch Spires to begin the second inning. The junior shortstop came into Saturday's game hitting .400. Spires then came around to score on a fielder's choice before another double by Grant English forced Albrecht to continue to work from the stretch position. The senior left-handed pitcher for the Bluejays limited the damage by allowing just the one run when he retired Tyler Halstead on a ground-out to Bryce Only.
Creighton's offense was in hibernation for much of the game, mostly due to Winthrop's Pawelczyk, who retired his first 13 batters before hitting Jason Allbery with one out in the 5th inning. Allbery was able to steal a base on Pawelczyk but Bluejay hitters Only and Will Robertson were unable to score him from second base.
Albrecht held up his end of the bargain in the pitcher's duel. The senior got better as the game went along, even striking out the side in the 6th inning. However, he ran into serious trouble in the 7th inning as he allowed the first two batters to reach base, putting runners on second and third base after a Winthrop sacrifice. With the infield in, the Bluejays retired the next hitter on a nice snag by Only before Albrecht finished off the inning.
Pawelczyk continued his dominance in the bottom half of the seventh inning with a strikeout of Thomas Luevano, who homered in Friday night's win. With Emodi at-bat with two outs, he gave up his first hit of the game with a laced single to left past shortstop Spires. Emodi then advanced to second base on a wild pitch before Allbery walked on a full count. With two Bluejay runners on and two outs, Only failed to deliver with a three pitch strikeout.
Albrecht's day was complete when reliever Houston Glad came on in relief to begin the 8th. Albrecht finished with seven innings thrown, five hits, five strikeouts and one run earned. Glad gave up a hit to his only batter before being relieved by Grant Spranger. The left-handed Iowa native sprang into action on his first batter, diving forward to catch a poor bunt by Winthrop's Scout McFalls for the first out. Head coach Ed Servais then went to senior David Gerber in an attempt to maintain the one run deficit. That plan quickly went south as Gerber surrendered a three run bomb to Winthrop's Anthony Paulsen.
With a 4-0 lead, WU starter Pawelczyk gave up his second hit of the game to CU senior Brennan Hammer followed up by another single by Clark Brinkman. However, the two-out threat ended when Isaac Collins grounded out weakly to the pitcher. That would be Creighton's last threat as they went down quietly in the bottom of the 9th inning.
The loss drops the Bluejays to 8-13 on the season. However, Creighton goes for the series win Sunday at TD Ameritrade Park. First pitch is set for noon with Creighton sophomore pitcher Keith Rogalla slated to start.
Courtesy of Creighton Athletics, postgame interview with Bluejay coach Ed Servais.

Comments
Tagged in: