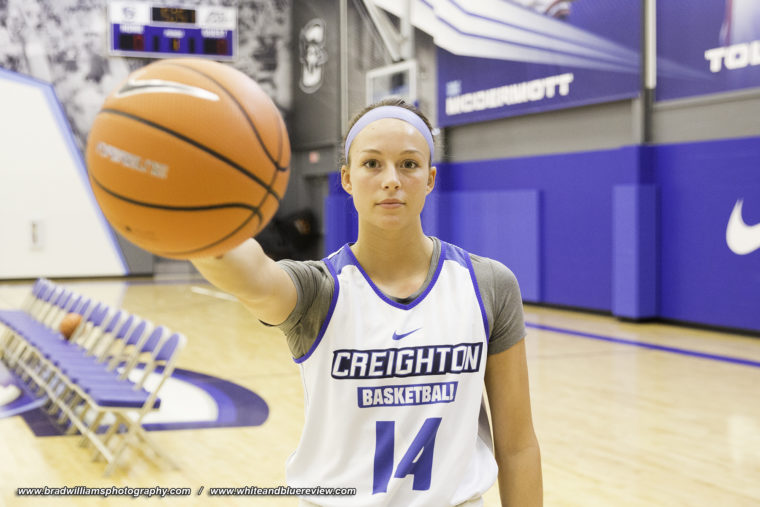 Creighton blitzes Seton Hall in overtime to create some separation in the top half of the Big East
It was a bizarre afternoon at D.J. Sokol Arena on Sunday. Jim Flanery's Bluejays looked like the Golden State Warriors in the first quarter, got decked to the canvas in the second, grinded their way through the third and fourth, then cut through Seton Hall like a hot knife through butter in overtime to earn a regular season sweep over the Pirates with an 81-64 win that put a two-game cushion between them and the four teams that are currently tied for fifth place in the Big East standings.
Senior guard Sydney Lamberty led the Jays with 21 points to go along with eight rebounds and six assists, while junior wing Jaylyn Agnew chipped in 14 points and grabbed 12 rebounds for the second straight game. Sophomore guard Olivia Elger added 17 points, a career-high eight rebounds, and four assists in 34 minutes off the bench. They were the top three producers in scoring, rebounding, and assists on the afternoon.
"Those three were really good," Flanery said. "It was a weird game. To be up 20 after one quarter, then get outscored by 19 in the second, kind of have control in the fourth, and then win by 17 in overtime — it was a different game.

"From our standpoint, I'm excited that we won and I'm excited that we're 4-1 in overtime, because I think that shows the character of our team. Whether we play any overtime games going forward or not, it's still going to help us in close games. You just get more late-game experience."
Seton Hall looked listless in the first quarter and Creighton was ready to capitalize. The Pirates scored just four points on 18 possessions in the opening 10 minutes, and were at least two or three steps slow in guarding the dribble and closing out on shooters on the defensive end. The Jays had seven assists on nine made field goals in building a 24-4 lead. Six different players hit a 3-pointer and they shot 50% from three-point range as a team in what looked to be an easy afternoon in the making for the home team.
Left with the decision to fold or fight, the Pirates chose the latter. After going 2-for-11 from the field in the first quarter, they hit 10 of their first 14 shots to start the second as part of a 25-4 run that erased the deficit and then some, grabbing a 29-28 lead with 2:44 left before halftime. The hot shooting filtered over onto the defensive side of the court as well. The Pirates dialed up the intensity and physicality, and forced Creighton into a 3-for-15 shooting slump over the final 10 minutes of the opening half. It looked like a completely different group came out of the huddle in blue jerseys at the start of the second quarter.
"We missed some easy shots early and I think we relaxed on defense," Seton Hall head coach Tony Bozzella said of his team's poor start. "I think early on we just didn't make some shots. We had some good looks and we let it affect us, and we were giving them some great looks — they hit six threes in the first quarter.

"We said we just have to run them off the line a little bit and try getting some passing lane steals, and we did. Our lack of confidence on the offensive end made that first quarter very difficult. Then we got some confidence and we played better after that."
Senior guard JaQuan Jackson and junior guard Inja Butina — who led the Pirates in scoring on the day with 21 and 16, respectively — combined for 19 points on 7-of-9 shooting to go along with six assists between them in helping their team drop a 30-11 quarter on the Bluejays.
Despite seeing their 20-point lead evaporate, Creighton still had a pulse late in the half thanks to a two-plus minute stretch from Olivia Elger. The 5-foot-7 point guard split a pair of free throws, got a layup to go, then converted a four-point play with a three from the right corner, plus the foul, to give the Jays a 35-34 edge at the break.
The third quarter was a see-saw affair that featured four ties and eight lead changes in a span of 10 minutes, the last of which came with Seton Hall leading 52-49 with 1:46 to go before the fourth quarter. That's when Jaylyn Agnew banged home a game-tying three from the top of the key followed up over a minute later with an old fashioned three-point play by Sydney Lamberty to give the Bluejays a 55-52 lead that they carried to the end of the third quarter.
Creighton led 64-58 with less than two minutes to play after a couple of clutch isolation baskets by Lamberty, but Seton Hall switched to their full court pressure defense and forced turnovers on each of the Jays' next three possessions to the tie the game at 64-all with 19 seconds remaining. The Pirates stayed with the full court pressure after tying the game, but this time Creighton found freshman guard Tatum Rembao at halfcourt with fellow freshman Temi Carda sprinting wide open down the floor for what would have been an uncontested game-winning layup. But Rembao didn't see Carda right away, and by the time she did Jackson had recovered back to get between Rembao and Carda. She picked off the pass with about nine seconds left on the clock, got it ahead to Butina, who left a jumper in the lane short off the front iron as time expired in regulation.
As competitive as the third and fourth quarters were, the final act in overtime was a one-sided drubbing. Elger opened things up by hitting a layup and drawing a foul. She missed the free throw off the back iron, but Jaylyn Agnew skied for the rebound and kicked it right back out to Elger on the right wing for a three. Bam. A five-point play right off the bat. Then a layup by Ali Greene, two free throws by Elger, a three by Lamberty, a free throw by Greene, a layup by Agnew, and a layup by Greene. 17 points on seven possessions while Seton Hall failed to convert on any of their eight trips down the floor. 17-0 run. Ballgame.
How did the Bluejays, who improved to 13-8 overall and 7-4 in Big East play, recover from watching a 20-point lead at home disappear in less time than it took to build?
"A lot of it was about staying calm," Lamberty said. "We just said we're fine, no fouls, no easy threes, let's go down score and get the lead by the end of the quarter. Those are usually some of the things that we were saying. Staying calm as a team was a huge thing."

"Unlike their coach," Jim Flanery replied.
The win keeps Creighton in a tie for third place in the league standings with a Villanova team that the Jays beat, 69-54, to open up conference play. The Bluejays and Wildcats are two games ahead of a four-way tie for fifth place that includes Seton Hall, St. John's, Butler, and Georgetown. Reigning co-conference champion DePaul is two games up in second place, and reigning conference tournament champion Marquette is three games ahead in first place. The Blue Demons and Golden Eagles play for first place on Monday night, then the Jays will hit the road to face them both next weekend for their final shot at staying alive in the regular season title race.
Creighton lost the first meeting with Marquette, 92-77, then got blown out by DePaul, 82-54. Both games were in Omaha, so they'll have their hands full trying to earn a split in the season series on the road. When asked what it was going to take to pull off a sweep next weekend Sydney Lamberty talked about ball security, Jaylyn Agnew mentioned finding different ways to score, and Olivia Elger added transition defense.
"So pretty much every area?" Jim Flanery asked.

To which they all replied together, "Yep."
Comments
Tagged in: